The biggest political development of the last decade isn't the phenomenal rise of Narendra Modi, or the abysmal fall of the Congress and the persistent failure of Rahul Gandhi. Nor is it the unnatural and unexpected alliances between arch rivals like the Samajwadi Party-Bahujan Samaj Party or Shiv Sena and Congress-NCP. As a very eventful decade comes to a close, it is Arvind Kejriwal who has emerged as the most significant and breakthrough political story in India.
A former Indian Revenue Service (IRS) officer-turned-civil society activist, Kejriwal's story is quite unheard of in Indian politics. With zero political base, no prior experience in elections or grassroots politics and no affiliation to any established outfit, Arvind Kejriwal's performance has been a breakout. He managed to become the Chief Minister of Delhi in his very first electoral outing, and the two assembly elections after that have only strengthened his position further.
The Aam Aadmi Party (AAP) chief may have floundered on several occasions, unable to stand for any ideology or coherent political thought and displaying a perturbing level of immaturity and administrative naivety at times. But, he is among the rare politicians who has managed to guard his turf in this Narendra Modi-Amit Shah era, a fact made even more remarkable given how new he is to politics.
To borrow a clever line from my colleague Neera Majumdar, in political years, you can call Arvind Kejriwal's breakthrough an 'overnight' phenomenon.
Of course, there have been non-politicians, including civil servants, who have entered mainstream politics, most of them joining existing parties. None, however, have seen the sort of instant success Kejriwal managed. Arvind Kejriwal has been like Indian politics' Maggi noodles — cooked and ready in no time.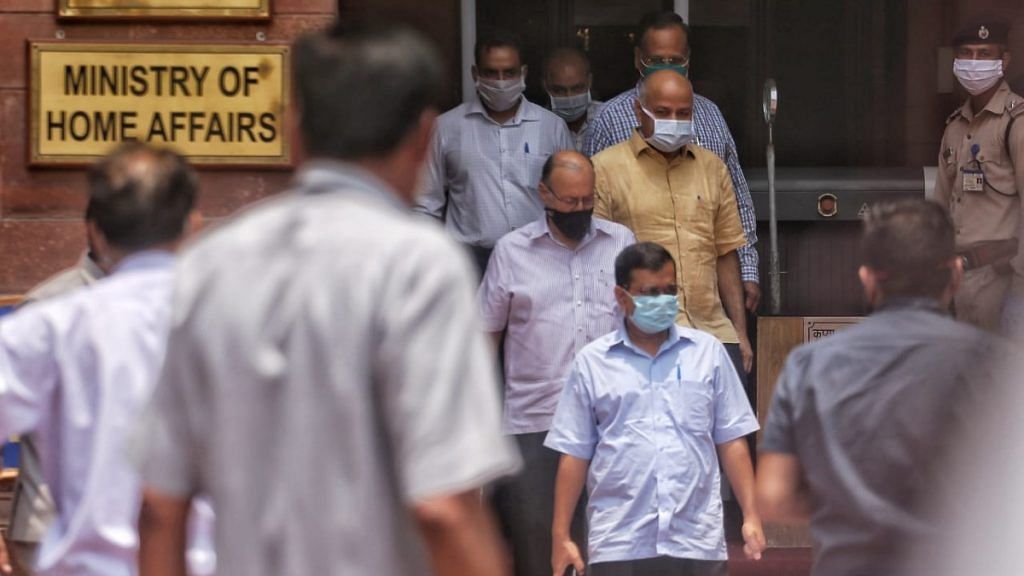 ---
Also read: Arvind Kejriwal's start-up AAP is the political 'Unicorn' of the decade
---
The political highlights of 2010-20
This has been a rather action-packed political decade, with very few dull moments. Among the biggest highlights, historic almost, was how Narendra Modi burst onto the national scene and managed to capture the imagination of India's voters like never before. I say never before, because even with the most popular former prime ministers like Indira Gandhi, for instance, there was a lack of competition in terms of the sheer number of political parties vying for a share of the pie, like in Modi's era.
Along with his lieutenant Amit Shah, the prime minister has captured state after state, expanding the Bharatiya Janata Party (BJP)'s footprints to regions, including the Northeast, that has never been its traditional turf. As a political reporter covering elections, I have seen Modi's massive popularity across states — from Madhya Pradesh to Assam and Tripura.
The prime minister manages to get away with even the worst of gaffes, like the 2016 demonetisation, and has truly ushered in an era of hyper-communicative, personality-centric, 24×7 politics.
Coinciding with Modi's rise, and perhaps made even worse by it, has been the Congress' steep downfall this decade. The decline that began in the UPA-2 tenure has continued unabated, with a leadership crisis so grim that not even a beacon of light seems visible. Rahul Gandhi, who formally entered politics in 2004, has been in the news less for his successes and more for his inability to lead the party and win elections, as well as for his whimsical absences. A low of 44 seats for the Congress in the 2014 Lok Sabha has been unflatteringly historic, and undoubtedly among the most significant political developments of the decade.
This decade has also been about the evolution of coalition politics — in terms of how alliances are forged, with arch rivals also coming together, mostly in order to take on the Modi-Shah duo. So, SP and BSP — once sworn enemies  — had joined hands in Uttar Pradesh, as did the Shiv Sena and Congress-Nationalist Congress Party. The Rashtriya Janata Dal and Nitish Kumar's Janata Dal (United) also allied in 2015, only to split later. Thus, the compulsion aspect of coalitions has been accentuated in the past few years.
The decline of the Left is another big political story, with Mamata Banerjee's Trinamool Congress managing to capture the red-fortress West Bengal in 2011, and the BJP ousting the Communists from Tripura in 2017.
From the Ram Mandir issue finally coming to a close with the Supreme Court's November 2019 verdict to the National Register of Citizens and Citizenship (Amendment) Act becoming buzzwords, from 'scams', like the one related to 2G and coal block allocation, grabbing headlines to Manmohan Singh's UPA 2 crumbling, from Rahul Gandhi's ordinance-tearing moment to the emergence of young dynasts like Y.S. Jagan Mohan Reddy and Akhilesh Yadav — the last decade has seen a gamut of fascinating political episodes.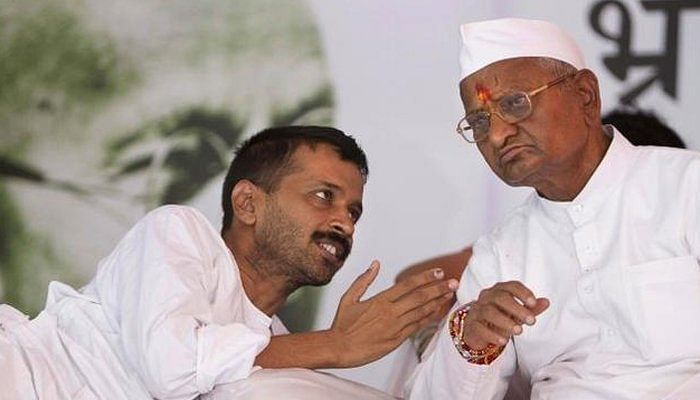 ---
Also read: No soft Hindutva, no Left Revolution, Kejriwal establishing a new centre in Indian politics
---
Why Kejriwal is the high point
And yet, Arvind Kejriwal remains the biggest highlight of the decade. A Delhi CM whose name is known pan-India.
Narendra Modi, for instance, with all his stupendous success, did have the advantage of being a three-time chief minister of Gujarat, with both electoral and governance experience. He had the backing of a cadre-based Rashtriya Swayamsevak Sangh (RSS) and most importantly, of a party that had by then well-established itself nationally. What Modi then did was use these very strong foundations to build on further.
In fact, that is the usual trajectory for most in politics in recent time, any of these or a combination of them — the backing of a dynasty, of a party and of the experience of being in a student/youth wing of a party.
Kejriwal, meanwhile, launched a social movement along with anti-corruption crusader Anna Hazare, becoming a key face of the Jan Lokpal Movement in 2011. He managed to successfully transition a social movement to a political one, going on to launch the AAP a year later in 2012. Post the 2013 Delhi assembly polls, the AAP formed the government with the Congress, but the alliance split soon after. Arvind Kejriwal subsequently went on to sweep both the 2015 and 2020 assembly polls, despite the Modi-factor looming large.
When was the last time we heard of a non-politician, launching a political outfit full of non-politicians, and succeeding in winning consecutive elections with a stunning majority?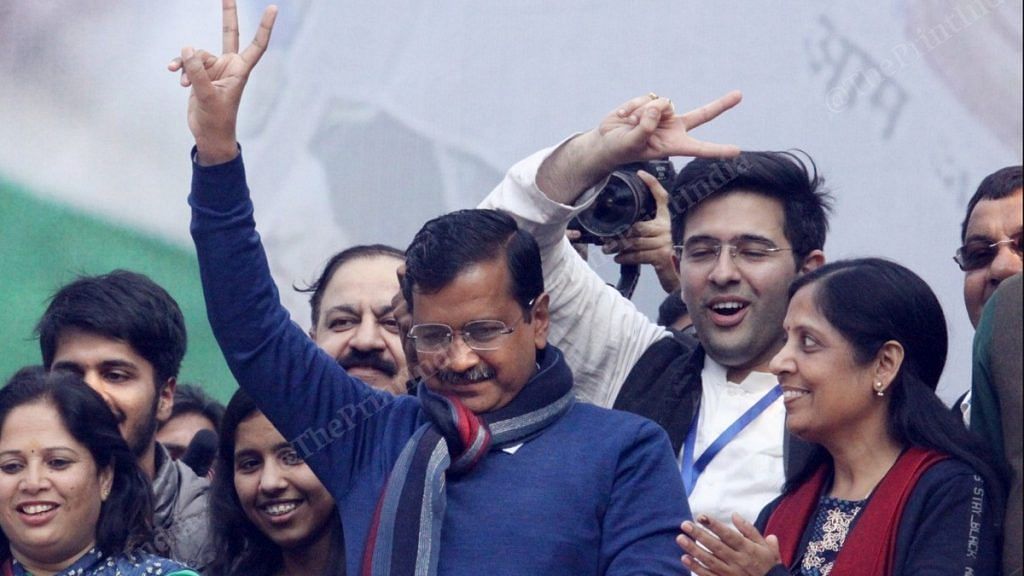 ---
Also read: For Arvind Kejriwal, governance is a journey from one gimmick to another
---
Kejriwal's trajectory has been chequered — from an aggressive street-fighter to the very play-it-safe CM who stands up for barely anything, from a crusader of transparency to someone who is as opaque as other politicians in India and from the promise of good governance to a poor grip over administrative affairs, most recently highlighted during the Covid crisis.
Kejriwal has been imprudent at times, ranting against an elected PM and calling him a 'psychopath' and constantly being on a warpath with the Centre, overly ambitious about expanding national presence and ending up with a questionable record in experiments like Punjab and Goa and unable to keep his flock together with key AAP faces drifting away. Kejriwal has also continued to perform poorly in Lok Sabha polls.
Despite an erosion of some of the very core that made him, Arvind Kejriwal remains Indian politics' biggest, most fascinating and alluring success story of the last decade. The Delhi chief minister will go down in history for pulling off a Herculean experiment, and writing an entirely new chapter in electoral politics. A chapter that can't be missed in the Modi-Shah era.
Views are personal.