If there's anything the last seven years of Narendra Modi government's rule has taught us, it's that optics matter in politics. There is hardly anything in the digital age today that is as hard-hitting, long-lasting and shareable as a powerful visual. So, when Congress' Priyanka Gandhi fights police barricades, aggressively argues with officers trying to stop her, brooms the Sitapur compound where she is kept in police custody, and finally is able to make it to the families of the victims of the Lakhimpur Kheri violence, it makes a mark.
Whether that mark is able to stand the test of time, or will wither away with the next news cycle is debatable. What is even more uncertain is whether Gandhi's antics will be able to seep into the ever-deteriorating morale and enthusiasm of the Uttar Pradesh Congress' political cadre. After all, a string of prominent UP Congress leaders have flocked to the Samajwadi Party over the last year alone. And Jitin Prasada joined the Bharatiya Janata Party (BJP).

However, Gandhi's tumultuous journey to Lakhimpur Kheri was able to eclipse the principal opposition parties in UP: Akhilesh Yadav met with the families only a day after she did, while Mayawati was nowhere in sight.
The question of the long-term impact of Priyanka Gandhi's recent activities notwithstanding, she has undeniably caught all eyeballs in the last few days, making her ThePrint's Newsmaker of the Week.
---
Also read: No allies, no understanding in Priyanka's team — why UP Congress leaders are flocking to SP
---
"Are you afraid of a woman?"
On Sunday afternoon, news surfaced of farmers being mowed down by a convoy of cars allegedly including one owned by Ashish Mishra, son of Union Minister of State for Home Affairs Ajay Mishra Teni. In a matter of a few hours, Priyanka Gandhi flew to Lucknow and was going to go to Lakhimpur Kheri the next morning. However, fearing that the Yogi Adityanath government might impose restrictions later, Gandhi decided to move towards Lakhimpur Kheri that very night.
Gandhi was accompanied by Haryana MP Deepender Hooda, and her trusted army of UP Congress leaders including president Ajay Kumar Lallu.
Videos subsequently flooded social media that very night: those of Gandhi's car being stopped, Hooda being manhandled by the officials present on the ground, and Priyanka questioning what protocol was being followed for them to be stopped this way.
"Show me a warrant," she is seen telling the police officers, while being jostled around by them. "Are you afraid of a woman?"
लखीमपुर जाते समय हमारे साथ ये व्यवहार क्यों हुआ..क्यूँ हमें कल रात से हिरासत में रखा है? जबकि हम केवल 4 व्यक्ति पीड़ित परिवारों के दुख में शामिल होना चाहते थे।

क्या देश में किसानों का दर्द बाँटना जुर्म है?

काश यह सख्ती उनपर होती जिनकी बेलगाम गाड़ियों ने मानवता का गला घोंट दिया pic.twitter.com/S16mE9izHt

— Deepender S Hooda (@DeependerSHooda) October 4, 2021
Then, Gandhi was taken into police custody Monday morning, and kept in the Sitapur police compound. She was arrested 24 hours later, to "prevent the commission of cognizable offences".
Gandhi, in an interview with NDTV from the compound, said that she can be detained for years, but she would still not give up her fight.
Her husband Robert Vadra said that he hadn't been allowed to meet her, and check in on her.
"Totally shocking that as a husband I can't even go and support my wife," Vadra wrote on Facebook.
---
Also read: Why Priyanka Gandhi's arrest in UP is evoking comparisons to grandma Indira's 44 years ago
---
What made this different from Hathras and other visits
This was hardly the first time Priyanka Gandhi has tried to meet the victims of a grave atrocity in Uttar Pradesh. Since becoming the UP in-charge of the Congress in 2019, Gandhi had gone to meet families of victims of the Sonbhadra massacre in June that year, then families of those who were killed in the aftermath of the anti-CAA protests in the state in December.
She again visited the kin of those who were arrested in connection with the violence in the state in January and February 2020. Most recently, she visited the family of the Hathras rape and murder victim in October 2020.
In each of these instances, Gandhi faced some hiccups — usually, local officials or officers who stopped her. She would return and then try again the next day, and would be allowed to meet the concerned family. In some cases, the party would donate money to the victims, she would click pictures with them, and that would be it.
But this time, with Gandhi's arrest spanning over days, the matter was more complicated.

It wasn't until Wednesday night that Priyanka Gandhi was allowed to go to Lakhimpur Kheri along with Rahul Gandhi.
This time too, the two hugged the family members, like they did exactly a year ago in Hathras. But this visual wasn't a mere photo-op: the hindrances caused by the UP government in Gandhi's journey made this a much more important moment for the party.
"Whether it is Priyanka, or me or anyone from our family, you can manhandle us all you want, we don't care. It doesn't matter to us. We have years-long training that we get from our family to handle this. We don't care, this is about the farmers," Rahul Gandhi had told the media before heading for Lucknow from Delhi.
He also didn't entertain too many questions on Priyanka's arrest, even going ahead and saying: "Yes, she is in custody. But this is about the farmers."
The messaging was clear: Put the farmers at the centre of the discourse, not the Congress leaders' struggles.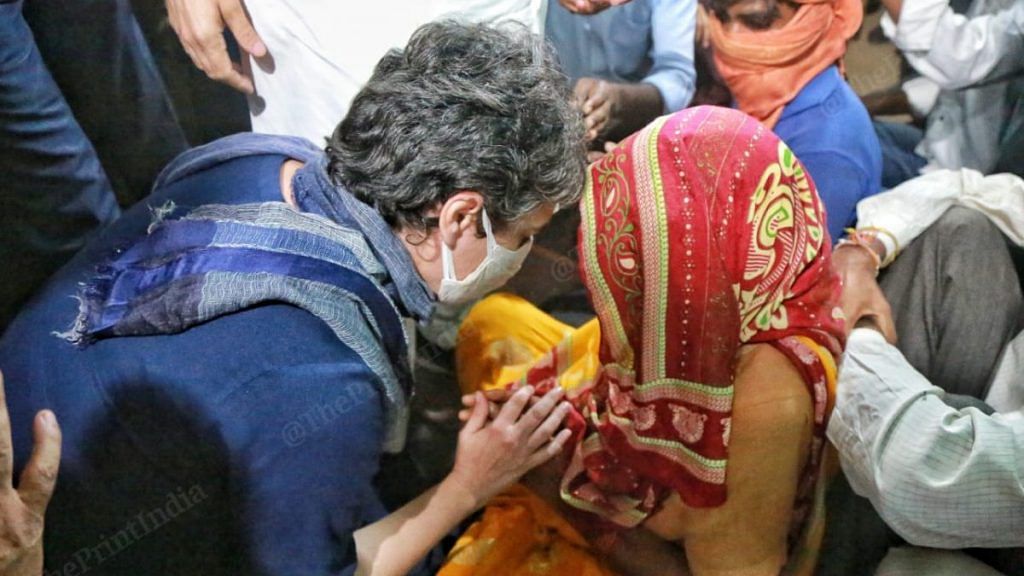 ---
Also read: 'Why did Priyanka not visit us, are we not humans?' Father of BJP worker killed in UP asks
---
Will it last?
Of course, there were questions about why Priyanka only met the kin of the slain farmers, and not of the three BJP workers who died. Gandhi defended herself saying that she wanted to meet them too, but police officials told her that the families weren't interested. "I give them my deepest condolences," she said.
Priyanka Gandhi was able to present herself as a ground thumping, charismatic politician on this trip, but for any real long-term gain, she needs to ensure this agitational style of politics is done with consistency and rigour. Parachute politics is forgotten in no time. What is remembered, however, are broken promises — like the one where Congress leaders told UP voters that Priyanka Gandhi will start living in Lucknow.
Views are personal.
(Edited by Neera Majumdar)