While the number of women entering the Indian Administrative Service or IAS through the UPSC's Civil Services Examination has been averaging at around 30 per cent since 2014, turns out the percentage of women given the all-important posts of district magistrates or DMs is no more than 19 per cent across India.
A few weeks ago, the Kerala government appointed the tenth female IAS officer as a DM in one of its 14 districts, making it the state with the second-highest number of women DMs. Kerala is second only to Delhi in this regard. Nine of the 11 DMs in the capital city are women. However, while the scenario in Kerala and Delhi are encouraging for women who either are or wish to join the IAS – a service in which holding the post of the DM continues to be one of the biggest attractions for officers – the numbers in the rest of the country remain dismal.
According to data available on different state government websites, only 142 out of 716 districts analysed have women posted as DMs. Among the 20 largest states in terms of their population, Haryana (4 per cent), Chhattisgarh (7 per cent), Bihar (8 per cent), Gujarat (9 per cent) and Madhya Pradesh (10 per cent) fare the worst. Haryana, for example, a state particularly infamous for violent crimes against women, has a woman posted only in one of its 22 districts (Hisar).
The best-performing states among the largest ones in terms of their population are Delhi (81 per cent), Kerala (71 per cent), West Bengal (39 per cent), Assam (27 per cent) and Punjab (27 per cent). As the data shows, even among the top five states, Assam and Punjab have less than 30 per cent women posted as DMs.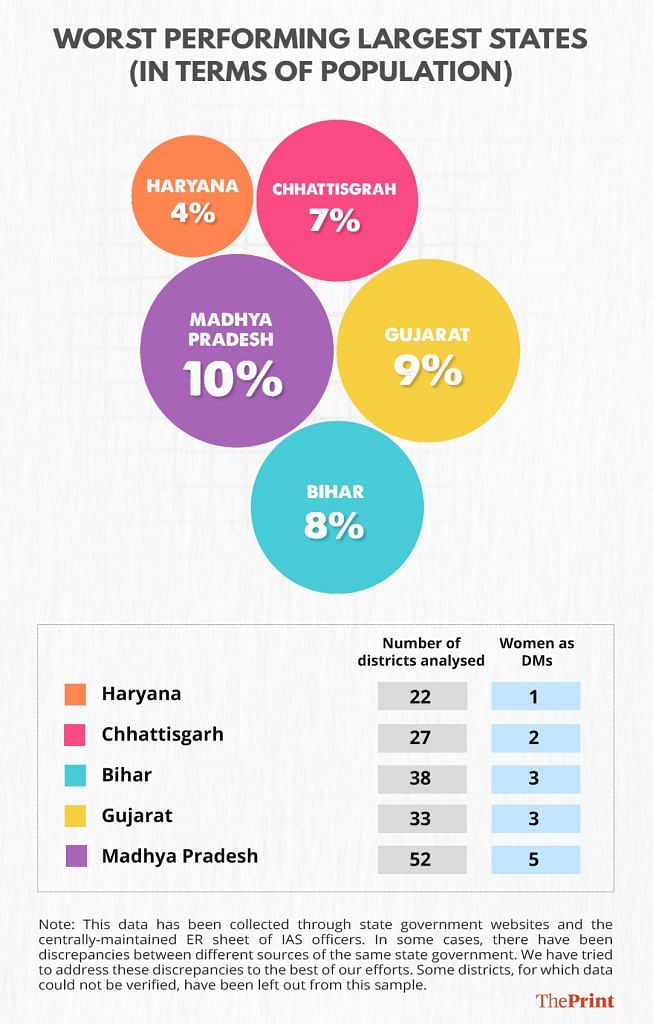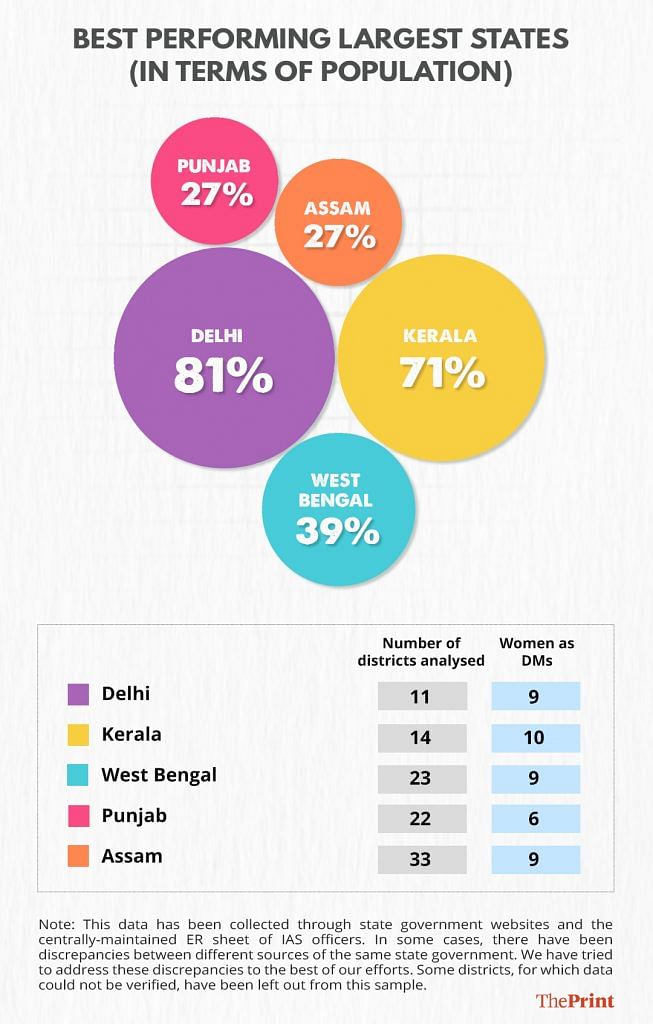 ---
Also read: In IAS training academy, women civil servants are seen by male colleagues as husband-hunters
---
BJP versus non-BJP states 
According to the data analysed, the BJP-ruled states fare much worse than non-BJP states. While the average representation of women DMs in states under the National Democratic Alliance (NDA) is 14 per cent (57 out of 394 districts), the average in states not under the NDA is more than double at 26 per cent (81 out of 302 districts). On removing the two best-performing states of Kerala and Delhi from the tally of non-NDA states, the percentage of women posted as DMs is 22 per cent (62 out of 277).
The states in the Northeast, for instance, which are all ruled by the NDA have some of the lowest female DM representations across India. Sikkim and Nagaland have no women DMs in their six and 11 districts respectively. Meanwhile, Arunachal Pradesh and Tripura have 17 per cent and 12 per cent women representation. Manipur, Meghalaya, and Assam fare somewhat better than their neighbouring states with 20 per cent, 20 per cent and 27 per cent representation, respectively.
Other major NDA-ruled states like Uttar Pradesh and Uttarakhand are also below the national average with 16 per cent and 15 per cent representation.
Among the non-NDA ruled states, Telangana, Andhra Pradesh, Maharashtra, Tamil Nadu, Rajasthan and Odisha have a representation of 26 per cent, 15 per cent, 19 per cent, 23 per cent, 22 per cent and 20 per cent, respectively.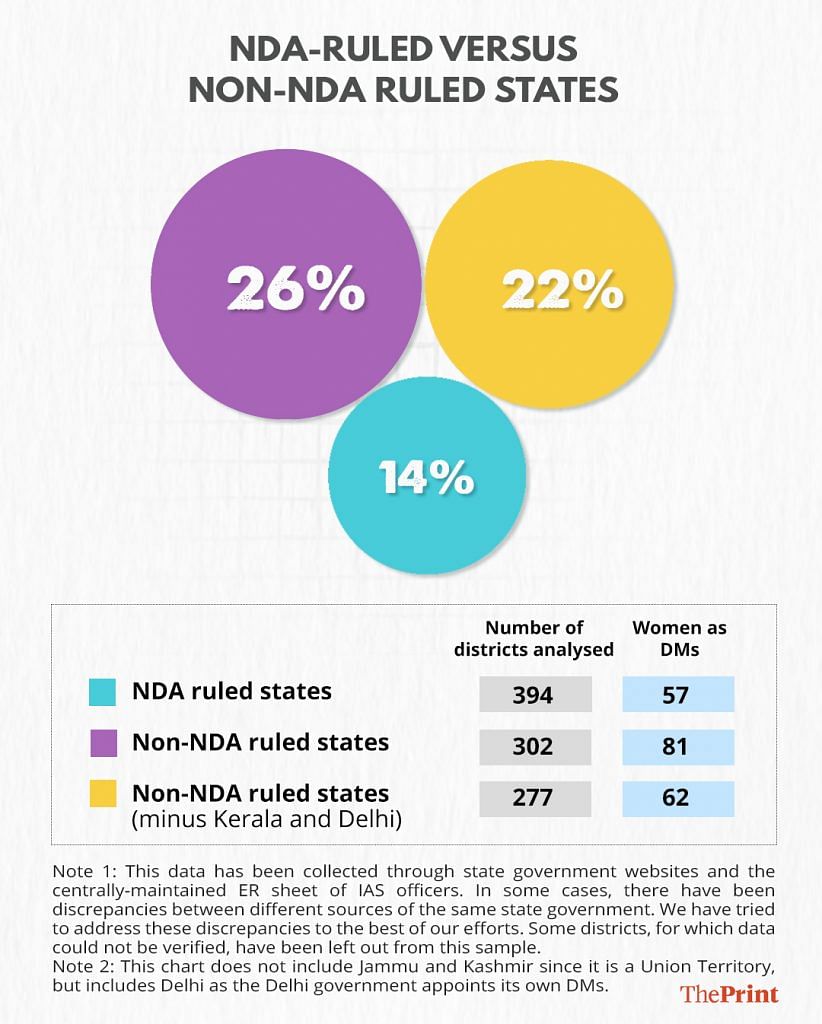 ---
Also read: Indian civil servants are expected to be karma yogis. But look at ground reality first
---
Women representation low in violence-prone areas
According to the data analysed, of the 47 districts categorised as affected by Left-Wing Extremism (LWE) until 2021, only seven districts are headed by women district collectors. This amounts to 15 per cent representation. In Jammu and Kashmir also there are no more than 20 per cent women posted as DMs (4 out of the 20 districts have women DMs).
The data corroborates anecdotal accounts of women officers who allege facing discrimination when it comes to postings and transfers, even as the intake of women has increased from less than 10 per cent until the 1970s to about 30 per cent in recent years.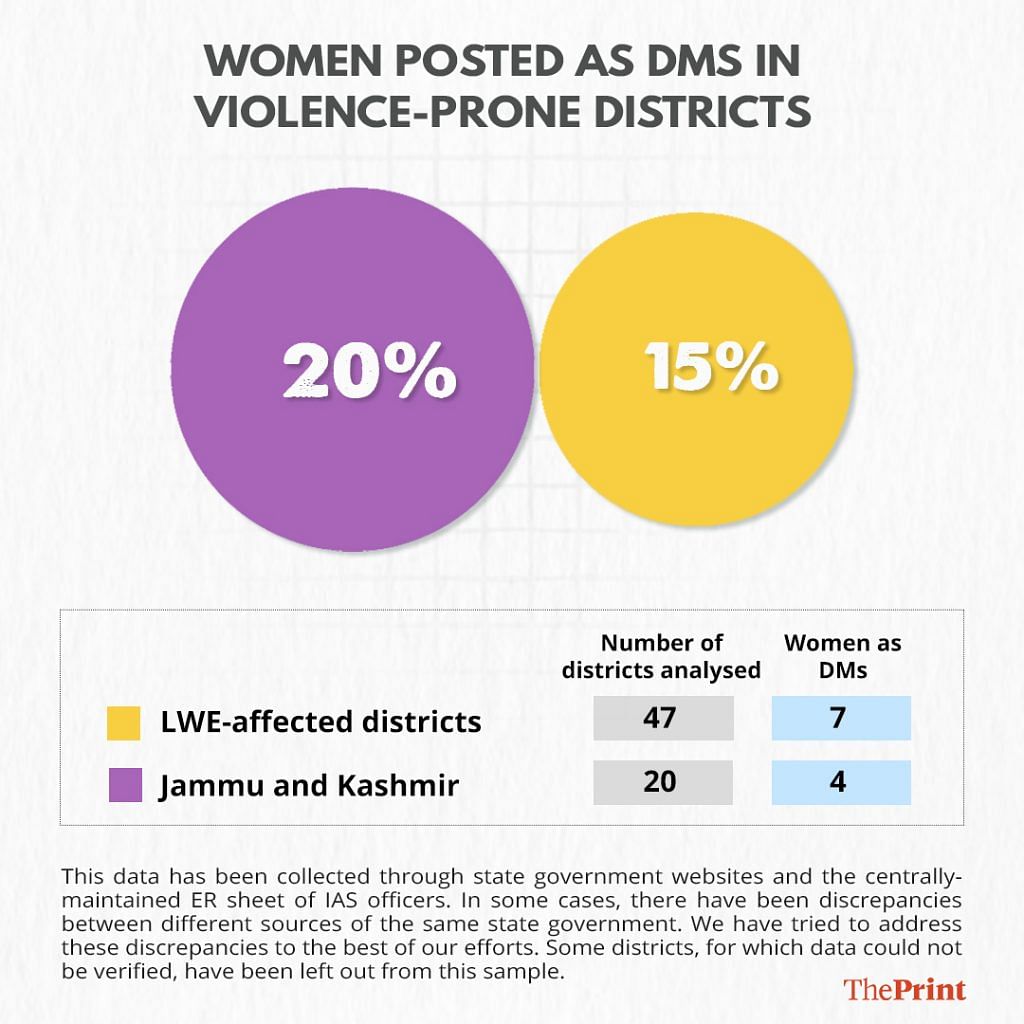 ---
Also read: IAS officers are not lazy 'babus'. Time to reject the colonial slang
---
Women expected to be '9-to-5 IAS officers'
In the afterword she wrote in the book Everything You Ever Wanted to Know About Bureaucracy But Were Afraid to Ask, former-IAS officer Renuka Viswanathan said that refusal of district collectorships to women has been rampant in the service since early decades post-Independence. Given the 24×7 nature of the job of a DM, women are routinely seen as ill-suited for these jobs given domestic and family responsibilities, which they are expected to disproportionately bear even by their seniors at work. Further, the political hustling with politicians and seniors in the service required to get important postings also puts women at a disadvantage. For example, in a state like Nagaland, which has several officers from the provincial civil service posted as DMs, there are no women DMs at all (officers from provincial civil services are known to be politically more embedded than their IAS counterparts).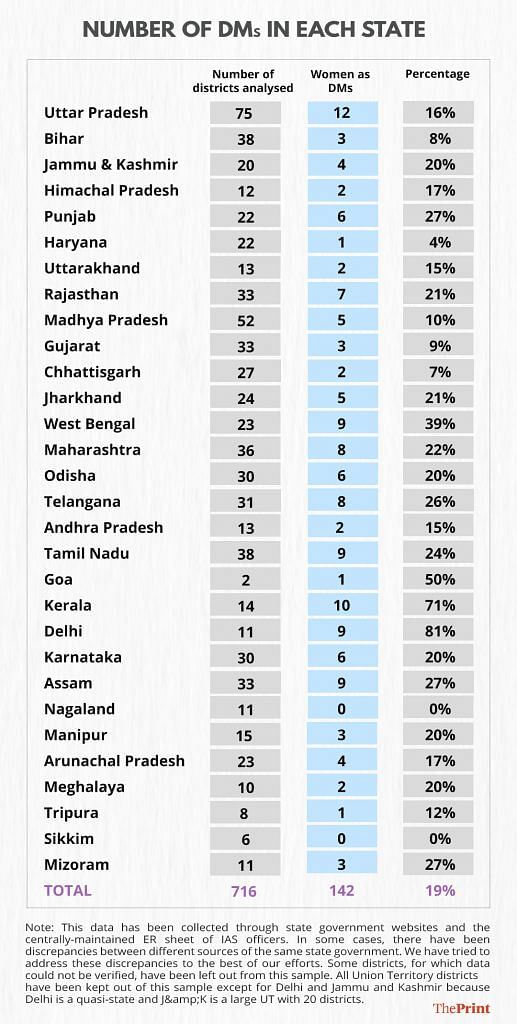 As a result, women are relegated to posts that mimic a 9-to-5 "regular" job lifestyle, which requires more time on the desk in secretariats rather than on dusty roads on the field, thereby inhibiting their career progression to top government positions from the very beginning.
Given the discrimination women continue to face at the level of DM posting itself, it is no surprise that their representation in the higher echelons of government service too remains abysmal. According to data analysed by India Spend, as of 3 January 2022, there were only 14 per cent (13) women appointed as secretaries out of a total of 92 secretaries to Centre, and only two chief secretaries who are women. Moreover, India has never had a woman posted as a Cabinet, Home or Defence Secretary.
Views are personal
(Edited by Neera Majumdar)