If there was a penny for every time someone predicted that the government in Pakistan is on its way out, then every citizen of the country would have become a millionaire by now. For now, England beats Pakistan to it, with Lisa Truss choosing to resign as prime minister after only about six weeks in office. Odd that she went without "fighting until the last ball", which, in Pakistan's new political dictionary, means to derail a non-confidence motion past midnight.
Boris Johnson plans to stage a comeback ignited a hope in Imran Khan that all is not lost. But as luck would have it, he has now been benched for the rest of the season. In the toshakhana reference against him for concealing assets and wrongful declaration on the sale of state gifts, the Election Commission of Pakistan has disqualified Imran Khan, "for the time being". With this, the former PM has been de-seated from the national assembly and will no longer remain the chairman of Pakistan Tehreek-e-Insaf. Not too long ago, Imran Khan was enjoying gulab jamuns and celebrating the disqualification of former PM Nawaz Sharif: "It is just the beginning," he had said. Indeed, what began with Sharif's ban from politics and new beginning for Imran Khan has now come full circle. But, as Khan would say, it's just the beginning for lies in store for the ousted PM.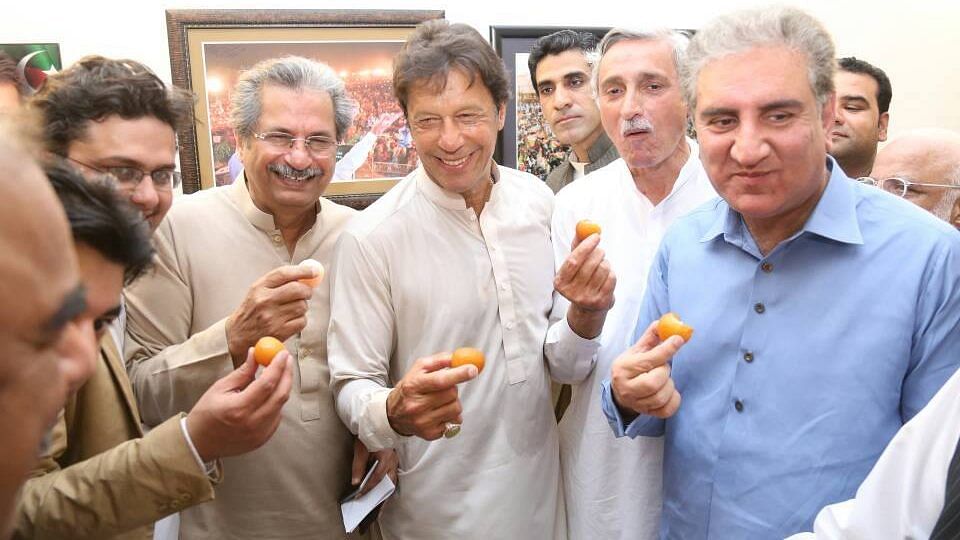 Last six months
Going by the daily dose of mainstream news analyses or the screeching YouTubers or the vegetable vendors on the street: the pulse is set on either a military coup or a new election. An election, which neither the country battling floods has money for nor looks like a solution but more of a problem. A martial law, which the worn out analysts foresee (read desire)? After all, it's that month from 23 years ago when Pervez Musharraf happened. The widespread kuch hone wala hai speculation and stories of palace intrigues that persist political chaos since April is a reason for the wild theories. To be fair, the turbulent history of overthrowing governments helps fuel rumours.
And to top it, US President Joe Biden labelling Pakistan "one of the most dangerous nations in the world" doesn't help our cause either. What's this behaviour, Biden? Although, what Biden said has been repeated several times over the past 20 years. But still, the talk about the nuclear-powered nation being unsafe riled up most. Some made sure that Biden gets to know that. Hey Biden, "remember our god is only Allah". The foreign ministry decided to demarche the US ambassador on their president's comments. Wonder if Pakistan is ready to say no to US aid in protest.
Mr Biden who are u to talk about our sense and sensitivity as well as our national security, Mr. u May be a god father of the imported pdm govt u imposed in pakistan along with ur touts n spies here,but Remember our GOD is only ALLAH don't challenge our faith n stay in ur boots

— Ali Amin Khan Gandapur (@AliAminKhanPTI) October 15, 2022
---
Also read: Imran Khan wanted to be a siyasi shaheed like Bhutto. But it ended up in political suicide
---
Kaun banega chief
There may be more than one reason for the current turbulence but the one that holds the country hostage is the wish to pick an army chief and ride politics on his shoulder. Gone are the days when we would worry about the peaceful transfer of power of civilian governments. Now we worry about the peaceful transfer of the baton. We have Pakistan's establishment and its failed project Imran Khan to thank for it. In countries like the United States or even India, appointment of an army chief would make regular news or would man-on-the-street even know the name of their army chief? Not the case here. For the last six months, we have been binge-watching the ongoing season of kaun banega chief. There is non-stop commentary over the appointment, which by the way everyone also likes to call "a sensitive subject". There is threadbare discussion everywhere, you can't escape it.
Surprisingly, President Arif Alvi has spent most of the last four years of his tenure either giving teeth-cleaning tips to the nation, or being ordered by his party chairman to "stand up" before State guests like Saudi crown prince Mohammad bin Salman. Alvi has woken up to the smell of chief appointment and is now suggesting that Imran Khan should be consulted for it. When it is a prime minister's prerogative to appoint, why should a person who is not even in the national assembly be consulted? What next? Should Narendra Modi be also consulted on this all-important appointment?
President of Pakistan Dr Arif Alvi's message to the people of Pakistan on World Oral Health Day

Recommending everyone to brush their teeth twice a day for at least two minutes to help prevent any dental issues#WorldOralHealthDay #WOHD19 pic.twitter.com/9twnnVRR2I

— The President of Pakistan (@PresOfPakistan) March 20, 2019
New tiger force
Imran Khan is saying that the army chief shouldn't be appointed by Sharifs and Zardari because they will choose someone who will hide their corruption and thus won't be a patriot. So is that what Imran Khan, if he had remained PM, would have done: pick a man who would hide his corruption in diamond necklaces, watches, acres of land taken as bribe? Never mind that the chiefs appointed by Nawaz Sharif by this logic become ghaddars too. Wonder then why would Khan as PM give extension to General Bajwa and even now suggest that he continue until the next election?
So many questions but the answer lies in the impunity with which Imran Khan has made Pakistan's army his play-thing. His own tiger force with which he can play all the time, so nothing is off limits when it comes to his own political survival. Even if it meant retaining his ISI chief last year and then giving lame excuses as "main Faiz Hameed ki sath sardiyan guzarna chahta tha." The same officer was presiding as Khan's chief whip, persuading and threatening coalition partners to vote in the assembly. So all this talk of "merit based appointment" rings hollow who have seen the progression of Imran Khan from one seat in the assembly to the office of prime minister, always in the lap of one general or the other. That's merit.
---
Also read: Audio leaks kick off 'happy hours' in Pakistan politics, everyone has stuff against everyone
---
No end game
Gone are the days of Bhutto, takat ka sarchma awaam hain (people are the source of power); now the source of power is the barrel of a general's gun. Anyone under the impression that Imran Khan's tussle is for civilian supremacy is mistaken. This tussle is to get selected again as the prime minister, but in reality as a pawn for some other three-star officer. There is no larger play here for institutions remaining in their constitutional boundaries to not play politics. Rather, the former prime minister invokes religion to have them on his side, "Allah hasn't allowed you to remain neutral."
It is a tragedy that a popular leader is winning elections but doesn't have any strategy, only threats of marching to the capital to dislodge the government. Old habits die hard. Like President Alvi said that after losing power, Imran Khan was frustrated and resigned from the assembly in haste. In the same haste, he then contested and won national assembly seats just this week, only to not be part of the assembly again. What a game plan, without a plan!
Pakistan PM Imran Khan shares a scene from the Hindi film Inquilaab (1984) on his Instagram account to desperately show that there is a conspiracy to defame his Govt. ? pic.twitter.com/kKbLlLWpnv

— Aditya Raj Kaul (@AdityaRajKaul) April 20, 2021
Unless, of course Khan's plan is the same that he once accused his opponents of with a clip from an Indian film named Inquilab. In the 1984 film, Kader Khan and Utpal Dutt are planning a sinister plot to remove the government. "We need riots, killings, dacoities in cities. We need religious disturbance, sectarian conflict, which renders the government incapable of thinking and the police unable to do anything to control the crisis. When all this is happening, we will go out and take out rallies addressing crowds and present ourselves and our party as an option to control this mess." Sounds familiar, especially in the backdrop of oaths that the former PM has been taking from his supporters loyal to his cause. Given the disqualification, he would need all the loyalty to keep his control over his party, which will now have to be run by his number 2, Shah Mahmood Qureshi. Fun times ahead.
Naila Inayat is a freelance journalist from Pakistan. Her Twitter handle is @nailainayat. Views are personal.
(Edited by Prashant)