The intensity of the spread of the coronavirus across north and west India in April 2021 has taken the spotlight away from farmers' agitation. Even with the images of helpless people crying for oxygen and ICU beds in hospitals all around them, the farmers remain steadfast in their protest against the Narendra Modi government's three agricultural laws. While they didn't stop their harvesting operations, braving the possibility of disease and death, a large number of them continue to sit on the borders of Delhi.
It was desirable for the central government to take the initiative and announce that the three farm laws will be kept in abeyance till March 2023. But, sensing a victory in the West Bengal election, the results of which were announced Sunday, the central government perhaps felt it can show the outcome as people's referendum on its farm laws. That was not to be. Now that the Bharatiya Janata Party (BJP) has lost the election, we may see an early engagement of the Centre with the agitating farmers.
We still think that farmers should have called off their agitation, at least in April 2021 when the Covid-19 pandemic was surging and media reports were full of images of even well-connected people helplessly looking for medical help for their Covid-positive relatives.
---
Also read: Give us a choice, say farmers & agents as Punjab rolls out direct payment for wheat procurement
---
Bihar is losing out due to ban on APMCs
Despite the risk of catching infection, the farmers not only harvested their wheat crop but they also brought it to the much-maligned mandis, which continued their operations. In the rabi marketing season 2021-22, as of 30 April 2021, 280.39 lakh tonnes of wheat had been procured. This is 137.35 lakh tonnes more than the procurement figure on 30 April 2020, when it was 143.04 lakh tonnes.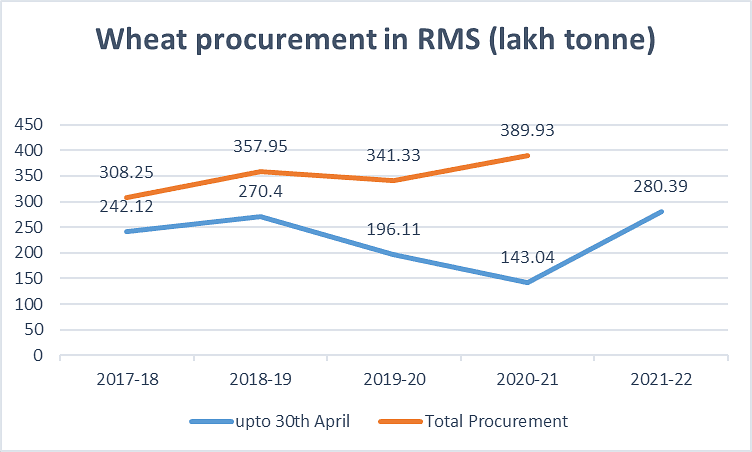 Punjab, Haryana, Madhya Pradesh, and Rajasthan are likely to meet the estimated target of procurement of wheat, but Uttar Pradesh has procured only 11.50 lakh tonnes against the estimate of 55 lakh tonnes. After the global food crisis of 2006-08, Madhya Pradesh erected a credible system of procurement and successfully attracted the private sector to create warehousing capacity in the state. It has already procured 70.66 lakh tonnes.
However, Bihar has procured only 3,179 tonnes of wheat, which shows that the state is just not able to arrange a minimum support price of Rs 1,975 per quintal for its wheat farmers. The website of the price monitoring division of the department of consumer affairs under the central government shows (on 28 April 2021) that wholesale prices in most places in Bihar ranged between Rs 1,600 to Rs 1,900 per quintal. In the state's Motihari city, the price was just Rs 1,500 per quintal, about 24 per cent lower than the MSP.
It is clear that the absence of Agricultural Produce Market Committees (APMCs) since 2006 has not worked out well for the wheat farmers in Bihar.
---
Also read: Delhi, Modi govt spar as Kejriwal minister says 'no MSP wheat procurement centre' set up
---
Procuring more than required under PDS 
It seems that last year's record of wheat procurement will be broken this year. The normal off-take of wheat under the public distribution system (PDS) is about 250-270 lakh tonnes. Last year, there was an additional off-take of 107.5 lakh tonne under the Pradhan Mantri Garib Kalyan Anna Yojana (PMGKAY).
Even then, the wheat procurement was more than the requirement under the PDS. Since the yield of wheat is higher than other rabi crops, and farmers are able to sell wheat at MSP (except in some states like Bihar and Uttar Pradesh), they prefer wheat to other rabi crops like mustard and chana (gram).
In case of rice, the procurement in the current kharif marketing season 2020-21 — from October 2020 to March 2021 — has broken all previous records. As on 31 March 2021, the procurement of rice was 465.47 lakh tonnes, up from 304.35 lakh tonnes in 2016-17, a 53 per cent increase.
Last year, the procurement of rice in the rabi season (from April to September) was at an all-time high of 126.29 lakh tonnes while the total production of rice in rabi was only 165.9 lakh tonnes. It means that about 76 percent of rabi rice was procured at MSP. Punjab and Haryana do not produce rice in rabi season so they cannot be blamed for excessive procurement of rice in the rabi marketing season 2019-20. Instead, Andhra Pradesh and Telangana were major procurers of rabi rice last year.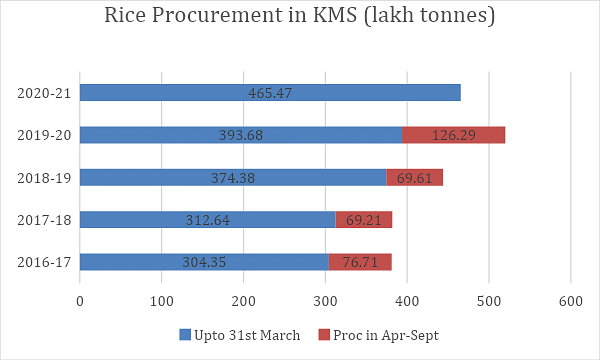 If this year's procurement of rice in the rabi season is the same as last year (126.29 lakh tonnes), India will end the kharif marketing season in September with a total procurement of about 592 lakh tonnes of rice. This will be about 50 per cent of the country's estimated rice production of 1,203.2 lakh tonnes in 2020-21.
---
Also read: Armed with AI & drones, online mandis shake up farming, aim to cut waste to boost farm income
---
Reaching out — increase coverage under PDS
The off-take of rice under PDS is about 350 lakh tonnes. Last year, additional off-take under PMGKAY was 112 lakh tonnes. Thus, the procurement of rice is also much more than requirement.
Currently, PDS covers 79.32 crore people. If the projected population of 2020 is considered for coverage under PDS, an additional 8.17 crore people may become eligible for highly subsidised food grains. This will mean an increase in coverage from 79.32 crore to 87.49 crore.
Some media reports suggest that the Niti Aayog has circulated a discussion paper in which it has been recommended that coverage in rural and urban areas may be reduced to 60 per cent and 40 per cent, respectively. This is estimated to result in annual savings of up to Rs 47,229 crore.
The second wave of the Covid-19 pandemic has led to an increase in unemployment and loss of income for workers in the unorganised sector. It is, therefore, unlikely that the central government will accept the recommendations of the Niti Aayog at this juncture.
However, India needs a 10-year plan to imagine PDS in 2031 to quantify how much grains will be distributed in physical form, and how many people will be assisted through direct benefit support. The strategy to promote diversification from wheat and rice to other crops needs to be agreed with the states, with suitable incentives from the Centre. Finally, the government must place this plan before the National Development Council to finalise the roadmap through a consensus.
For preparing such a roadmap, the government must consider setting up a committee consisting of credible experts.
Siraj Hussain is Visiting Senior Fellow at ICRIER. He retired as Union Agriculture Secretary. Jugal Mohapatra was Secretary, Rural Development, Government of India. Views are personal. 
(Edited by Prashant Dixit)