Residents of posh apartment complexes in Gurugram have been complaining that their pre-paid meters for back-up power are running out of charge after just a week, despite being loaded with Rs 5,000 each week. This money goes towards the diesel expenses to run the generators. The electricity situation, thanks to the coal shortage, is so grim in the 'Millennium City' that load-shedding occurs for over six hours every day. The story is same across many parts of India.
All this at a time when surface temperatures across much of India have crossed 40 degree Celsius and over 46 degree Celsius in Delhi. Coupled with petrol prices at the pump ranging between Rs 105-125 across India's major cities, it is like no one can catch a break.
In the midst of this 'hot' news when you can't catch a break and cool down, comes some information from Honda Cars India. They've got a new Hybrid on the market, and unlike the 'hybrids' you might have seen from Maruti-Suzuki, which are classified as 'Mild Hybrids', this is a 'Strong Hybrid'. The first such 'Strong Hybrid' in what can be called a mass-segment vehicle. Honda themselves had such hybrids with the previous generation Civic and the old Accord, and Toyota sells such a hybrid system on their Camry as well.
But why are hybrid cars classified as 'Strong' and 'Mild' like beer in India?
---
Also read: Your next car should be electric. But do the math first before you decide to plug and play
---
Not all hybrids are created equal
Simply put, on a 'Strong Hybrid' like the new Honda City e:HEV, the battery, which is a dedicated lithium-ion unit placed in the wheel well in the luggage compartment, alone can power the car. The engine could be switched off and you are not burning any petrol to move. If you need the power, suppose you wish to overtake a truck on the highway, the motor can switch itself on instantaneously and give you that extra 'oomph' you need, the driven wheels, in this case the front wheels getting power from both the battery and the motor.
If the battery is running low, the engine can direct some of the power to the battery as well, working like a generator. All of this is coordinated by a 'power control unit' under the hood. This is nothing more than a very fast computer that makes split-second decisions, all of which are graphically represented on the digital instrument cluster on a 'power flow' diagram. What is really cool is that when you are braking, the wheels are actually sending power to the batteries, thanks to the regenerative braking.
This gives the Honda City e:HEV unprecedented fuel economy for a sedan of 26.5 kilometres per litre (kmpl) as per the Automotive Research Association of India (ARAI), the similar Honda City with just the petrol engine has a certified mileage from ARAI of 18.4 kmpl with the automatic transmission. Although in real-world conditions, the petrol Honda City gives around 12-14 kmpl but the hybrid, primarily because it uses battery power in energy-intensive low-speed and traffic conditions delivered over 22.5 kmpl.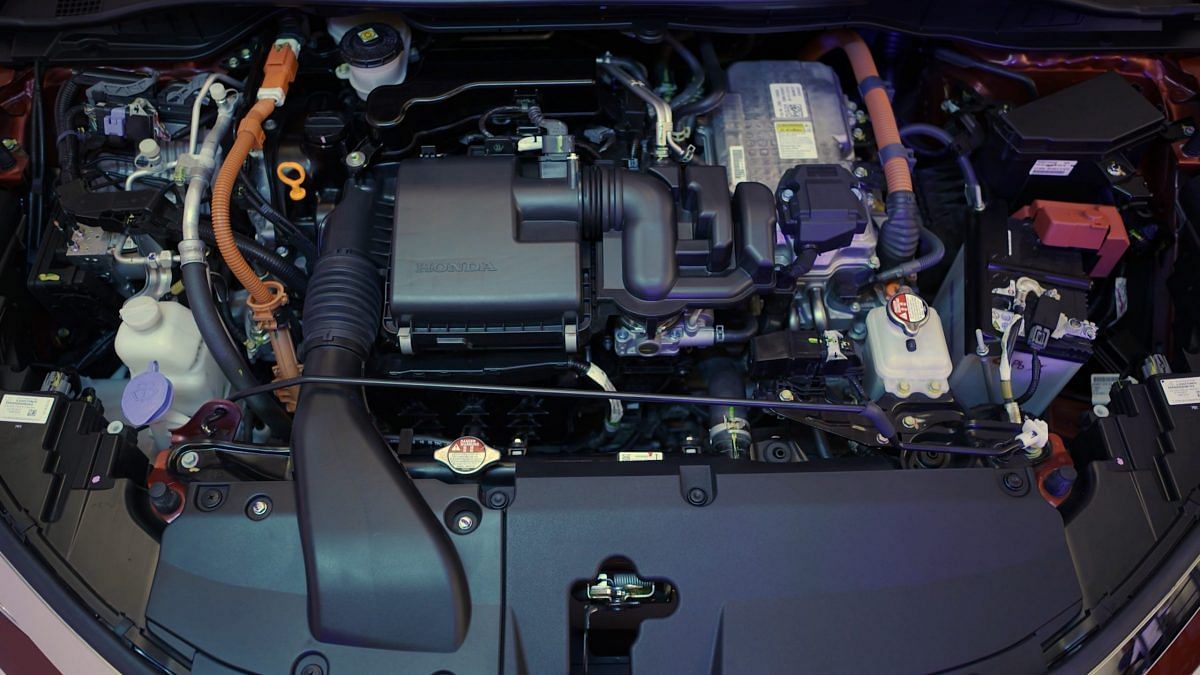 A 'Mild Hybrid', on the other hand, like the Maruti-Suzuki Ciaz does not have a dedicated battery to power the wheels. Instead a higher capacity battery replaces the regular battery in the engine compartment. This allows the car to draw on battery power while stopped at a traffic light, keeping the air-conditioning and music going while the engine goes into 'start-stop' mode. This prevents wasteful consumption as anyone who has been stuck at the ITO traffic light in Delhi would be aware. A limited amount of regenerative braking is used to recharge the battery, but the fuel efficiency gains are between five to eight percent. Not chump change, but nowhere like the 40-50 percent of a car like the Honda City e:HEV.
Of course, some compromises have to be made for such efficiency gains. Firstly, compared to the top-specification ZX model of the regular City which has the automatic transmission, the City e:HEV will cost substantially more. At Rs 19.5 lakh, this is a premium of Rs 4.5 lakh, almost a third more. No matter how you look at it, the City e:HEV is expensive.
However, with a running cost of anywhere between Rs 4-5 less per kilometre at today's petrol prices, the efficiency gains should be made up in a few years. Honda is also throwing in several 'Advanced Driver Assistance Systems' (ADAS) such as lane-keeping assistance and collision mitigation warnings, a topic I will discuss in a future column. There is also a 160,000 km warranty on the battery.
But the biggest drawback is the placement of the battery. It takes up much of the space of the wheel-well where the full-size spare wheel used to sit on the petrol and diesel City.  As a result, Honda has reduced the size of the luggage compartment and instead of a full-size spare wheel has given the City e:HEV a so-called 'space saver', which is a polite way of describing a narrow tyre.
But as far as the time to launch City e:HEV is concerned, Takuya Tsumura, the newly appointed boss of Honda Car India, admits that it was fortuitous. But he also hoped that it would be third time lucky for Honda Car India with the previous Civic and Accord hybrids bombing in the Indian market.
But some things have changed since then. For one, as noted, petrol costs a heck of a lot more today. But there is also a newly discovered 'green consciousness' among buyers and in the absence of affordable electric cars on the market, at least those with the brand equity and plushness of a Honda City, this might be a good interim solution that matches affordability and a reduced carbon footprint for those willing to spend under Rs 20 lakh.
But what about those who want this in a SUV? Well, Tsumura-san did confirm that Honda is indeed bringing out a SUV in 2023, and while he didn't confirm anything, chances are that this new Creta-sized SUV will have a hybrid option as well.
@kushanmitra is an automotive journalist based in New Delhi. Views are personal.
(Edited by Prashant)