New Delhi: Subedar Neeraj Chopra of the Rajputana Rifles is set to be promoted in the Army after he created history by winning an Olympic gold in Javelin Throw at the Tokyo Games Saturday, ThePrint has learnt.
With a brilliant javelin throw of 87.58 metres, Chopra became the second Indian to win an individual gold at the Olympics. He also ended the country's 121-year wait for an Olympic medal in athletics.
Sources in the Army said that according to the rules and regulations, Chopra will get a promotion in ranks.
"The rules and regulations with regard to sportsmen are a little different. He will definitely get a promotion. His natural step up will be one rank but a final decision would be taken in the coming days. He has won us the first gold in Athletics and hence every step would be taken to honour him," a source said.
Chopra had joined the Army as a Naib Subedar in 2016. He was then given an out-of-turn promotion to Subedar in November 2018 after he won gold at the Commonwealth Games and Asian Games that year.
As it happens, Chopra had taken to the javelin not out of any particular affinity for the sport but to lose weight. However, he then fell in love with the game.
His journey since to the Olympic gold has included a strict exercise regimen, strong determination and a single-minded focus, an Army officer told ThePrint.
Born to Satish Kumar and Saroj Devi, a farmer and his homemaker wife, the 23-year-old hails from the small village of Khandar in Panipat, Haryana, according to the Army's records. He grew up with two sisters, a second Army officer said, adding that Chopra "quickly took a liking for the sport (javelin)" after he picked it up to lose weight. "The rest is now history," the officer said.
---
Also read: 'Feels unbelievable, didn't know it would be gold' — Neeraj Chopra says after Olympic win
---
Joining the Army
Subedar Chopra was enrolled in the 4 Rajputana Rifles as a direct entry naib subedar on 15 May 2016.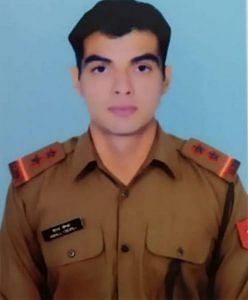 This scheme is meant for sportsmen who excel in their field or have the potential to do so.
He was selected in 2016 for training at the Mission Olympics Wing and Army Sports Institute in Pune.
Mission Olympics Wing is an initiative by the Army to identify and train elite sportsmen in 11 selected disciplines at five Mission Olympics Nodes to excel in various national and international competitions.
"Mission Olympics Wing has given two Olympic Silver medals in Shooting to the nation and is committed for many more. Sub Neeraj Chopra's medal highlights the hard work and efforts of Mission Olympics Wing. Sub Neeraj was conferred with the Arjuna Award in 2018 and Vishist Seva Medal (VSM) in 2020 for his excellence in sports," the Army said in statement.
Sports career
A profile released by the Army notes that Chopra became prominent for his performance at the World U-20 Championship in Poland in 2016 where he set a new Junior World Record with a throw measuring 86.48m.
In 2017, he went on to win the Asian Championship in Bhubaneswar with a throw of 85.23m.
He began training under Uwe Hohn of Germany, going on to win the Gold at the Commonwealth Games 2018 with a throw of 86.47m. His personal best of 87.43m was at the Doha leg of Diamond League that same year.
He also won the Asian Games with a throw of 88.06m that year.
Chopra however faced a challenge in 2019 as he had to undergo a shoulder surgery, which cast a shadow for his performance at the Olympics, originally slated for 2020.
"However, he was able to recover and practice harder. The one year extension of Olympics gave him extra time to recover," the first officer quoted above said.
(Edited by Manasa Mohan)
---
Also read: Meet India's only truly world-class athlete, and it's not Virat Kohli
---