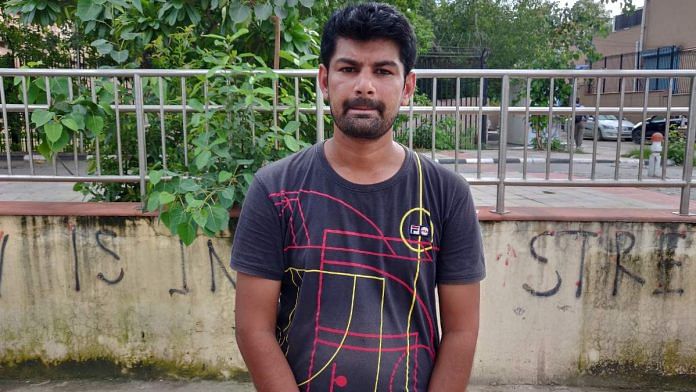 New Delhi: A PhD student from Uttar Pradesh has walked over 180 km from Saharanpur to Delhi in a bid to clear his name of "terror taint". Praveen Kumar, who started out from Saharanpur on 27 July and reached Delhi on 1 August, claims he was interrogated — then cleared — by the Uttar Pradesh Anti-Terrorist Squad (ATS) in an alleged mass conversion case in June. 
However, he says, his neighbours in Shitala Khera village haven't let him hear the end of it. They have defaced his home, and sent him hate letters that refer to him as a terrorist.
It all got to a point, Kumar told ThePrint, where he decided to do something about it. 
Kumar is in Delhi to petition the Supreme Court in his quest for a public proclamation of his innocence. He will file a petition in the top court on Friday, 6 August.
"Kyunki maine yeh sab dekha aur mere saath yeh hua, isliye main 6 tareek ko yaachika dunga (Because of what I have seen and experienced, I will file a petition in court on the sixth)," he said. 
The case in which Kumar's name emerged pertains to an alleged mass conversion drive that is suspected to involve two Delhi-based Muslim clerics, a report in The Times of India said. Kumar's photo and other information, reportedly listed against the name "Abdul Samad", was found in a list of 1,000 people allegedly converted to Islam. 
The list, a report in The Indian Express said, was seized from one of the suspected main accused, identified as Mohammad Umar Gautam.
The Express report quotes Uttar Pradesh Additional Director General of Police (Law & Order) Prashant Kumar as saying that their questioning of Praveen was a "routine procedure since his name was in the list being probed", after which he was "let go". 
Speaking to ThePrint, Kumar, who is in his 30s, expressed deep concerns about the religious divide emerging in India. It was almost amusing, he said, how the labels lobbed at him changed depending on the side targeting him.
"On my journey, a lot of things came to my mind. As Praveen Kumar, I am considered a Hindu nationalist and, as Abdul Samad, I instantly became a 'terrorist'," he said.
---
Also Read: 16 anti-conversion law cases, key accused Muslims, but UP govt insists law is religion-neutral
---
'Pakistan chala ja'
Kumar has offered his account of the episode in different media interviews. When he started his journey from the Saharanpur District Magistrate's office on 27 July, he also issued a press release detailing his side of the story.
After his name was found in the list, he said, a team of the Uttar Pradesh ATS made inquiries at his residence from 21 June to 24 June. On 25 June, he added, he was summoned to the ATS headquarters in Lucknow for interrogation. 
Kumar, who denies ever knowing or meeting Umar Gautam, said he was sent back home on 30 June and cleared of any involvement in the conversion racket. 
But the message, he told ThePrint, never reached residents of Shitala Khera. 
Describing the ordeal that awaited him in the village, he said, "Sometimes they wrote 'aatankwadi (terrorist)' on the walls. At other times, they put up posters targeting me. In a note to me, they wrote, 'Pakistan Musalman aatankwadi, Pakistan chala ja (Go to Pakistan, you Pakistani Muslim terrorist)'." 
Kumar said he felt harassed to a point where he briefly considered self-harm. He didn't mind that he was interrogated, he added, but was bothered by the "absence of clear public communication and due process following his interrogation". 
"There could have at least been a public statement released, saying that I was interrogated and given a clean chit," he said. 
'Need to weed out poison of hatred'
In light of his experience, Praveen Kumar expressed worry about the "common trend" of referring to people as anti-national and telling them to "go to Pakistan".
Kumar, who claims to have written two books on the leadership of PM Narendra Modi and UP Chief Minister Yogi Adityanath, described himself as a nationalist, but "not a Hindu nationalist". "Social upliftment and social consciousness are of prime importance to me," he said. 
The country, he added, is being increasingly divided by hatred in the name of religious differences. "I experienced this (injustice), which is why I am saying we cannot become a superpower until we weed out this poison of hatred among the people," he said.
(Edited by Sunanda Ranjan)
---
Also Read: What UP govt's new anti-conversion law says, and origin of 'love jihad'
---