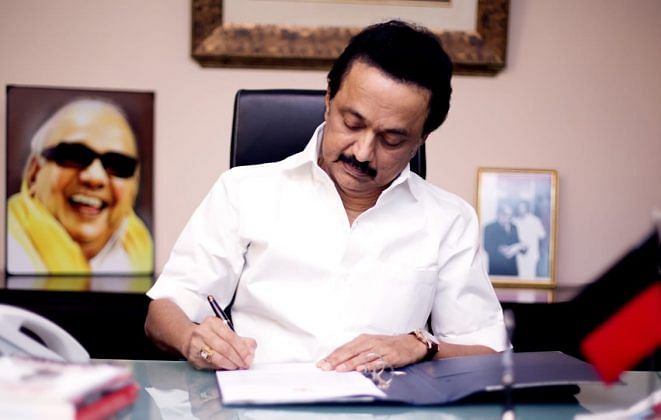 New Delhi: R. Sowmiya, a Computer Science Engineering graduate, had failed to land a job and was struggling to support her family.
The 22-year-old, who graduated last year, had written about this in her letter to Tamil Nadu Chief Minister M.K. Stalin who then promised her a job. The two had met at the opening of the Mettur Dam on 12 June, where Sowmiya, along with her letter, donated a gold chain worth two sovereigns to the chief ministers' Covid relief fund.
CM Stalin took to Twitter to share her letter, sharing how her generosity moved his heart and called her 'ponmagal' (golden daughter).
"Sister Sowmya's petition came to my attention. Her intention to help in times of the pandemic moved my heart. Soon, she will be offered a job suitable for her studies. Appropriate action will be taken," the chief minister had tweeted.
மேட்டூர் அணையைத் திறக்கச் சென்றபோது பெறப்பட்ட மனுக்களில் சகோதரி சௌமியாவின் இக்கடிதம் கவனத்தை ஈர்த்தது.

பேரிடர் காலத்தில் கொடையுள்ளத்தோடு உதவ முன்வந்த அவரது எண்ணம் நெஞ்சத்தை நெகிழ வைக்கிறது.

பொன்மகளுக்கு விரைவில் அவரது படிப்பிற்கேற்ற வேலை கிடைக்க உரிய நடவடிக்கை மேற்கொள்ளப்படும். pic.twitter.com/Ioqt6dq5YU

— M.K.Stalin (@mkstalin) June 13, 2021
While many remained sceptical of this, Sowmiya received an appointment letter from JSW Steel Plant Tuesday. Minister for Electricity V. Senthil Balaji visited the girl and handed over the letter.
She thanked the chief minister over the phone.
#Salem girl R Sowmiya who petitioned Chief Minister #MKStalin seeking a job during his visit to open Mettur Dam on June 12, got an appointment order in a private company from Minister V Senthil Balaji on Tuesday.

She also thanked CM MK Stalin over the phone.@xpresstn pic.twitter.com/OK9PxZHhrr

— S Mannar Mannan (@mannar_mannan) June 15, 2021
'Left with only Rs 4,000 for daily needs'
Sowmiya, who hails from Pottaneri village in Tamil Nadu's Salem, has two sisters, both of whom are married. She lost her mother to pneumonia on 12 March 2020 and lives with her father whose pension is the only financial support they have.
In her letter, she said: "He (father) gets a sum of Rs 7,000 of which Rs 3,000 we pay for rent." She didn't ask for a government job, rather any job in a private company.
Talking to ThePrint, Sowmiya explained how her mother's treatment cost the family Rs 13 lakh, the entirety of her father's savings. "After my mother passed away, we shifted from Mettur to our native village to stay in a rented house. After paying the rent, we are left with just Rs 4,000 to support our daily needs for a month. My sisters are not economically settled to support us," she said.
On receiving the job offer, Sowmiya said, "I am extremely grateful to the chief minister, other ministers, district collector and other officials for extending their helping hand in getting me a job."
---
Also read: How MK Stalin can preserve power in Tamil Nadu using gorilla politics
---