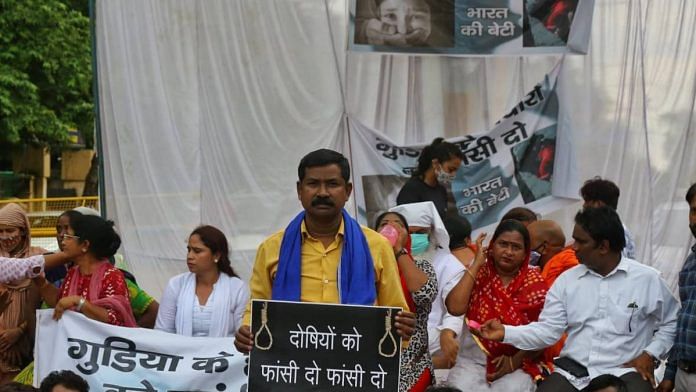 New Delhi: The National Commission for Protection of Child Rights (NCPCR) has written to Twitter India objecting to a tweet that Congress leader Rahul Gandhi had put out, which contains a photograph of the alleged Delhi rape victim's family. 
The NCPCR has contended that the tweet violates the Protection of Children from Sexual Offences (POCSO) Act and the Juvenile Justice Act.
The victim, a nine-year-old Dalit girl, was allegedly gang-raped, murdered and then cremated by her attackers in South West Delhi Sunday evening.
Gandhi met with the parents of the girl Wednesday morning and subsequently tweeted about it.
"Parents' tears are saying only one thing — Their daughter, the daughter of the country deserves justice. And I am with them on this path of justice," he had written.
'Tweet violates POCSO provisions'
According to the NCPCR, the picture that Gandhi has posted is violative of Section 74 of the Juvenile Justice Act and Section 23 of the POCSO Act.
"The commission has received a complaint in which it has been brought to the commission's notice that a photo of the minor girl victim's family has been posted with the caption stating that they are the father and the mother of the victim child on Twitter handle @RahulGandhi," the NCPCR letter reads.
"In the said photo, the faces of the victim's father and mother can be seen which thereby reveals the identity of the minor girl victim."
Priyank Kanoongo, the NCPCR chairperson, has said that the commission has asked Twitter to take action against Gandhi's post.
एक पीड़ित बच्ची के माता पिता की फ़ोटो ट्वीट कर उनकी पहचान उजागर कर #POCSO ऐक्ट का उल्लंघन करने पर @NCPCR_ ने संज्ञान लेते हुए @TwitterIndia को नोटिस जारी कर श्री राहुल गांधी के ट्विटर हैंडल के विरुद्ध कार्यवाही करने एवं पोस्ट हटाने के लिए नोटिस जारी किया है। pic.twitter.com/cVquij6jx3

— प्रियंक कानूनगो Priyank Kanoongo (@KanoongoPriyank) August 4, 2021
The move comes hours after BJP spokesperson Sambit Patra hit out at Gandhi for allegedly violating the Juvenile Justice Act and the POCSO Act.
"He revealed the identity of the child's family and is using the issue for his political agenda," Patra had said while appealing to the NCPCR to take action against the tweet on the grounds that "no one is a VIP". 
Rahul Gandhi must be answerable to this," he had said. 
(Edited by Arun Prashanth)
---
Also read: Pegasus list proves Rahul Gandhi's undying importance
---