Surat: The Surat Diamond Association's office is like a war room these days — a conference full of executives making phone calls, office-bearers huddled together in a cabin, a queue of men waiting to get a word in, and assistants moving in and out with paperwork.
Over the last fortnight, this office, which represents over 4,500 diamond units in Surat, has become the centre of operations to send migrant workers back to their native districts in Gujarat.
Amid the Covid-19 crisis, the body is only focussing on workers' return rather than reviving the $24 billion (Rs 1.8 lakh crore) industry that has been severely affected due to the lockdown, said members of the association.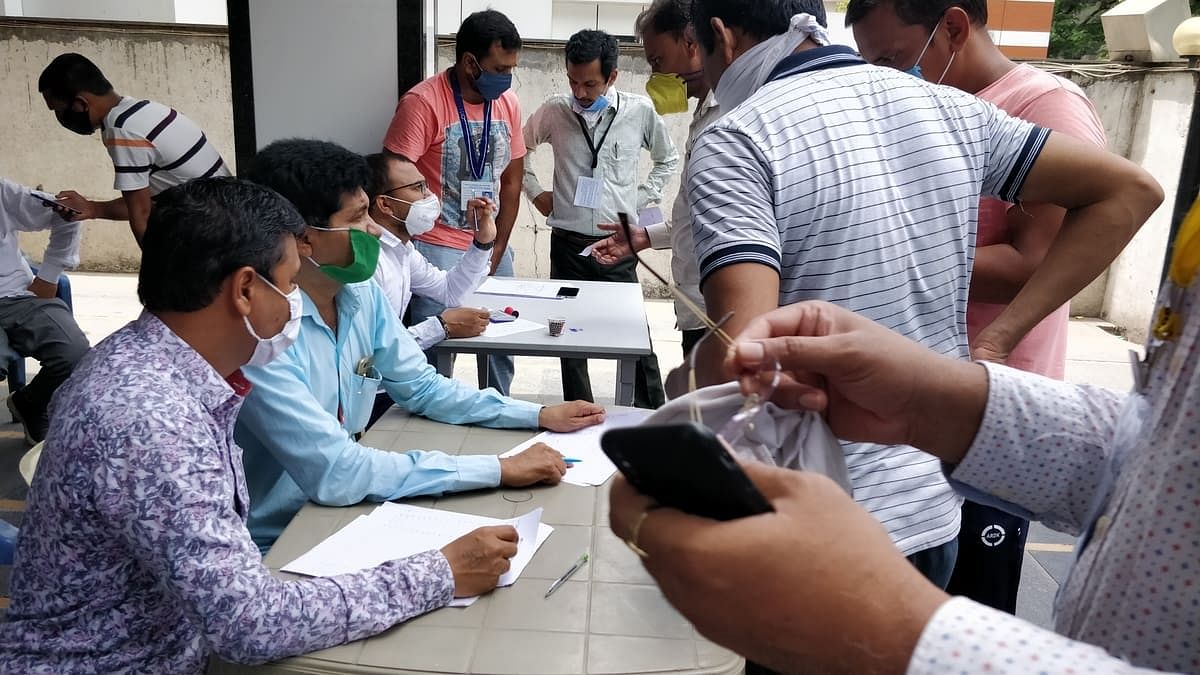 Dinesh Navadia, regional chairman of Gem Jewellery Export Promotion Council, an apex body representing exporters across the country, said the reasons behind this are three-fold — industry not expecting a recovery in demand as global economy has slipped into a massive recession, diamond processing units being in areas with high number of Covid cases and hence not yet permitted to begin operations, and the way the processing units are designed that make physical distancing a challenge.
Meanwhile, the labourers are also keen to return as employers stopped their wages and the Covid-19 cases in the city rose. They even indulged in violent protests after the lockdown was imposed.
The association then chose to just send them back, coordinating 1,250 state transport buses to ferry workers to Saurashtra and north Gujarat, where most of them come from, said Navadia.
---
Also read: India will see its worst recession ever with 45% GDP fall in Q2 this year, Goldman says
---
Economic impact
Speaking about the demand hit to the industry, Surat Diamond Association secretary Babubhai Vidiya said, "Diamonds are luxury items, there would not be a demand for them until things improve globally."
He said the industry has stopped importing rough diamonds because of low demand, and that recovery could be six months away.
The Surat diamond industry has already lost revenues worth $4 billion (around Rs 30,000 crore) due to the nationwide lockdown, according to Navadia, who also said more losses are anticipated with global recession imminent.
Vidiya said the diamond industry hasn't seen a period like this in the last 60 years when the industry started.
Surat is the largest diamond polishing and processing centre in the world, employing about 7.5 lakh workers — mostly from Saurashtra and north Gujarat, but also from states like Odisha, Bihar and Uttar Pradesh. There are about 5,000 small, medium and big diamond factories in the city, of which 90 per cent are unorganised, said Navadia.
It is in these unorganised, and often unregistered units, that most of Surat's diamonds are cut and polished and then sold to traders in Mumbai from where 94 per cent of them are exported to US, Hong Kong and China, he said.
Since these markets are directly affected by the Covid-19 pandemic, there is low international demand for diamonds, he added.
---
Also read: Setting fiscal deficit target this year will put Indian economy in straitjacket: Niti Aayog VC
---
Small factories may never open again
Given the unorganised nature of the industry, many of the diamond processing units run in small congested areas may not be able to recover from the extended lockdown, or even implement the safety norms, said Shyam Munjal, proprietor, Rewa Jewels.
"The diamond processing and polishing units have four workers at a distance of less than 1 metre, if the physical distancing norms are implemented, they may have to change their designs which may increase their costs," he said.
Currently, about 30-35 factories have written to the council that they are ready to restart their business with 25 per cent of the staff under social distancing norms, said Navadia.
"All of these companies deal with precious stones where the margins are large and the companies can afford the safety norms, most of the diamond units have not shown interest to restart as of yet," he said.
Since diamond processing units are in Varaccha, Katargam, Punagam and Mahidharpur areas of Surat — all in red zones and where new cases are being detected every day — it will delay the opening of units until June, said Basudev Adhikari, proprietor of a jewellery brand.
Workers' return uncertain
With the factories shut, diamond workers who till now lived a comfortable life are struggling to survive amid rent issues and want the first train back home.
"Our landlord asked us to pay the rent for last two months and cut the water supply. I had the last Rs 2,000 left for going home which I had to give him," said Ajit Prasad, who is from Bihar's Nalanda.
Like most other workers ThePrint met at Ved Road in Surat, Prasad also claimed that he had not been paid since March.
In the last week, 189 trains have left from Surat which could only accommodate 3 lakh workers. The Gujarat government has also arranged for 1.5 lakh workers to leave by bus, said the industry experts.
Now that the diamond workers have left for home, they are likely to come back only after Diwali, said industry experts. But this doesn't worry the diamond association members.
"As soon as the units begin working again and schools open, most of the workers from Saurashtra will return," said Navadia.
---
Also read: Modi govt's Rs 20 lakh crore stimulus package won't give immediate boost, economists say
---