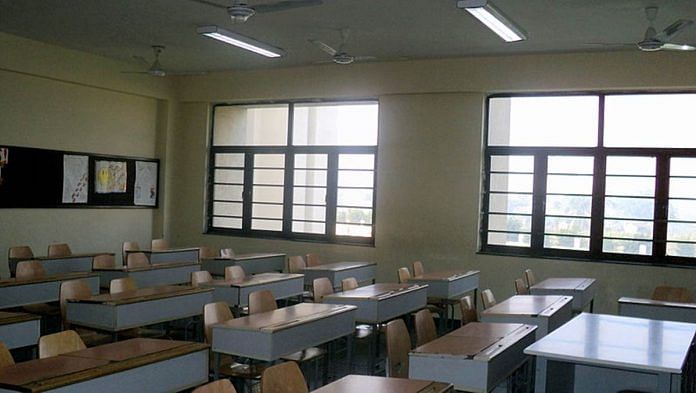 New Delhi: Scientists from the Indian Institute of Technology-Bombay, along with doctors and lawyers from across the country, have written an open letter to chief ministers of Delhi, Maharashtra and Karnataka, urging them to set up a task force that can help scientifically plan the reopening of schools in a staggered manner.
In the letter dated 28 July, the experts pointed out that schools in India have remained largely closed for the past 16 months leading to mounting learning and development losses among the students. This is despite the fact that scientific evidence now indicates that reopening with safeguards is possible, the letter said.
"There is no credible scientific projection for children being disproportionately affected in a potential third wave," the scientists wrote in the letter.
Moreover, children themselves are at low risk from Covid-19, and there is strong scientific evidence that schools do not contribute significantly to Covid-19 spread, the letter said.
Reports from India also show that it is possible to reopen schools safely.
In the letter, the experts pointed out that costs of school closure are immense, especially on the poorer sections of society. The letter also said that online education is not accessible to all and basic language and mathematical abilities of primary school children are suffering.
Along with this, reports suggest that children are missing their mid-day meals, and in such circumstances, child labour is on the rise.
"The cycle of illiteracy and poverty will affect children for generations to come; their future welfare, and indeed the future of India, are critically dependent on continued quality education," the letter stated.
---
Also read: UGC notifies academic bank of credits, students can design their own degree now
---
Set up task force, vaccinate school staff on priority
In the letter, the experts recommended setting up a task force with relevant experts on an urgent basis to plan for the reopening of schools.
They also suggested that pre-primary and primary schools be opened up first, before secondary schools.
The experts also suggested vaccinating school staff on a priority basis, and reducing the gap between doses — just as it has been done for students going abroad for further studies.
Instead of reopening schools in one go, the experts suggested that small groups of students attend school once or twice a week, to begin with. Along with this, schools should upgrade their infrastructure for the transition from online to a hybrid model, which supports both in-person and online classes.
Apart from issuing proper and regular guidance on Covid appropriate behaviour such as masking and physical distancing, schools should also ensure that their premises are appropriately ventilated, the letter said.
Detailed recommendations for reopening schools have been made by the Lancet Covid-19 Commission India Task Force, the experts said.
---
Also read: SAFAL for CBSE students, Vidya Pravesh for preschoolers: Modi launches schemes on 1 yr of NEP
---