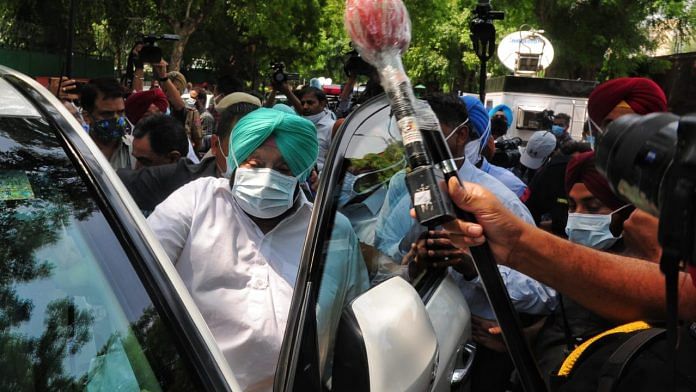 New Delhi: The Punjab Congress leadership crisis seems to be heading towards a resolution Saturday with Chief Minister Amarinder Singh agreeing to come on board with Navjot Singh Sidhu as the next state Congress party chief — only if "Sidhu apologises for his previous statements," sources said.
"The CM made it clear that he was ready to get on board with Sidhu being the new party president if he apologises for all the personal remarks and accusations he has levelled against the CM in the last few months," a party leader close to Amarinder Singh said.
Saturday's meeting seems to have finally sealed the elevation of Sidhu to the post of Punjab Congress president. After weeks of back and forth between the central leadership and the two senior leaders, Congress' Punjab in-charge Harish Rawat met CM Singh in Chandigarh.
After the meeting Singh said "whatever decision is taken by the high command with respect to the post of state party president, it will be acceptable" to him.
Singh's comment, however, comes with a rider – an apology by the younger leader. Sidhu has led a public charge against CM Singh over the latter's "unfulfilled promises" ahead of the 2022 assembly polls. In the last few months, he had said CM Singh's government was "cheating people" and had " failed to deliver" on his promises.
---
Also read: Anger at Amarinder's 'broken oath' of 2015 still felt in epicentre of sacrilege row Faridkot
---
Unresolved issues
CM Singh's media advisor Raveen Thukral tweeted a picture of Singh and Rawat saying the CM had "raised certain issues which he said he'll take up with @INCIndia president".
."Had a fruitful meeting with @harishrawatcmuk. Reiterated that any decision of @INCIndia Presìdent will be acceptable to all. Raised certain issues which he said he'll take up with @INCIndia president", @capt_amarinder pic.twitter.com/UGOrSbJbeR

— Raveen Thukral (@RT_MediaAdvPBCM) July 17, 2021
The issues in question, sources say, are Sidhu's past attacks at Singh and his "disrespect" towards the CM. On Friday, Amarinder Singh had written a letter to Congress president Sonia Gandhi expressing his disagreement with the party leadership's decision of making Sidhu the Punjab Congress president.
This isn't the first time Sidhu has been expected to tender an apology for his statements against Singh. In 2018, when at a press conference, when asked about the chief minister, Sidhu had said: "Which captain are you talking about? … Oh Captain Amarinder Singh… My captain is Rahul Gandhi."
When pressed by certain sections of the party to apologise for this remark, he had refused to do so, saying he "didn't say anything wrong."
On Saturday, Sidhu met Sunil Jhakhar, the present Punjab Congress chief, and met several other MLAs at their homes. He then put out a tweet, saying he was "seeking guidance" from these leaders thus indicating an imminent announcement of him being the new PPCC chief.
Seeking guidance of Presidents of the illustrious Punjab Pradesh Congress Committee … Conversations with wise men, worth months of Education !! ?????? pic.twitter.com/Tq5uqkbp6m

— Navjot Singh Sidhu (@sherryontopp) July 17, 2021
---
Also read: Navjot Sidhu hit a sixer against the Captain of Punjab Congress. Now he has a seat with Gandhis
---
(Edited by Paramita Ghosh)