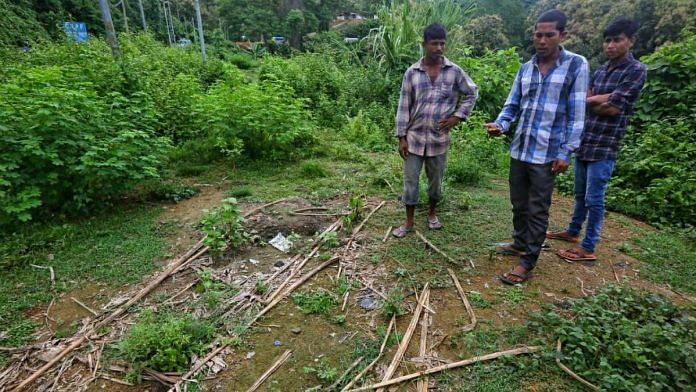 Lailapur, Vairengte: Running along National Highway 306, barely a kilometre away from the Lailapur-Vairengte border, where six Assam policemen were killed during a violent clash between the Assam and Mizoram police forces on 26 July, are a row of small bamboo huts inhabited by large families. 
The families, on the Assam side of the border and who own small shops on the highway, are living under constant fear, scared that the tense truce "may blow up any time", which would force them to evacuate their homes and run for their lives. 
They allege that people from Mizoram have not only "encroached upon their land", but also "destroyed their betel cultivation at several places", "burnt down their homes" and "barged inside their homes to beat them up" on several occasions.
"They say it is their land but I was born here. When I was a child, the Mizoram Police post was far away from the border where they are sitting now. They are the ones who have come far ahead, inside our land," Abibur Rehman, a resident said.
"This area had an auto stand that was popularly known as Lailapur auto stand in Assam. Now they say it is the Vairengte auto stand. When did it become that?"

Debu Devbarman, a labourer from the area whose family is "on the edge", said things have gotten worse in the last two years.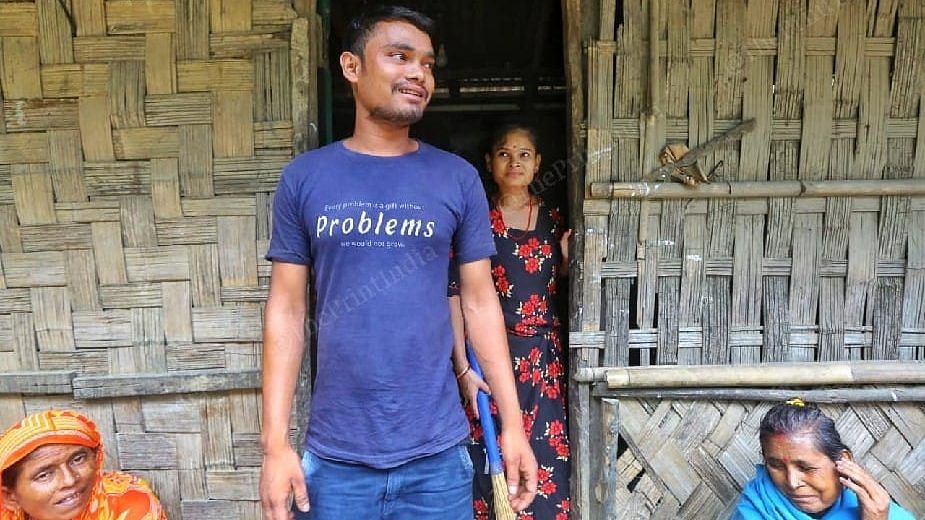 "We are in constant fear of the situation escalating at this border. We get nightmares of the Mizos coming and beating us up, and vacating our homes. They are brutal and carry arms," he alleged. "Last year, they cut and levelled our entire betel cultivation, claiming it to be on their land and we could not even protest.
"Now we hear even the slightest of commotion, we start packing whatever valuables we have, thinking we may have to evacuate any time. Just imagine living in that fear every day," he added. 
The 26 July clashes have only heightened the fear. "They did not shy away from opening fire at the police. Who are we? Why would they spare us? This needs a political solution, else we will all keep living in fear," Debilal Thapa, a resident of Lailapur who runs an eatery at NH 306, said.
---
Also read: LoC-like situation, police pointing guns at each other — images from Assam-Mizoram border
---
'The drill'
According to the Assam residents staying close to the border, they have charted out a drill in case of emergencies. This, residents said, started after 20 of their huts were allegedly burnt down by miscreants from Mizoram in a clash reported in October 2020. 
It was this violence that prompted both the Assam and Mizoram Police to build posts in the disputed area. Two CRPF camps act as a buffer along the border now.
According to residents, now at the slightest inkling of a clash, women vacate the huts and go down to houses of relatives in Lailapur, while the men stay behind. The ones who do not have relatives in Lailapur rush to the Army camp in the area. 
"The moment we hear gunshots, which has happened four to five times in this year alone, we tell the women to vacate the house and we stay back. The older men are asked to rush to the Army camp and take shelter," Devbarman said. "We are very troubled and scared. We do not know where we should go and when this will end."
Devbarman's sister, Deepali Rai, added, "Dar toh lagta hai, par apna ghar chhodke kahan jayenge? Apna zameen koi chhodta hai kya? (We are scared, but where do we go leaving our house? No one can abandon their land, their house just like that)."
Maniruddin, who says his house was burnt down in the clashes, has six children. With his house gone, he has been living at a neighbour's home for the past year.
"All my documents are destroyed. My house was burnt to ashes by the Mizos. Now, I cannot even get my children admitted to any school here. Where do I go?" he asked.
Abibur Rehman, whose house too was burnt down in the clashes, said he still "hears the bullets in his dreams". 
"For the past two years, the incidents between the two forces have increased. Sometimes we feel that we would die in the crossfire," he said. "I can still hear bullets being fired. We are living on the edge here; no one knows when the situation will worsen."
---
Also read: Veggies are expensive, medicines in short supply — how Assam 'blockade' is hurting Mizoram
---
'People from Mizoram beat us up, throw stones at our vehicles'
The hostility between the two states is evident. 
While residents of Lailapur in Assam alleged that they are being "beaten up and harassed" by those of Mizoram, people on the other side of the border accuse the Assam Police of "intimidating" them.
Azimmuddin, a truck driver who often ferries essentials to Aizawl from Lailapur, has a Mizoram number plate on his vehicle, even though he bought his truck in Assam. When asked why, he smiled.
"People of Mizoram throw stones at the vehicle the moment they see an Assam number. I did not want to take any risk, and so I registered it in Mizoram," he said.
Many other drivers had similar complaints.
"Why hit us? We are the ones delivering their essentials, and we are still being attacked. They deserve this economic blockade. They have to start valuing us and Assam more," Anand Bahadur, a driver from Lailapur, said.
Abdul Kalam, another driver, complained that visitors from Assam are not even given petrol or other essentials.
"Last week I ran out of petrol and I had to return to Assam. So, I went to a petrol pump in the area to get my tank filled. The moment they saw the Assam number on my truck, the man at the petrol pump not only refused to give me petrol but also rebuked me and threatened to beat me up," he said.
Tazuddin, another driver, accused shopkeepers from Vairengte of refusing to give him water. "Just a day before this clash, I had gone to the other side to deliver some things and I felt thirsty. I went to a shop to buy a bottle of water and biscuits, but they refused to give it to me," he alleged.
The people of Mizoram, however, denied the allegations. 
"We as a community are extremely caring. We never say anything to anyone, until we are provoked. They are talking about our police harassing them, what about our people who go to Assam? A couple was thrashed mercilessly just last week by Assam Police for no reason," Lalmuanpuia, a resident of Vairengte told ThePrint.
"The Assam Police get inside our fields, misbehave with our women, level our fields, and we are supposed to keep quiet," he added.   
Lalnunpuia, another resident of Vairengte, said that during Covid, Assam even took vaccines from Mizoram and the state also helped many truckers, who were stranded due to the lockdown, with food and water. 
Those on the Mizoram side of the border say they have little to fear. 
"What should we be scared of? If something happens at the border, we go there to help our police force. They are not alone in this fight; all civilians are with them," Baby Vanlalzari, who runs a shop in the area, said. "Whether it is a man or woman, young or old, we all can lay our lives for our land."
Jenny, another resident of the area, said a solution can be reached only through dialogue. "No one wants this fight. We all want peace. We are both a part of India but they should understand that they cannot push us back anymore," she said. "If the status quo is maintained, there will never be a fight."
The report has been updated to correct the spelling of Vairengte. The error is regretted.
(Edited by Arun Prashanth)
---
Also read: 'There were bullets, stones all over': Story of how Assam & Mizoram police fought each other
---