New Delhi: When Prime Minister Narendra Modi unveiled a 28-ft-tall granite statue of Netaji Subhas Chandra Bose at India Gate in the heart of New Delhi last week, it was a larger-than-life moment for Mysore-based sculptor Arun Yogiraj.
"I've carved thousands of sculptures and idols, but have never got this kind of respect until now," an emotional Yogiraj said.
The making of the gargantuan sculpture, intended to "inspire future generations", was an odyssey of blood, sweat, and tears for Yogiraj and his team.
But for him, its completion was also validation for quitting a corporate job back in 2008 and devoting himself to sculpting despite his mother's initial objections.
In an in-depth conversation with ThePrint, the 39-year-old spoke about his passion for sculpting, how he got the commission for building the Netaji statue, the sacrifice of other lucrative projects along the way, and the gruelling task of transforming a monolithic 280-metric-ton block of shiny granite into a likeness of the iconic freedom fighter.
This block of granite — a notoriously difficult stone to carve —  travelled 1,165km on a 140-wheel truck from Khammam in Telangana to the campus of the National Gallery of Modern Art (NGMA) in Delhi.
There, under the expert guidance of Yogiraj, 48 sculptors from all over India chipped away at the block, working three shifts a day for 75 days and for 26,000 hours in total.
While Yogiraj is clearly proud of the achievement, he has a self-effacing manner. In the course of his interaction with ThePrint, he attributed the acclaim he has received to being "lucky", to the Union government's Ministry of Culture, and to reflected glory from his subject ("the whole world loves Netaji so much and this is the reason why people are loving me too").
But what shines through above all is a story of determination and persistence.
---
Also read: Kartavya Path's new name & look inspires feelings of 'Indianness', say visitors after inauguration
---
An early passion
At one point in the conversation, Arun Yogiraj described carving the Netaji statue as the "highest ever honour bestowed" not just on him, but on his family. He is the youngest in five generations of sculptors, who've been moulding, carving and chiselling across 225 years, including for the erstwhile royal family of Mysore.
Yet, Yogiraj described how his mother never wanted him to join the family trade even though he showed an early affinity for sculpting.
"I used to compete with the artists working at my place when I was only 11 years old. I used to challenge them that I will cut a stone or give it a proper shape much before you," he recalled.
His first 'professional project' was as a boy (he can't remember his exact age), when he stepped in while his father was out of town and completed an idol of Lord Ayyappa within two days.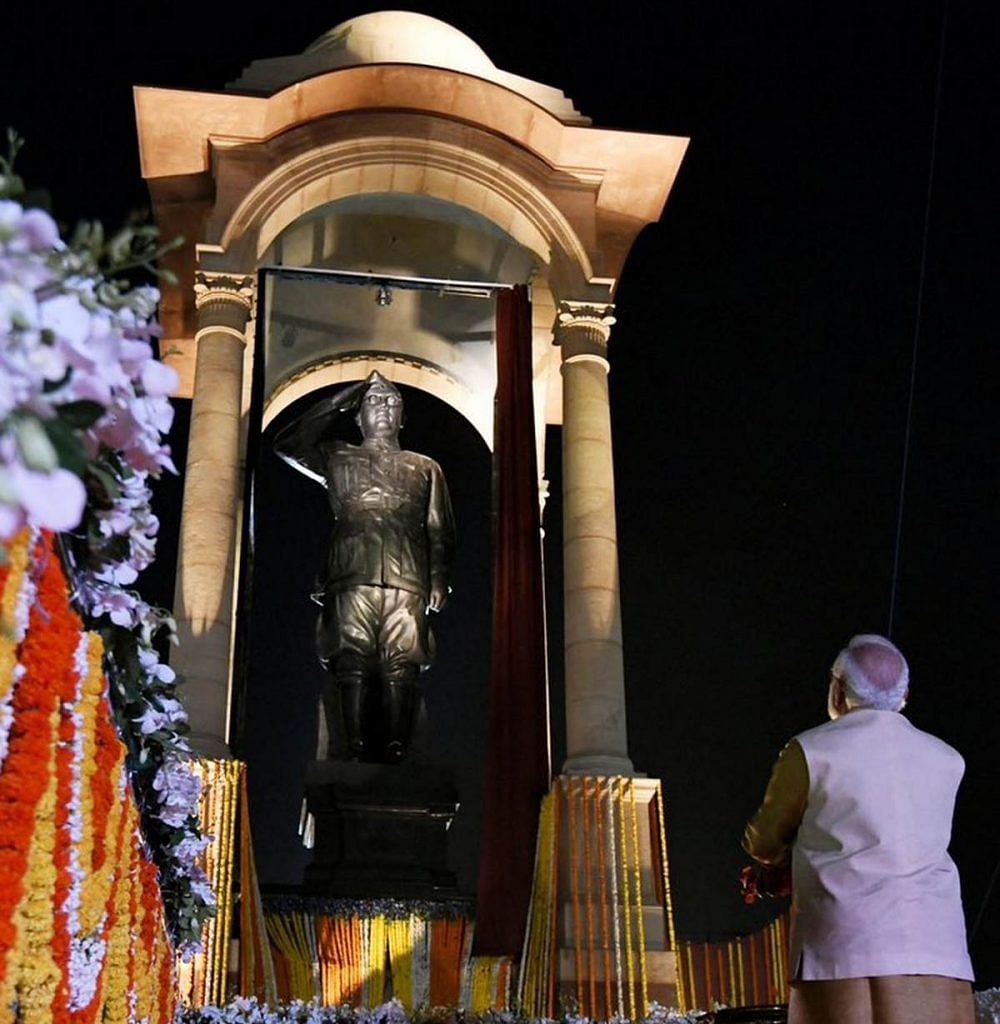 But while the young Yogiraj dreamed of assisting his father (renowned sculptor Yogiraj Shilpi), whom he saw "carving stones all day", his mother wanted him to find a stable job that did not require such intense labour.
"My mother did not want anyone from my family to become a sculptor, so I was studying too. I completed my MBA from Mysore university. For the sake of my mother, I also took up a trainee's job in the HR department of a private company," Yogiraj said.
Even while he worked at this corporate job, Yogiraj continued to share his father's workload, but he was unhappy. He felt he belonged only in a sculptor's workshop and not behind a desk.
Three months into the job, he decided to quit. "I told my mother that I will not be able to do this [corporate job], I need to come back. She started to cry. But, later on, she accepted my wishes."
Since 2008, Yogiraj has focused solely on sculpting and has gathered an impressive array of high-profile commissions.
Highlights include a 14.5-ft white marble statue of the last maharaja of Mysore, Jayachamarajendra Wadiyar, unveiled in 2016 and a 15-ft white marble rendition of B.R. Ambedkar that was inaugurated by then Karnataka Chief Minister Siddaramaiah in 2018. Both statues are in Mysuru.
Last year, he also came into the limelight for sculpting a 12-ft-tall statue of the Vedic scholar Adi Shankaracharya, which was unveiled by the Prime Minister at the Kedarnath Temple in Rudraprayag district, Uttarakhand.
According to Yogiraj's website, he has won numerous accolades, including the Karnataka government's prestigious Jakanachari Award in 2021.
A big opportunity, but with a cost
On being picked by the Ministry of Culture for the ambitious Netaji project, Yogiraj said his previous work may have given him an edge over his competitors.
According to him, when the idea to install this statue was mooted, seven artists were invited for discussions. "In January, seven artists from all over the country were invited to hold discussions for creating the statue of Subhas Chandra Bose. I was also one among them," Yogiraj said.
Granite is a "tough" stone to work with, he explained, but his experience with stone in general made him a top contender.
"Granite is a difficult medium, in which you do not get any chance for correction. In other mediums, like brass or clay, you can make corrections after committing mistakes but in granite you do not get that opportunity," he said.
The selection process was fairly lengthy and by the time the commission was given out, it was April. That same month, the PM tweeted a picture of himself receiving an "exceptional" 2-ft-tall statue of Netaji Subhas Chandra Bose from Yogiraj.
Glad to have met @yogiraj_arun today. Grateful to him for sharing this exceptional sculpture of Netaji Bose. pic.twitter.com/DeWVdJ6XiU

— Narendra Modi (@narendramodi) April 5, 2022
While bagging the project was a huge accomplishment, it also meant making sacrifices. According to Yogiraj, he had to back out of several other commissions, including from abroad. This meant returning advances and even having to pay a penalty in some cases, leading to financial losses.
Then, it was time to roll up his sleeves and get to work.
'48 artists were working day and night'
Working on the statue was "not easy at all", Yogiraj said, given the tight deadlines and painstaking nature of the work.
"We were short of time, but I did not want to give any less than my best. I did not want to tell society that we are short on time, or the stone is too hard. I completed a six-month project within two months," he said.
With cutting corners not an option, the team worked gruelling hours and Yogiraj says he often slept just two or three hours a night.
"Our artists worked in three shifts — 26,000 hours in all. I inducted the best stone artists from all over the country for this project. Famous artists were called from states like Rajasthan, Tamil Nadu, Andhra Pradesh etc."
Before the team got started on the massive granite block, Yogiraj briefed them using thermocol. "A thermocol replica was prepared. Everyone was given explanations in simple words, according to their understanding. That they need to do this only. I used to repeatedly tell them: 'Don't worry about Netaji, you just do this. Mistakes will happen but you don't need to be afraid of them.' That's all I used to explain to my artists," he said.
When it finally came to working on granite, one of the most challenging parts was carving out the clothing.
In this statue Netaji is not shown wearing a dhoti kurta, but the Indian National Army (INA) costume he donned during the Second World War. Getting the pleats right was a task.
"Each moment, when the hammer was struck on the stone, we needed to keep a close watch on the silhouettes of the pants. It was a difficult task in itself. I had never seen those kinds of of pants myself," he recalled.
With the artists working "day and night", it took 75 days to complete the sculpture.
Bittersweet success
One of the things that kept Yogiraj inspired throughout was the involvement of Netaji's family.
"The family members of Subhas Chandra Bose extended a lot of support. His family members kept visiting us in between the project and shared a lot of things with us. They expressed a lot of love which pumped up more enthusiasm in me," he said.
But if their presence provided a boost, an absence still gnaws at Yogiraj's heart: that of his father, who died 10 months ago after an accident.
"When I was delivering big for the country, my father did not stay with me to see all this. I often feel that God gives a lot with one hand and takes away some other lovely thing on the other," he said.
"I miss my father each and every day. He never praised my work but the tears swelling up in his eyes used to reveal a lot."
(Edited by Asavari Singh)
---
Also read: On Kartavya Path, ask not what Modi can do for you…ask what you can do for Modi's India
---