New Delhi: Policy decisions to keep various tariffs and fees for municipal services below economic costs is undermining the financial sustainability and viability of urban local bodies (ULBs) across several large and medium Indian cities, the World Bank said in a report released Monday. 
According to the report, 'Financing India's urban infrastructure needs – Constraints to commercial sustainability and viability financing and prospects for policy action', ULBs and municipal services providing utilities in several large and medium cities across India have been generally unable to recover the operations and maintenance (O&M) cost — let alone capital costs — of providing services such as water supply and sewerage treatment. 
This has resulted in service delivery and infrastructure gaps, and urban sector experts have for long stressed that unless investment in urban infrastructure is increased, India's urbanisation story can get derailed. 
The World Bank report states that Indian cities require an estimated capital investment of US$ 840 billion in urban infrastructure and municipal services in the next 15 years till 2036 (in 2020 prices), which is equivalent to 1.18 per cent of estimated Gross Domestic Product over this period.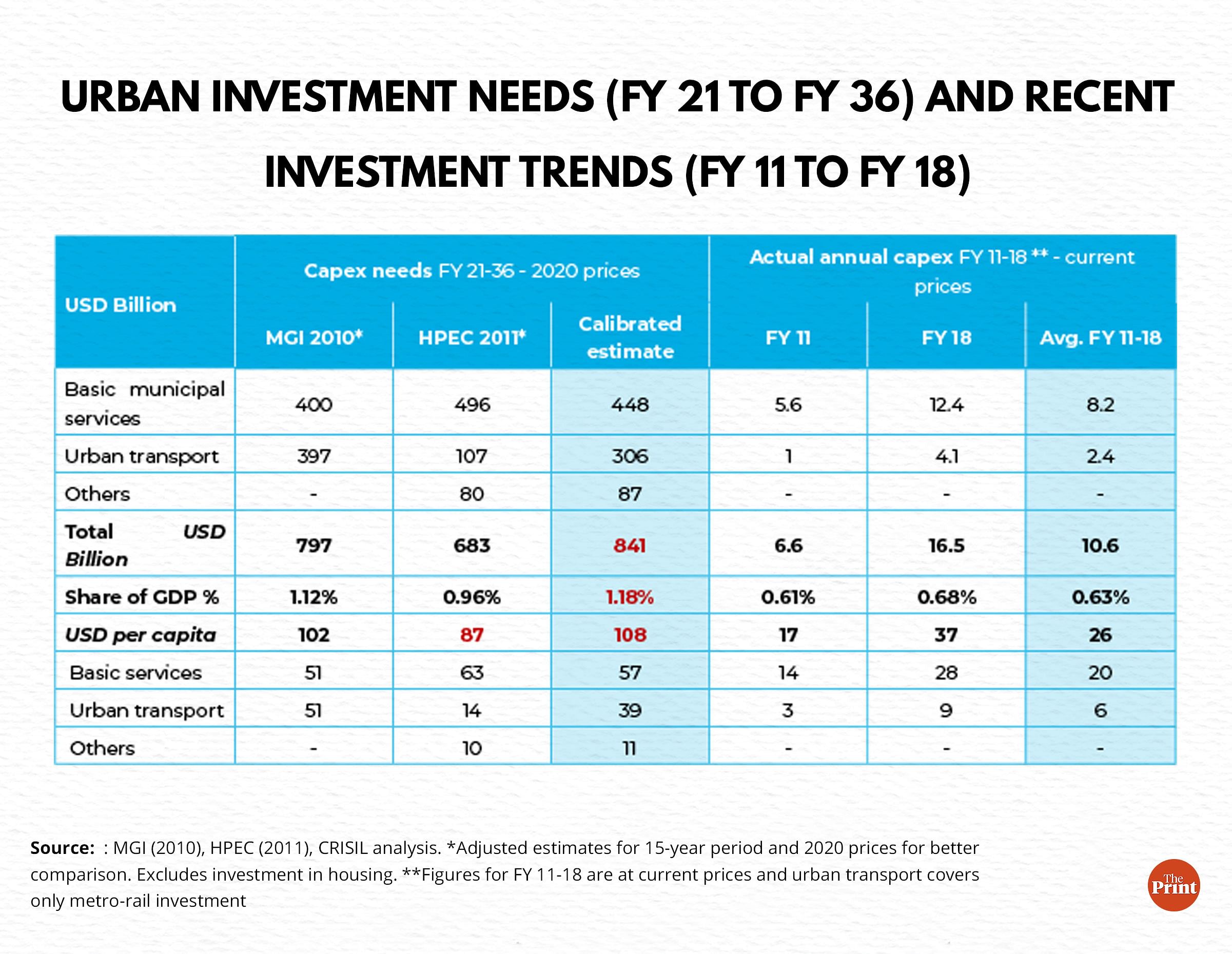 Graphic: Manisha Yadav | ThePrint Over half of these investment needs — almost USS 450 billion — are in basic municipal services (water supply, sewerage, storm water drainage, urban roads and street lighting) while the rest is for mass transit. 
---
Also Read: 'India's urban local bodies among weakest globally': RBI decries reliance on state, central grants
---
ULBs in 14 cities recovered just 45% of O&M costs for providing water supply  
Data for 14 cities reviewed by the World Bank shows that the ULBs recovered less–than– half  (45 per cent) of O&M costs for providing water supply, on average in recent years.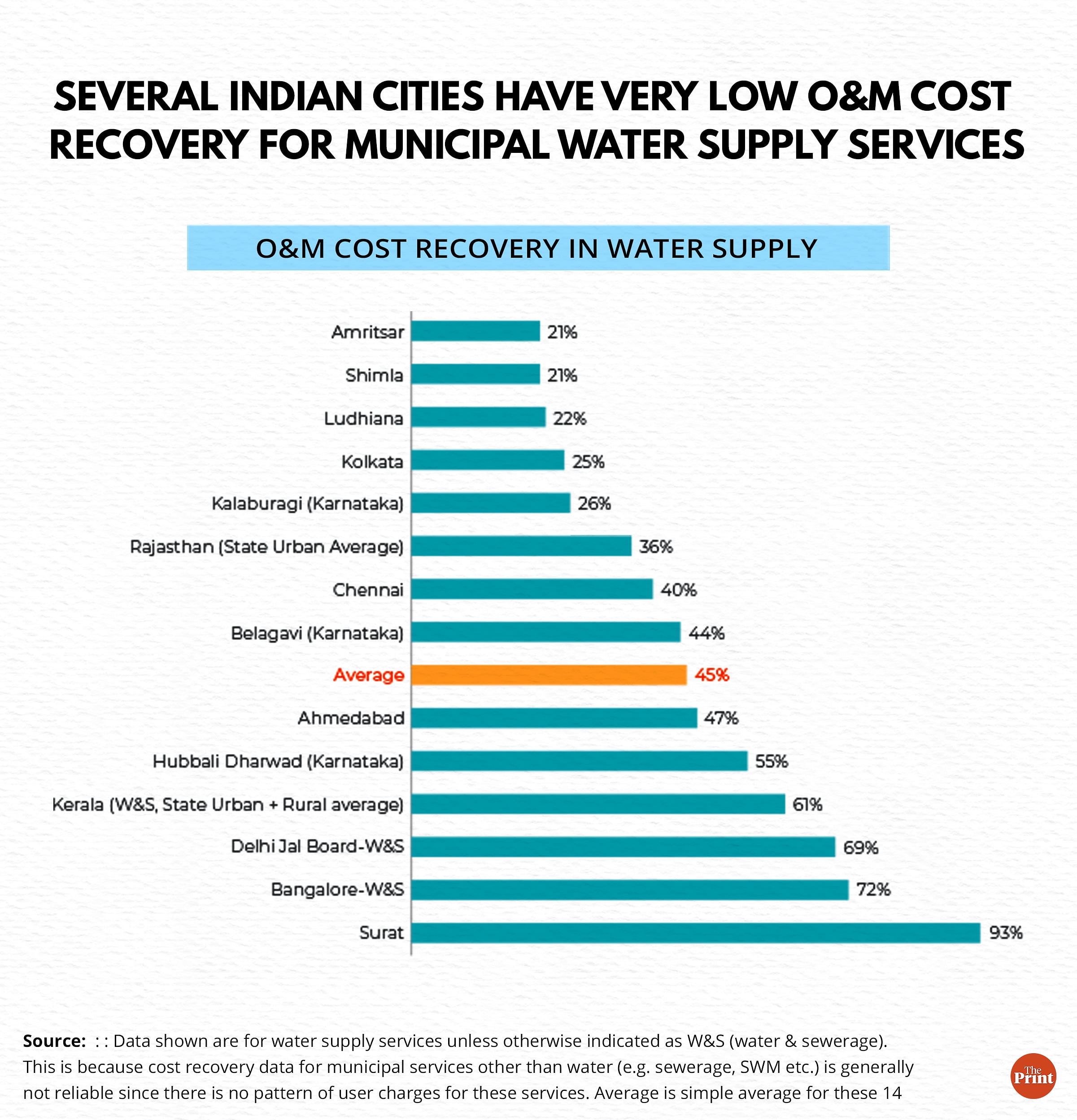 Graphic: Manisha Yadav | ThePrintWhile cities like Surat, Bengaluru and Delhi appear to be exceptionally high performing, several other large and medium-sized cities like Amritsar, Ludhiana, Shimla, Kolkata and Kalaburagi are only recovering one quarter or less of O&M costs for their water supply, the report says. Even Ahmedabad, which has relatively strong institutional capacity is performing just at average on this indicator. 
Roland White, one of the lead authors of the report, told ThePrint that such low O&M cost recovery rates clearly indicates service charges that are well below the required levels for financial sustainability. "They will undermine the viability of engaging private sector partners in service delivery and capital infrastructure without substantial fiscal support or revision of service charges," he asserted.
The report comes close on the heels of Reserve Bank of India's Report on Municipal Finances released last week that said that ULBs in India are amongst the weakest globally in terms of "fiscal autonomy with elaborate state government controls on their authority to levy taxes and user charges, setting of rates, granting of exemptions, and borrowing of funds as well as on the design, quantum and timing of inter-governmental transfers." 
In fact, the World Bank report points out that operating cost recovery for municipal water services by Indian utilities on average appears to be below many comparator countries. 
Data from the International Benchmarking Network for Water and Sanitation Utilities show that water and sewerage utilities in Indian cities recovered only 55 per cent of their operating costs on average, which is below the levels from utilities across a spectrum of comparator countries. This includes large federal countries such as Brazil, and large middle-income countries like Colombia, China, Russia, South Africa, Vietnam among others.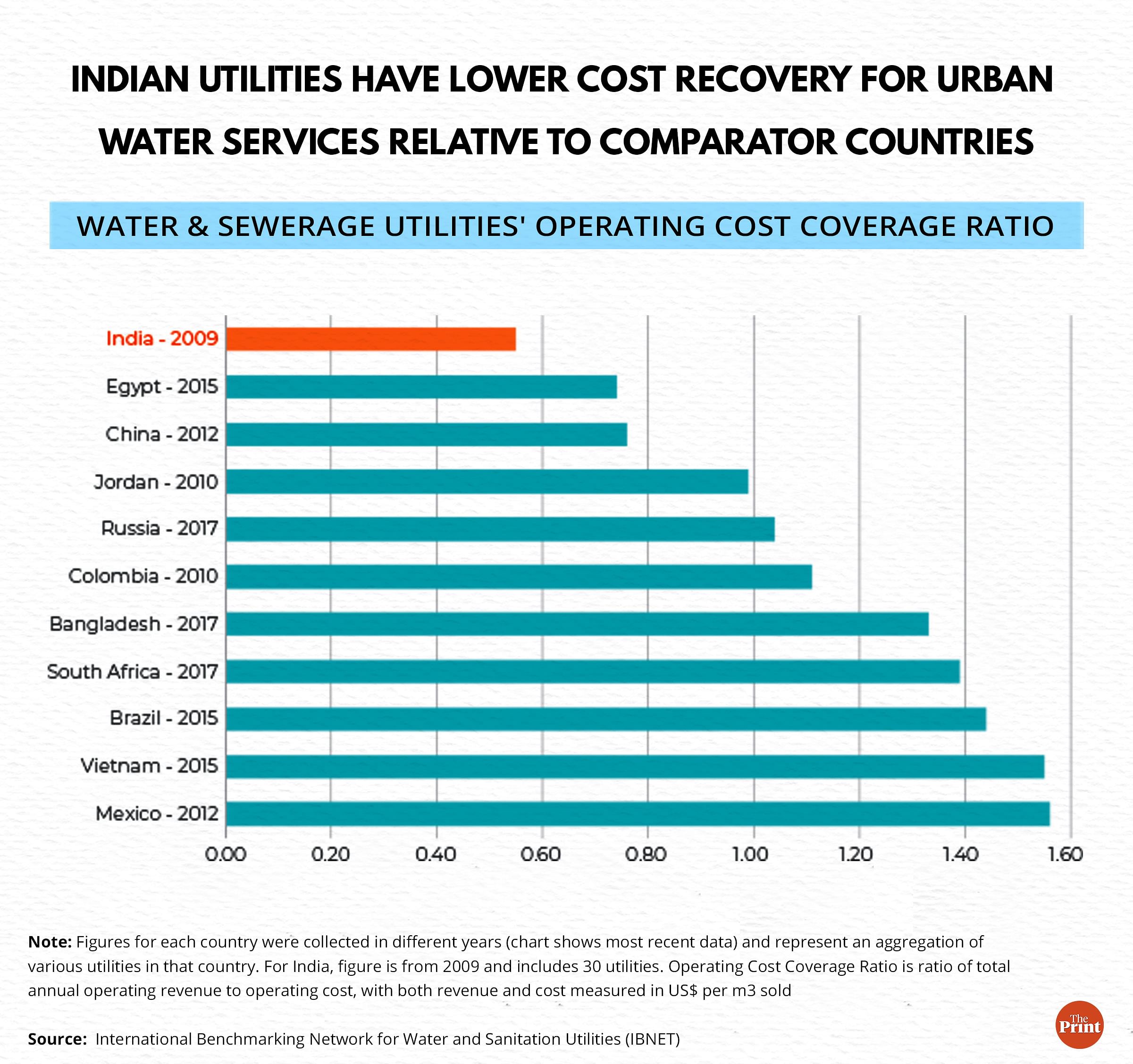 Graphic: Manisha Yadav | ThePrintThe World Bank report also highlights how despite being the largest own source revenue (OSR), India's urban property tax remains miniscule compared to other low and middle income countries – being only 0.15 per cent of GDP in aggregate nationwide.  
'Need to rev up investment in urban infra & services' 
 The World Bank report states that the need of the hour is to improve the capacity of ULBs and city agencies, specifically in large cities to develop and implement bankable projects and complex public-private partnership transactions. 
At present, private commercial financing plays a very minor role in financing urban infrastructure in India, as most infrastructure is financed by intergovernmental fiscal transfers. 
"This should be done through dedicated city level technical assistance and advisory activities to the respective city agencies, and development of state-level frameworks and standards. States should aim to strengthen institutional capacity and creditworthiness of ULBs and parastatals to position them as credible counterparties for private investors and FIs," the report said.  
It added that persistent general policy orientation across ULBs and the state level to tax and charge for urban infrastructure and services at rates well below those required to cover their costs is a key constraint on the ability to raise more commercial financing. 
Several reports including one by the 15th Finance Commissio have also recommended levying adequate user charges for  municipal services.
In February 2021, the Modi government has accepted the recommendation of the 15th Finance Commission, which has pushed for fixing an appropriate price for water on a graded basis, wherein higher consumption entails higher charges.
 In April 2020, a taskforce set up by the Union finance ministry to finalize the ambitious National Infrastructure Pipeline had also suggested levying of user charges for availing infrastructure services. "Free services can often be overused leading to dire consequences, especially for limited natural resources such as water. Fair value is also important as the need is to provide quality infrastructure to end users," the report had said.
But not much has happened since then.
(Edited by Tony Rai)
---
Also Read: Tame subsidies, hike fees for govt services — Centre's tips to states to slash deficit

---