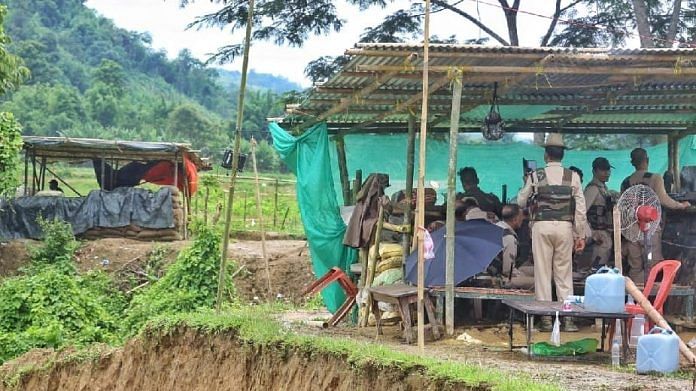 Silchar (Assam): It is a Line of Control-like situation — two sets of personnel eye-ball to eye-ball, with automatic weapons pointed right at each other in posts barely 50 m apart.
The two posts are separated by a nullah, and there are clear instructions to not leave any of them unguarded at any point.
Tensions have been simmering for nearly a year but this, however, is no international frontier. It is, in fact, at Kulichera on the Assam-Mizoram border where both states have been laying claim to a five-km stretch of land.
Such is the tension at Kulichera that a week before clashes between the Assam and Mizoram police forces at the Vairengte-Lailapur border on 26 July, which left six Assamese personnel dead, the Central Reserve Police Force (CRPF) had anticipated trouble here.
Kulichera is about 15 km from the Vairengte-Lailapur border.
Sources told ThePrint that CRPF personnel deployed in the area had informed the Ministry of Home Affairs about "tensions simmering" at this border and that the "situation may flare up at any point".
"We had anticipated a clash at this border and the CRPF even sounded it to higher authorities," a source in the security establishment said. "But just days after that, there was that clash at the Lailapur-Variengte border, which had been peaceful until then as it has two CRPF posts as a buffer.
"No one had expected things to turn violent at that border as things were heating up here at Kulichera," the source added.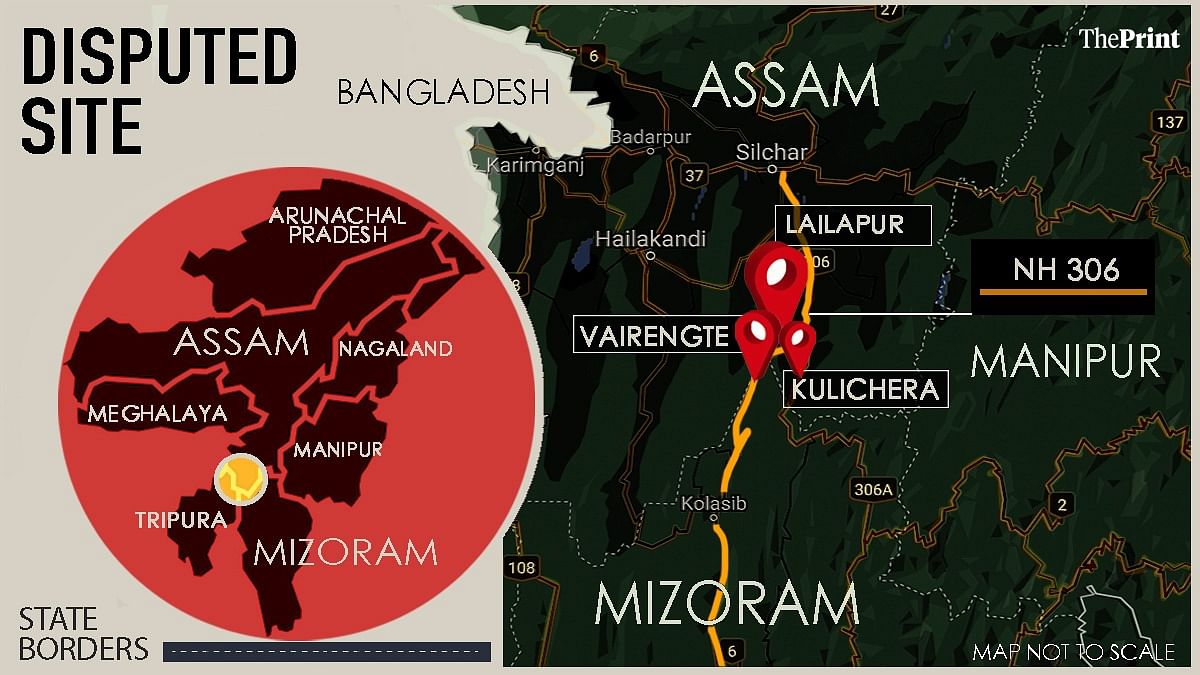 A road, a school, and agricultural land — reasons for conflict
At Kulichera, there is a five-kilometre stretch leading to the Upper Painom Lower Primary School, which is under dispute.
Both Assam and Mizoram claim the territory.
Tensions at the border began last year in November, when miscreants from Mizoram allegedly bombed the lower primary school, which was constructed by the Assam government in 2009, claiming that it was built on their land.
"They (Mizoram) blew up the school just because it was constructed by the Assam government. They claim it to be their territory, which is wrong. That school was built by the Assam government because that land belonged to Assam. But the Mizos intruded here as well, pushing the boundary," an Assam police personnel posted at the border said. "At that time, we did not say anything. But for how long can we keep quiet?"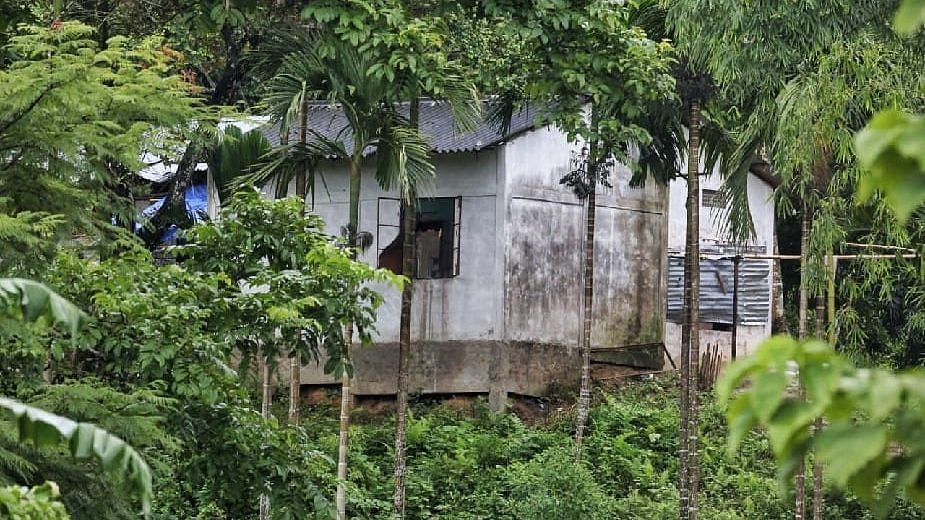 Then on 8 July, Assam began building a pucca road in the area leading to the school. Mizoram objected.
Following this, the Mizoram Police built a border post, ahead of the school, which is 700-800 m ahead of their earlier post.
Officials on the ground said that this put the border posts of the two states within touching distance of each other.
Speaking to ThePrint, Mizoram Police SP of Kolasib, Vanlalfaka Ralte, said they constructed the police post after the Assam policemen "began destroying the betel cultivation of people belonging to Mizoram and started constructing a road in the area".
"In July they advanced into our area, where people of Mizoram do betel cultivation and started building a road. We told them not to build the road, but they were adamant," Ralte said. "To stop them, we had to come up with a post in that area. The land, which Assam police encroached on, belongs to Mizoram."
The inspector in charge of the Mizoram post also justified his force's actions, saying the post was "necessary to stop Assam's advances".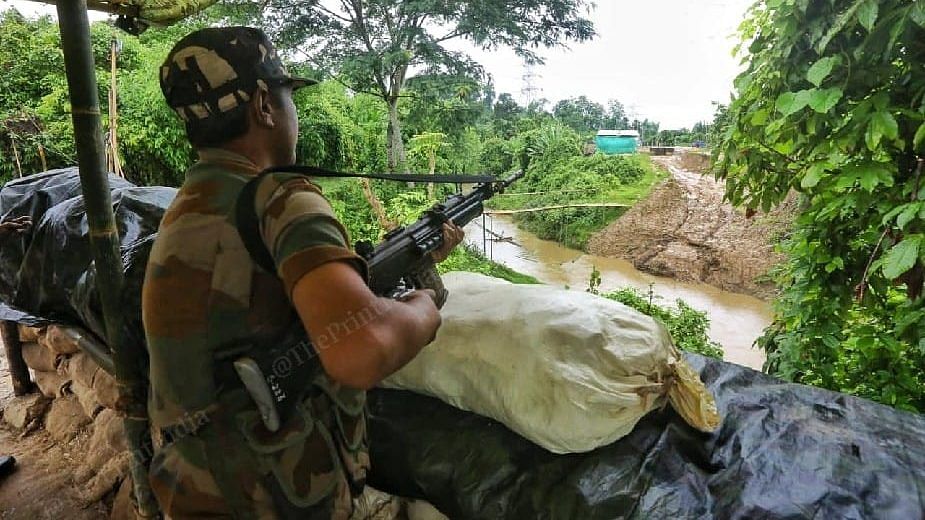 He even accused Assam of "encroaching on agricultural land that belonged to the people of Mizoram".
"They were building a road into our territory; our land. We would never allow that. This is why it was important to stop them here. Moreover, they have encroached upon the land of villagers here in Mizoram," he said. "Earlier, villagers used to go beyond this point for betel cultivation, but now that land has been taken over by Assam, and they are not allowed to go that side."
"We have now deployed our men here. As long as they (Assam) do not make a move further inside, we will remain calm," he added.
Our land, says Assam
The Cachar SP Ramandeep Kaur maintained that the land in question belongs to Assam.
"According to the survey of India map, this land belongs to Assam," Kaur said. "Also, where Mizoram has constructed a post, falls on the inner line forest reserve, which is illegal. We created a post to stop them from advancing further."
Kaur added that the Assam Police post was constructed in the area, upon the request of the Cachar Divisional Forest Officer (DFO) Tejas Mariswamy.
Speaking to ThePrint, DFO Tejas Mariswamy said the Mizoram post falls on forest land that is a part of Assam. He also denied having cleared any betel cultivation belonging to those of Mizoram.
"The Mizoram Police first put up a post in the area. We noticed that they were advancing into our territory every month and that is when we decided to seek the help of the Assam Police to stop them," he said. "The land in question is well within the territory of Assam; it is a reserved forest."
"We then started constructing a road for forest protection and patrolling. A camp too was set up by the Assam Police after that," he added.
It is a sentiment shared by those on the ground from Assam.
"The Mizoram Police built a police post and deployed its personnel here, blocking our way. By doing this, they have encroached into over 1 km more of our land," the Assam policeman quoted above said. "They even deployed their gunmen on hillocks. We too then built a police post here and now we are standing eye to eye.
"We cannot take a chance after what happened to us on 26 July, when the Mizoram Police killed six of our personnel. We have to be alert at all times; we never know where the bullet will come from here," he added.
---
Also read: Mizoram says Assam govt order on checking of vehicles for drugs 'harassment', writes to MHA
---
'Can never forget that they killed six policemen'
The 26 July violent clashes continue to cast a shadow on both police forces.
"They killed six policemen. And these are not militants. These are policemen, who have killed fellow policemen. How can we ever trust them or make peace with this? The entire force is shaken from within; they are angry," a second Assam policeman at the post told ThePrint.
"They are accusing us of encroaching their territory, but what have they done here at this border? Have they not encroached on Assam's land, where our government built a school?  If we start retaliating the way they do, there will be many more casualties on their side, but we show utmost restraint. They should stop testing our patience," he said.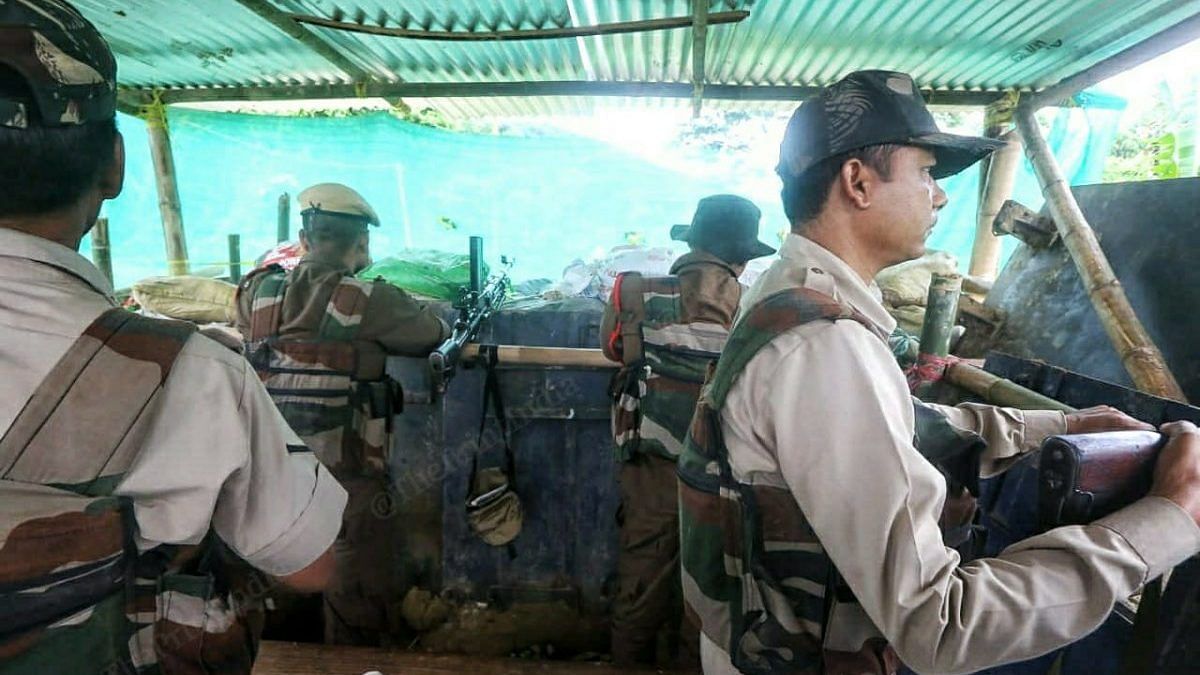 A second policeman posted at the Mizoram side, however, said that the force was sorry about the "unfortunate loss of lives on Assam's side", but if it comes to protecting their land again, they would do everything possible.
"Whatever happened, happened in self-defence. They (Assam police) came in large numbers, heckling our men, evacuating them, how could we keep quiet?" he asked.
"I am afraid that if this happens again, there will be consequences again," he added. "For the sake of peace, it is better for both states to stick to the status quo and not try to encroach on each others' territory."
(Edited by Arun Prashanth)
---
Also read: Veggies are expensive, medicines in short supply — how Assam 'blockade' is hurting Mizoram
---