New Delhi: Earlier this month, at a Delhi auditorium packed with numerous dignitaries, former President of India Ram Nath Kovind launched a book titled Ambedkar & Modi: Reformer's Ideas, Performer's Implementation.
As the name suggests, the book draws up various similarities between Prime Minister Narendra Modi and social reformer B.R. Ambedkar ("practical in their approach who believe in action rather than thought exercises"), but it also implies that without the former's efforts, the latter's ideas might have been left to languish.
For anyone who believes Modi does not get due credit, there is an entire library of books — at least two dozen — written over the past eight years that pay glowing tribute to him in his various avatars: organisational genius, foreign policy maven, social justice champion, moral exemplar.
The publishers range from mainstream to niche, and the authors from unabashed admirers to well-known subject experts. Several books have contributions or forewords written by prominent personalities or scholars, national and international. (The foreword of Ambedkar and Modi, for instance, has been contributed by composer-turned-politician Ilaiyaraaja.)
Recent releases among the agglomeration of Modi-focused books include The Architect of the New BJP (Penguin, 2022), written by senior journalist Ajay Singh. It focuses on how Modi's "unmatched organisational skills" transformed the Bharatiya Janata Party (BJP) into "the election-winning machine it is today". The foreword is written by scholar Walter Anderson, a retired professor of South Asian studies at Johns Hopkins University.
Then there's Securing India the Modi Way: Balakot, Anti Satellite Missile Test and More (Bloomsbury, 2019).
Written by Nitin A. Gokhale, a strategic analyst and the founder of the defence-related website BharatShakti, it stresses that Modi has "set new benchmarks" in India's foreign and national security policies. The PM's decisions, Gokhale writes, "have made the world sit up and take notice of a more confident and assured Indian government, not afraid to take potentially risky decisions". Gokhale, incidentally, has also written a biography of the late former defence minister Manohar Parrikar.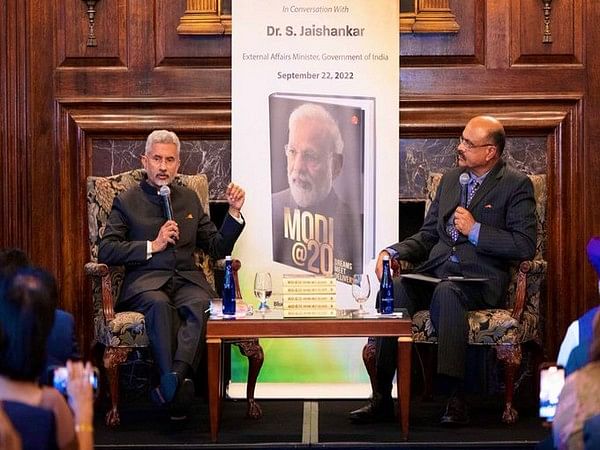 A slew of new releases has come from the BlueKraft Foundation, which describes itself as the "knowledge and technology partner" of several books in the Modi genre, as it were.
These include Ambedkar and Modi, Mann ki Baat: A Social Revolution on Radio, and Exam Warriors, which cites Modi himself as the author and purports to be "a handy guide for students" with tips on yoga and study.
The best-known book of all from this stable is Modi@20: Dreams Meet Delivery, an anthology with chapters authored by 22 eminent personalities, including National Security Adviser Ajit Doval, badminton ace P.V. Sindhu, philanthropist and author Sudha Murthy, and actor Anupam Kher.
There have been launch events for it in several cities, the latest being in New York on 23 September by External Affairs Minister S. Jaishankar (who is also one of the contributors).
Finance Minister Nirmala Sitharaman has extolled Modi@20 as an ideal "management textbook", while Jal Shakti Minister Gajendra Singh Shekhawat compared it to the Bhagavad Gita. When Kerala's Calicut University removed it from its display shelf, the state BJP unit called the institute "pro-Pakistan" (the book is reportedly back on display).
The big question, though, is why are there so many books on Modi?
---
Also read: Modi's reforms, Ambedkar's ideals – It's time to debate bringing back original Preamble
---
A metric of 'popularity'
When asked whether the BJP commissions books on Prime Minister Modi, which is something that has been speculated about, party national spokesperson R.P Singh denied it.
"Not at all. He is popular, that is why books are being written on him, and that is why he also wins elections. The policies make him admirable," Singh said.
Political analyst Badri Narayan, professor and director at Allahabad's G.B. Pant Social Science Institute, by and large, agrees with this assessment.
"PM Modi is at the apex of his popularity. When a leader is popular, authors try to find their space in that meta narrative. It is not the case that Modi's popularity rises by these books, but his popularity is the reason these books are being written about in the first place," Narayan said.
There is also a lot to write about Modi because of his highly visible involvement in a range of domains.
"He has proved his calibre in different areas — whether it is strategising, giving slogans, inspiring people… he multitasks," Narayan said.
Singh made a similar point. "PM Narendra Modi is a multidimensional personality. He is such a good mix of everything put together that people respect him and there are authors who like to write about his various dimensions and talk about his multifaceted personality," he added.
Masterstrokes, masterclasses, mastermind
Modi's accomplishments in foreign policy/national security and his political feats seem to fascinate authors the most, although not all are equally starry-eyed.
At one end of the spectrum is the popular The Legend of Narendra Modi: The Saga of a Statesman (Invincible Publication, 2016), written by Azad Ray, a self-professed "die-hard fan" of Modi. The book gushes about the PM as an "incorruptible diplomat, running a loss making industry India to a profit making enterprise like a corporate CEO".
Another book published this year by the BJP think-tank Shyama Prasad Mukherjee Research Foundation (SPMRF) is Modi 2.0: A Resolve to Secure India. It adopts a more sedate tone and focuses on national security under the PM's "thinking thoroughly leadership". Here, praise for the PM is couched in academic jargon.
"Never before has decision-making and policy responses undergone such fundamental changes that draw in the value of pre-emptive, proactive and graded responses," says the blurb of the book, edited by former IPS officer Ranjit Pachnanda, economic advisor to the PM Bibek Debroy, SPMRF director Anirban Ganguly, and Institute for Defence Studies and Analyses (IDSA) fellow Uttam Kumar Sinha.
Attempting to strike a nuanced tone is Modi's World: Expanding India's Sphere of Influence by foreign policy analyst and columnist C. Raja Mohan (HarperCollins, 2015).
Mohan appreciates the PM for injecting "extraordinary energy into Indian diplomacy" with his "clarity on India's long-term foreign policy objectives and the political will to pursue them vigorously". However, he also mentions certain domestic "constraints" that could limit the PM's ambition to make India a leading power. He rues that "extremist supporters of the BJP" have been reluctant to "respect" Modi's call for "a moratorium on controversial issues".
While some books take a look at the PM's policy moves, others try to dig deeper into his political mind, taking different slants.
In Narendra Modi, Creative Disruptor: The Maker of New India (Konark, 2019), author R. Balashankar, a political analyst who is often described as an RSS ideologue, dwells on how Modi is the most "transformative" PM that India has ever seen. The foreword bears the name of Home Minister Amit Shah.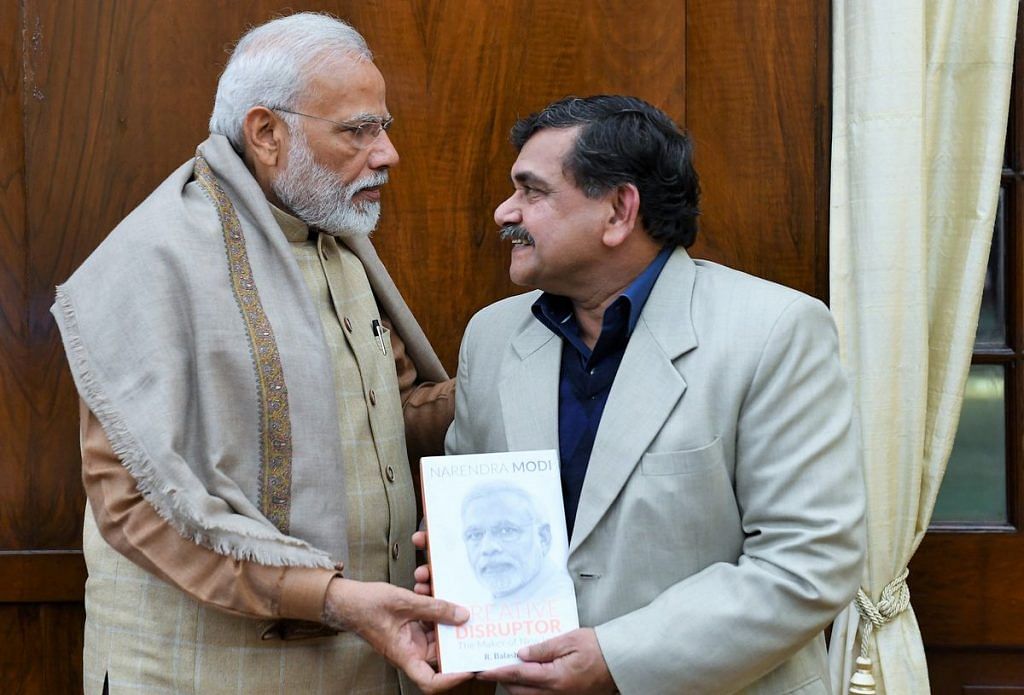 In his 'review' of this book, BJP leader Anirban Ganguly calls it an "antidote" to Congressman Shashi Tharoor's "nefarious opus" The Paradoxical Prime Minister (Aleph, 2018). Ganguly argues that Balashankar's book is all about how "Modi is gradually freeing India from the grips of a paradoxical mindset, a paradoxical political ideology and political culture".
Another well-known work about the PM's political strategy is The Modi Effect (Hodder & Stoughton, 2015) by former BBC journalist and Labour Party "spin doctor" Lance Price.
In racy prose, Price traces Modi's rise to power through insights and interviews (including with Modi himself) gleaned during the 2014 campaign ("a master-class in political electioneering", according to the blurb).
Notably, in 2015, Price had told The Times that he had never heard of Modi prior to being commissioned to write the book. He reportedly said that though he had received financial support for it, he was given freedom to write whatever he wanted.
Other books covering different points in the PM's tenure include journalist Uday Mahurkar's Marching with a Billion: Analysing Narendra Modi's Government at Midterm (Penguin Random House, 2017), which includes a foreword written by Klaus Schwab, chairman of the World Economic Forum.
Mahurkar's midterm report card contains mostly 'As'. "Modi emerges as the man who is changing the paradigms of governance," writes Mahurkar, a former deputy editor with India Today who is currently serving as the central government's information commissioner.
Providing an analysis of the PM's "path-breaking" second tenure is Decoding Modi 2.0 (Gaurav Book Centre, 2021) by Sanju Verma and Mohandas Pai.
Even Modi's critics have produced tomes about the man and his policies, from Shashi Tharoor's The Paradoxical Prime Minister, mentioned earlier, to journalist Tavleen Singh's Messiah Modi (HarperCollins India, 2020) and the late veteran editor S. Nihal Singh's The Modi Myth (Paranjoy Guha Thakurta, 2015).
'The books sell'
Books about and by Modi have tended to become bestsellers through the decades, claims Prabhat Kumar, owner of the leading Hindi publishing house Prabhat Prakashan.
According to Kumar, Prabhat Prakashan launched Modi's first published book, Aapaatkal Mein Gujarat that details his activities during Indira Gandhi's Emergency.
"We published his first book in 2001 — Aapatkal Mein Gujarat. Then his second book was also published by us, which was inaugurated by Atal Bihari Vajpayee. These books got popular over time. Most of his Hindi books have been published by us, which are amongst our bestsellers. They usually do better than our regular books published in Hindi," Kumar said.
Another book that got a "good response", he added, was NamoVani, a collection of Modi's speeches.
"His biography written by Kishor Makwana has been in high demand. His personality has dimensions which people want to know more about… that is why he is one of the most written about PMs," Kumar said.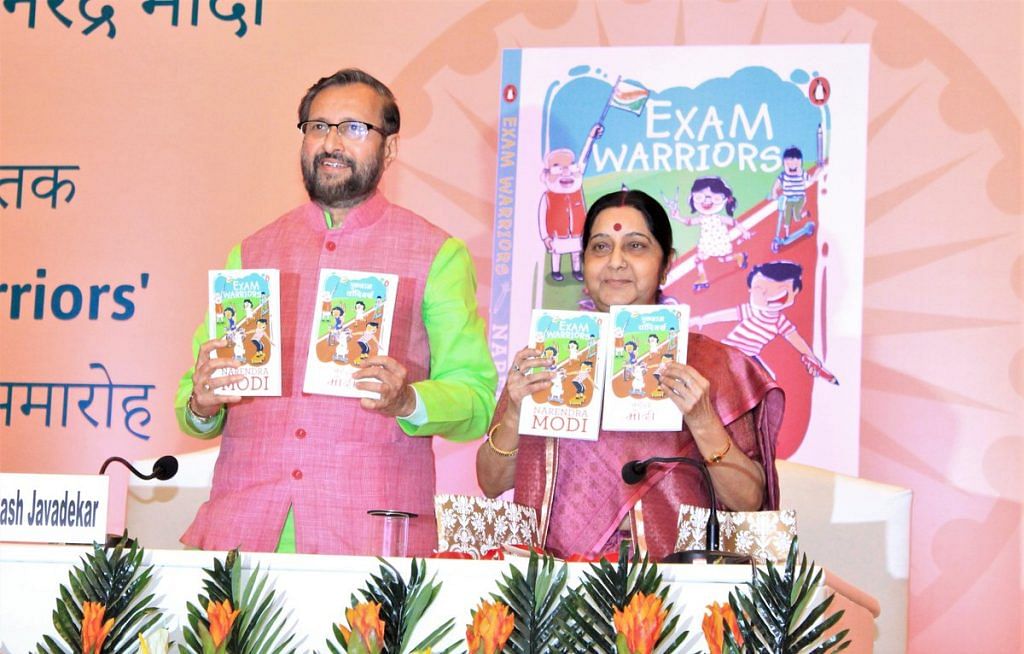 There's content to 'inspire' kids too, like the comic book Bal Narendra: Childhood Stories of Narendra Modi (Rannade Prakashan, 2014), which includes adventurous tales like the young Narendra taking home a baby crocodile (and then releasing it later to spare the crocodile's mother grief).
Modi himself has 'authored' numerous books that highlight different aspects of his personality, including a poetry collection called A Journey and books for children like Exam Warriors, mentioned earlier. Many of these books have high ratings on sites for readers, like Goodreads.
According to Badri Narayan, the corpus of books centered on Modi may or may not be commissioned, but the discourse created by them, overall, is something that the BJP's branding team can only benefit from.
(Edited by Asavari Singh)
---
Also read: Savarkar broke monopoly of Nehru-Gandhi history books. Now there's new appetite, wishlist
---