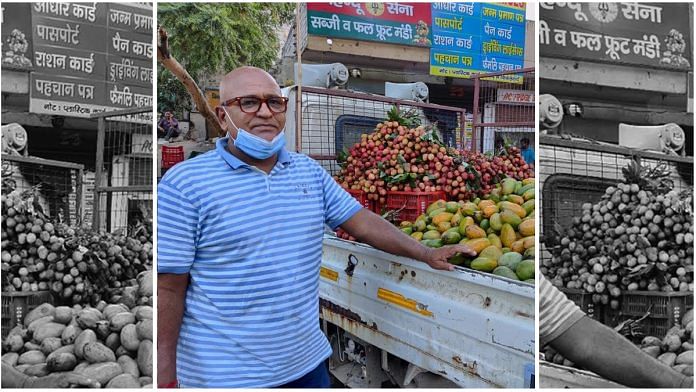 Gurugram: Since early July, a fruit-and-vegetable vendor offering rates as low as a third or half of market prices has been drawing many a customer in Old Gurugram.
But Surjit Yadav, a mid-level wheat farmer and member of a fringe Right-wing outfit called Hindu Sena, is not your garden-variety vendor. According to Yadav, his shop is a weapon in the organisation's battle against what he describes as "mehengai (inflation) jihad" — the alleged bid by certain vendors to spike inflation and "loot" people.
While ThePrint discovered on a tour of the market that Hindu and Muslim vendors offer just about the same prices — prices comparable to those offered by high-profile online platforms as well — Yadav trains his guns on Muslims alone, accusing them of overcharging customers. 
The agenda for this shop is "to sell groceries at the right prices which are otherwise being sold by Muslims at inflated rates", he claimed. 
With the backing of the Hindu Sena, two other shops with the same aim have come up in Haryana since Yadav set up the first one at Old Railway Station Road on 2 July.
The Hindu Sena shop employs full-time employees. Currently, the money Yadav is earning from the shop doesn't seem to be enough to ensure sustenance. It just about suffices to recover operational costs, including workers' wages, the Rs 15,000/month rent, and electricity.
Yadav told ThePrint he isn't making any profit at these prices yet, but he does not aim to "make money but to set a good example".
It is a luxury other vendors in the Old Gurugram market don't have. They see the Hindu Sena shop as an attack on their livelihood, and questions are raised about the quality of fruits and vegetables sold. Vendors also point to the rise in transport costs with the soaring prices of petrol and diesel as the reason for the increased cost of fruits and vegetables.
Nazeer Ahmed, who vends fruits and vegetables near the Hindu Sena outlet, said he could not afford to drive customers away with inflated prices.
"There's such tough competition here that if I even charge Rs 2 extra on 1 kg of fruit, people will simply buy from somewhere else… the real issue is even if a Muslim breathes it's called jihad," he said.
---
Also read: Why Haryana's new law reserving 75% private jobs for domiciles is self destructive politics
---
How the shop came about
The Hindu Sena was founded in August 2011 by its current president Vishnu Gupta, a director of an IT firm in Delhi and a Rashtriya Swayamsevak Sangh associate. It came into the headlines in November 2020, when members defaced the signboard of the India Islamic Cultural Centre on Lodhi Road, Delhi, and put up posters calling it the "Jihadi Terrorist Islamic Centre".
The group, Yadav said, has more than 25 lakh members, of which approximately 3 lakh are in Delhi-NCR.
Old Gurugram, where the first shop came up, stands a world away from the high-rise office complexes of Gurugram. A narrow road here, in front of St Michael's Church, hosts over two dozen shops and vends of fruits and vegetables.
Most of the vendors in the area are Muslim.
Yadav, the national vice-president of the Hindu Sena, said he pitched the idea of the shop to his organisation after he found lemons being sold for Rs 80/kg in this market.
"Lemons in the mandi I source the fruits and vegetables from cost only Rs 18/kg and here they were being sold for Rs 80. The same was the case with every other vegetable," he added.
Speaking to ThePrint, Hindu Sena chief Gupta said the outfit "has currently started fruits and vegetables outlets in Haryana, and plans to expand all over Delhi-NCR and then the rest of India". 
The two other outlets set up by the Hindu Sena in Haryana, Yadav said, are located at Sirhaul Gaon near Iffco Chowk in Sector 18, Gurugram, and in Begumpur Khatola village near the Honda Chowk on the Jaipur-Delhi highway. Another outlet in Munirka is slated to open in August, Yadav added.
Customers happy with low prices, vendors bristle at charge
When ThePrint visited the Hindu Sena shop, cauliflowers were being sold at Rs 50/kg, pomegranates at Rs 80/kg, bananas at Rs 25/dozen, and potatoes at Rs 17/kg. At other shops, cauliflowers cost Rs 130/kg, pomegranates Rs 95-100/kg, bananas Rs 55-60/dozen, and potatoes Rs 30/kg.
For comparison, as of Wednesday (28 July) night, Big Basket was offering 800 g of pomegranates for Rs 182, while Amazon Fresh was selling cauliflower for Rs 94 for a 400-600 g piece.
The customers who visit Yadav's shop say they couldn't be less bothered about any alleged agenda he may have.
"I can't comment on any Hindu-Muslim factor. But vegetables here are indeed 1/3rd the market rate. I have no qualms about its quality. I work in Manesar and stop by this shop every day while returning home," said Ravi Chaudhary, a customer.
Pinky Kumari, who works as a domestic worker nearby, added: "The quality isn't that great, but it isn't bad either. It helps me save a lot of money so I'm happy."
The quality of goods, other vendors in the market allege, is where Yadav is saving money. 
"Let me show you my bill. I bought mangoes for Rs 50/kg and am selling them for Rs 60 here. The fruit-vegetable quality at that shop must be inferior," said Mohd Hasim, whose vend is located a kilometre away from the Hindu Sena shop.
According to Arvind Yadav of Vinod Trading Company, a grocer at Gurugram Mandi, the prices offered by the Hindu Sena shop are impractical. 
"Pomegranate is Rs 80/kg, cauliflower is Rs 45-50/kg, and bananas are available at Rs 50/dozen (at the mandi). You won't find quality fruits and vegetables at these rates (with vendors), the guy must be buying low-quality products, or sourcing them at the end of a day at throwaway prices," he told ThePrint over the phone. 
When confronted about these prices, Surjit Yadav said "the mandi prices you're quoting are inflated". 
"Prices also vary with the amount of grocery you buy, what relationship you have with the dealer… I stick by what I've told you repeatedly — that prices in mandi are indeed so low that even at dirt cheap prices I am able to comfortably manage 3 outlets. And this is just the first month, I am confident that going forward I'll start earning profits also," he said. 
"See, if a Hindu bhai decides to sell groceries on a thela he wouldn't have the operational costs of rent, employee salary etc, so he'll definitely make a profit," he added. "I hope our initiative inspires people to come forward and fight this mehengai jihad."
Vendors said it was ridiculous to blame members of a certain community for manipulation of market prices. "I don't know if the Hindu Sena is offering low prices for social work, but I'm not here to do social work. I have a family to feed. I am not here for jihad either," said Mohd Hasim, a local vendor.
Nazeer Ahmed, another vendor, pointed to the impact of rising fuel prices. "The rent of transport vehicles has risen from Rs 7,000 to Rs 13,000 due to high petrol prices. Of course, groceries will become more expensive," he added.
"Let me put this simply for you," he said. "They don't want to fight inflation. They want to fight Muslims."
(Edited by Paramita Ghosh)
---
Also read: Govt reduces import duty on masur dal to zero, cuts agri cess by half as prices & demand rise 
---