Chennai: Gigantic machines of varying shapes lift, cut and weld sheets of stainless steel, electrical wires and other components that go into making a train — assisted by men and women in blue overalls, yellow helmets, and in some cases thick gloves. Sparks fly now and then in one of the shop floors, where men with faces covered by welding helmets are at work.
On another floor, sheets of stainless steel are being fed into a computerised laser cutting-and-welding machine, which has been programmed to trim the edges of the sheet according to specifications. The sheets are later welded — two at a time — to join them.
A constant humming fills the air, low in some places and intense elsewhere.
Meanwhile, about a hundred men and women are busy assembling — piece by piece — the Vande Bharat Express, India's first indigenous semi-high-speed train, at the Integral Coach Factory (ICF) in Chennai.
The whirring and humming inside the shop floor is in sharp contrast to the leafy environs outside the factory located in Perambur, Chennai's industrial hub. Among the world's largest and India's oldest coach manufacturing factories, ICF produces over 4,000 coaches annually, with 50 different types including the Vande Bharat Express.
As the media hype played out after the fourth Vande Bharat Express, connecting Una in poll-bound Himachal Pradesh and New Delhi, was flagged off on 13 October, ThePrint travelled to ICF to see what goes into the making of the train. And what it takes for the men and women in the factory to keep the tempo going, working amidst the heat and noise.
---
Also read: 'Vande Bharat like Chandrayaan & BrahMos, vigilance probe will kill spirit of innovation'
---
Race against time
It's a race against time, say workers and officials on the ICF shop floor. Prime Minister Narendra Modi has set a tough deadline — to produce 75 Vande Bharat trains by 15 August, 2023.
Since the first Vande Bharat train's launch in 2018, three more have become operational: New Delhi-Varanasi, New Delhi-Katra, Gandhinagar-Mumbai and Amb Andaura (in Una)-New Delhi.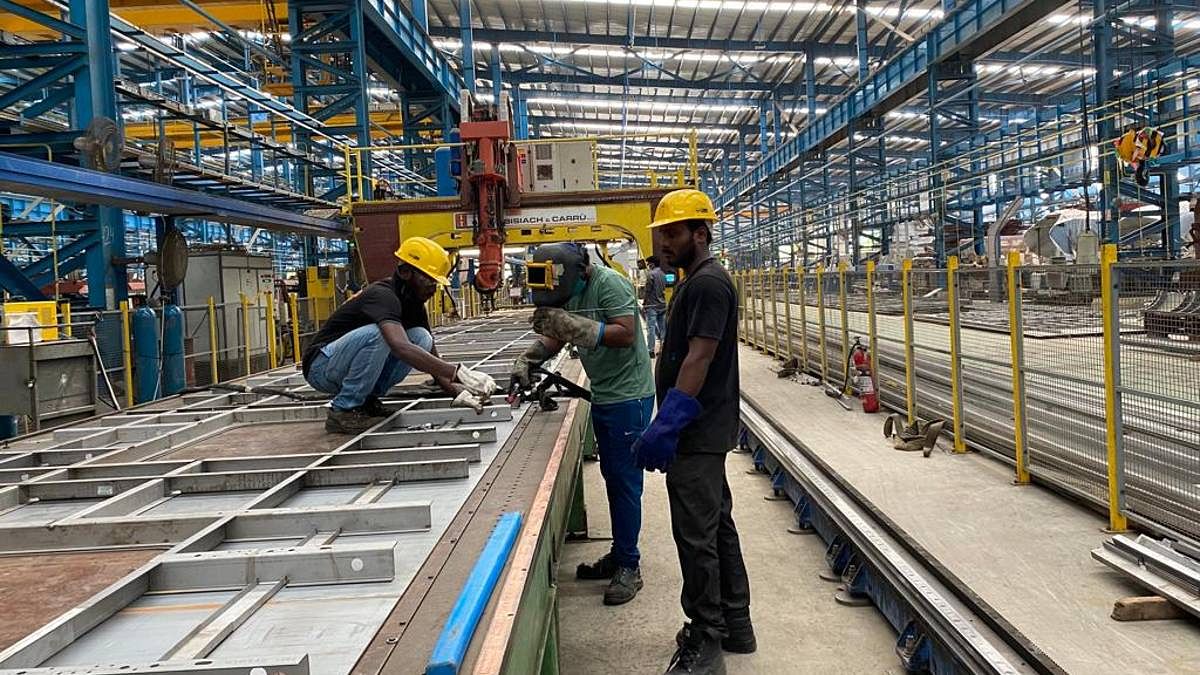 ICF general manager (GM) Atul Kumar Aggarwal told ThePrint that although it's a very stiff target, he is quite sure that they will be able to make it. "We are confident and our team is working 24×7," he said.
Currently, about half a dozen Vande Bharat trains are under production at ICF.
Sudhanshu Mani, the former ICF GM during whose tenure Vande Bharat Express — then known as Train 18 — was conceptualised and executed, said, "Now that ICF has already developed four (Vande Bharat) trains and have got a hang of the process, they can easily roll out three-four trains per month and around 40 by 15 August next year, which according to me is a good number."
What goes into the making of a semi-high-speed train
At 130-132 kilometres per hour (kmph), travelling on a Vande Bharat is a smooth affair. The experience you get inside is also different from regular trains. Spiffy, with swanky amenities, hot cooked food and well-groomed attendants — it's similar to a flight experience.
But it takes painstaking work over more than eight weeks to put all this together, starting from the underframe of the train to when it rolls out.
The underframe — in normal parlance the chassis — is 23 metres long and the most critical component of the train, which sustains its entire structural load and underslung equipment, such as battery boxes, bio toilet tanks, and so on.
ICF sourced the underframe and other components that go into the making of the car body from different vendors across India, transported them to Chennai, and assembled them at the shop floor here.
The propulsion equipment, for instance, was outsourced to Hyderabad-based Medha, said an ICF official.
Besides, each coach has two side walls, two end walls and a roof, all made of stainless steel, one of the essential components of train making.
"The underframe is then put on a heavy machine called the body assembly jig. It's where the underframe, side walls, end walls, roof are all integrated," explained S. Srinivas, principal chief mechanical engineer (PCME).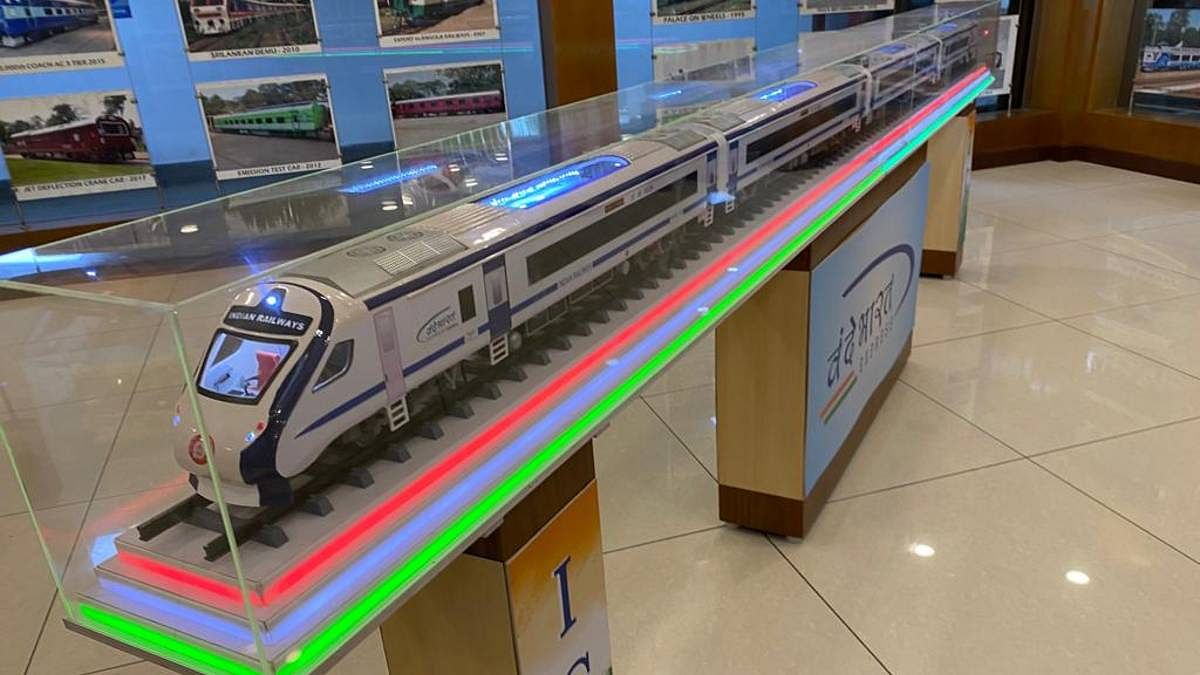 The structure is then taken out of the jig and placed on the bogies. "Now, the basic skeleton of the train is ready," he added.
The next stop is the specialised paint booth, where the car body is painted — first with polyurethane paint, and then topped up with nano paint.
Srinivas says there is a reason nano paints are used. And it's not only for the glossiness. "We call them graffiti repellent. Even if you use a marker pen, it can be wiped off using a normal cloth. It's very easy to clean the train. A nano coat actually protects. So the shine is retained for a very long time," he said.
Painting is a tedious task and takes anywhere between five and seven days to complete.
Furnishing and the works
Once the painting is done, the train skeleton is brought to the furnishing factory. This is where all the furnishing, including flooring, is carried out.
For flooring, again a special wooden material called makore floorboard, sourced from Madhya Pradesh and Maharashtra, is used. While the basic floor is made of steel, the makore floorboard is put on top of this.
"This is done as it absorbs the noise and vibrations. It acts like a smooth cushion when the seats are put in," said Srinivas.
Over and above the makore board, a third layer of flooring with PVC is done for aesthetics.
Now, the train's body is ready for the crucial electrical wiring. "Wiring is a very, very extensive and critical process. Wiring is done for air conditioning, there are a lot of communication cables, power cables, etc." said Srinivas.
Another important activity, the official said, was the panelling inside the coaches. Fibre-reinforced plastic is used to make the panel.
Fixing the seat is the very last activity.
The coach is then tested electrically to see whether all systems are working correctly.
"Then the four coaches are joined and tested again at the train level. We test to see if when a command is given at one end, it's going on the other end. All functions are checked at the coach level, basic unit level and then train level. Then a run test is taken at the yard at a speed of 15-20 kmph, to see how it's behaving," said Srinivas.
It is at this stage that the railway safety commissioner comes into the picture and gives the go-ahead for rolling out the train.
About 80-85 per cent of the components that go into the making of Vande Bharat train are indigenous. Among the key imported components are the wheels and electronic parts such as chips.
What keeps the tempo going
Those involved in making the train come from diverse backgrounds. Sasi Kala, 35, a postgraduate from Madras University, works in the bogey section at ICF, where the Vande Bharat bogies are being assembled. She has been working here for the past six years, after completing her masters' in commerce.
"It's strenuous, but I like it. It's not only Vande Bharat. I feel very proud every time I see a train on which I have worked, roll out. You forget the toil and sweat," she told ThePrint.
Across the shop floor, there are many others who think the same way.
Kala is part of an all-women mahila shakti team working at ICF, where women make up approximately a tenth of the 9,086-strong workforce.
But not everybody is working on the Vande Bharat Express, which doesn't have any staff exclusively dedicated to it. "They (staff) keep doing other things also, because at ICF, other coaches are also being produced," Srinivas said .
Former ICF GM Mani said he felt good about the success of the Vande Bharat Express.
"A baby that you gave birth to with your team at ICF has finally come of age and every train is being inaugurated by the PM himself. He, and indeed the people of India, do see it as a symbol of resurgent India. We just made a train, but it has achieved cult status because of the commitment and sense of purpose shown by team ICF," he said.
Challenges that remain
The Vande Bharat trains are pretty high-tech. CCTV cameras in every coach, revolving seats, aerodynamically profiled nose cones, Wi-Fi infotainment, bio-vacuum toilets and anti-collision devices — the trains come packed with the latest technology.
But challenges remain. The first is running the trains at their full potential speed of 160 kmph. At present there is no infrastructure to support such speed.
"To run it to its full potential, one thing that is absolutely essential is fencing. Unless you have a fenced track, the chief commissioner of railway safety will not give you clearance to run at 160 kmph because the impact at that speed could be very detrimental," said Mani.
Though talks to upgrade the tracks have been going on for over a decade, the Railways started work on it only a few years back. "Once that is completed, you can run the train at 160 kmph, which is its full potential. Otherwise you can run it at 130 kmph," said Mani.
Ensuring that stray cattle don't wander on to the tracks is another big challenge.
Presently, the Vande Bharat is a 16-coach train-set. But in future, ICF is planning to make longer formations, especially for sleeper coaches. "Sleeper train class is the next version of this. We are working on that and soon you will hear from us," the ICF GM said.
(An earlier version of this report said the underframe was outsourced to a Hyderabad-based firm)
(Edited by Poulomi Banerjee)
---
Also read: Sleeker, swifter, with revolving seats — Modi flags off Gandhinagar-Mumbai Vande Bharat Express
---