New Delhi: In February, when India saw its Covid numbers drop to promising lows, Delhi recorded 7,111 funerals — 53 involving Covid patients and 7,058 for non-Covid deaths. In March, the number of funerals was 6,821 — 130 Covid, and 6,691 non-Covid — according to data from the three municipal corporations that manage civic affairs in the national capital (East, South, North).

The next month, April, as the second wave took off and resulted in record infections and deaths, the number of funerals surged to 18,169, of which 8,693 involved Covid patients and 9,476 had other causes.
Between March and April, the number of Covid funerals increased by over 6,500 per cent. But notably, there was also a significant rise — of over 42 per cent — in the number of non-Covid funerals.
Moreover, while overall funerals jumped 166 per cent in April from March — to 18,169 from 6,821 — the Delhi government's official health bulletin records only 5,120 of this increase of 11,348 as Covid deaths. This raises questions about the cause of the remaining 6,228 deaths.
This suggests that the second Covid wave has not only been marked by a spurt in coronavirus deaths, but also that many Covid patients are dying at home and are not being counted as deaths due to the pandemic, are dying at medical facilities before they are confirmed positive, and also that there is an increase in the number of fatalities attributed to other reasons.
Officials in the civic agencies offer different reasons for the spurt in the latter category. The deaths classified as non-Covid at crematoria and burial sites include those who had coronavirus symptoms but were either not tested or received a false negative test result, they say.
The relatives of some Covid patients trying to recover at home, after failing to find a hospital bed, deliberately hold back their infection status in order to beat the "cumbersome SoP" or standard operating procedure of coronavirus funerals, they add. 
Another possible reason they cite is the "truncated" healthcare access currently available for those with severe non-Covid medical conditions (like cancer, kidney failure), with much of the capital's health infrastructure dedicated to Covid patients. 
Reached for comment, Dr Nutan Mundeja, Delhi's Director General Health Services, said the "increase might have happened in the last two months and month-to-month variation can happen". 
"But what I can say is, annually, the total number deaths in 2020 (the first year of the pandemic) were less than the total number of deaths in 2019," she added. 
According to Delhi's official health bulletin, the city recorded 53 Covid deaths in February (data for Feb 8 and 28 not listed in official numbers), 114 in March, and 5,120 in April. 
There are discrepancies in the death data from the three civic agencies and the health bulletin for the three months as well (see graphic). However, officials in the Delhi government have earlier made light of such differences.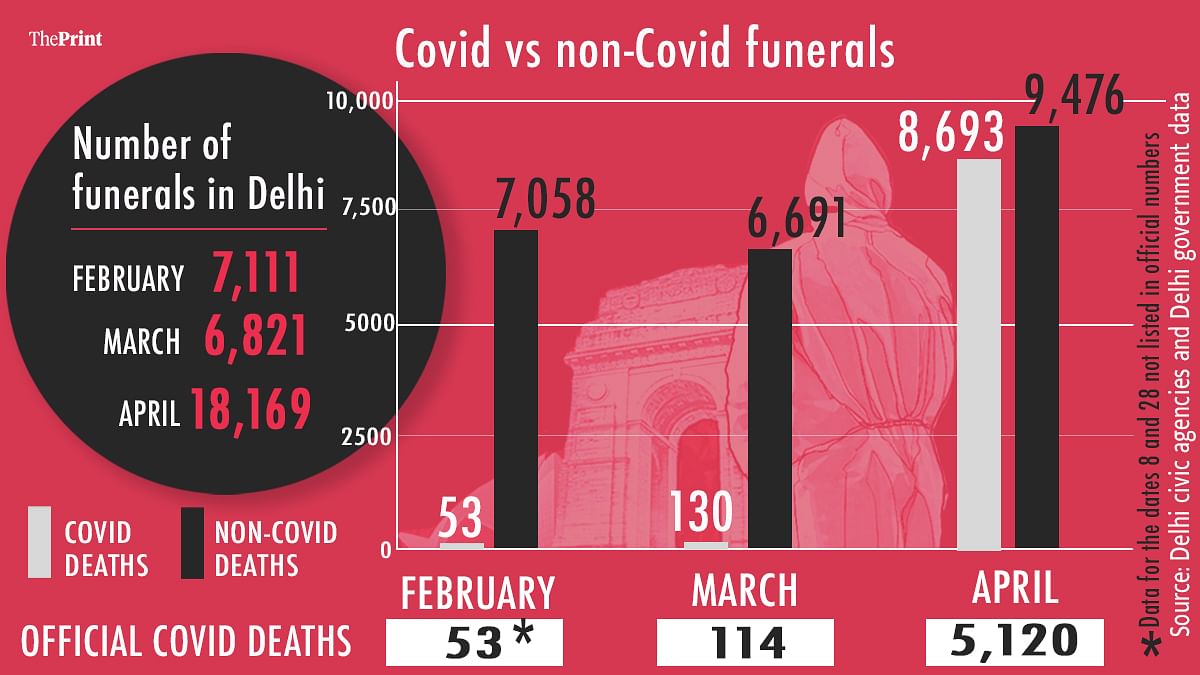 When similar discrepancies in the Covid death data were reported last year, with the civic agency figures diverging from the health bulletin by at least 500 in July, a Delhi government official who didn't wish to be named told ThePrint that the process of updating data can often take days, and denied allegations of under-reporting.
---
Also read: Delhi hospital study finds just 16% vaccinated individuals got Covid, experts say nothing serious
---
At the funeral sites
Delhi's three civic bodies — North Delhi Municipal Corporation (NDMC), East Delhi Municipal Corporation (EDMC), and South Delhi Municipal Corporation (SDMC) — oversee 21 crematoria and cemeteries, including those where Covid patients' funerals are allowed. 
The EDMC on average received 17 bodies a day in February, 9 in March, and 98 in April. The SDMC averaged 61 in February, 56 in March, and 206 in April. The NDMC received an average of 176 bodies a day in February, 155 in March, and 301 in April.
The number was the highest at Nigambodh Ghat, Delhi's largest cremation facility that falls under the NDMC. A total of 1,649 Covid bodies and 2,433 non-Covid bodies were cremated at the ghat in April, according to monthly figures shared by the crematorium staff. In February and March, just 12 and 28 bodies, respectively, were cremated at the ghat, according to official data from NDMC.

'Delhi govt going overboard'
Speaking to ThePrint about the spurt in non-Covid deaths, a senior SDMC medical official said it may be because the Delhi government has reserved the bulk of Delhi's hospital beds for Covid-19 patients.
"The Delhi government has gone overboard in marking hospitals for Covid patients," the officer said. "People having medical emergencies other than Covid-19 are finding it extremely difficult to get the medical care they need." 
According to the officer, many people suffering from stroke, kidney failure, cancer, diabetes, and lung infections fail to secure ICU beds and timely medical treatment. 
Categorising suspected Covid fatalities as normal deaths is another major reason for the steep rise in the non-Covid tally, said the official. "A large chunk of these suspected Covid deaths comes from homes, where people are resorting to treatment after they fail to get ICU beds in Covid-designated hospitals." 
Suspected Covid deaths refer to patients who exhibited coronavirus symptoms but either didn't get tested for Covid, or had a negative diagnosis in their RT-PCR test or CT scan. 
"Over the past few weeks, we have been getting an increasing number of home-based deaths. Around 20-25 bodies directly come from homes," said the senior medical official, adding that no bodies of Covid patients came from homes last year.  
The relatives of most of these suspected Covid patients don't cite the disease as the cause of death, in order to avoid the cumbersome process of a coronavirus cremation, the official added. 
The SoP for handling Covid-19 bodies, the medical official said, "requires the relatives of the patient to inform the Sub-District Magistrate, who then arranges an ambulance to take the body to a hospital where it will be sanitised and put in a body bag for transportation to a nearby cremation or burial ground". 
"The whole process takes almost 12-24 hours and even longer if more bodies come in," the officer added. 
"A few people may not be aware of how Covid bodies are cremated but many intentionally don't show Covid-positive reports because they don't want to get into this administration hurdle," the government official quoted above said.
Delhi Monday registered a record 448 Covid-19 deaths in a day, the highest since the pandemic began. Nearly 18,800 people have died of the virus as of Friday since Covid hit the national capital last year.

This exceeds the city's average number of deaths by all causes in the pre-pandemic years. The city on average registered 398 deaths per day in 2019, 399 deaths in 2018, and 373 deaths in 2017.
(Edited by Sunanda Ranjan)
---
Also read: Armed forces can turn Delhi's Covid situation around in 48 hours. Time to call them in
---