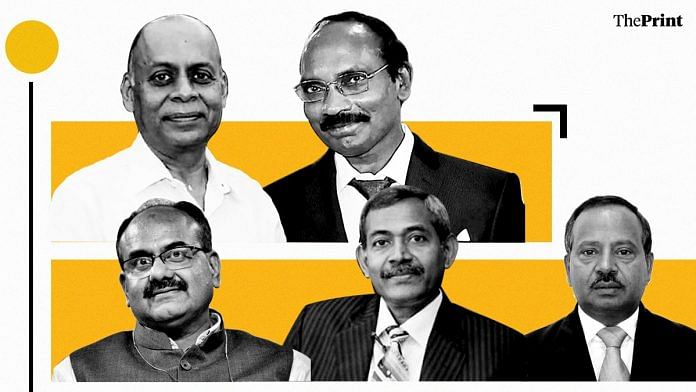 New Delhi: More than half the top secretaries currently serving under the Narendra Modi government have a background in science, an analysis by ThePrint has found.
In the current administration, 46 of the 84 secretaries studied science before joining the civil service — 28 are engineers, while the rest studied Zoology, Biotechnology, Physics and Botany. There is also an MBBS doctor and an Ayurveda doctor. ThePrint collected this information from government websites and other sources in the public domain.
At least 22 of the 28 engineers are from the Indian Institutes of Technology (IIT) — 13 are graduates or postgraduates from IIT Kanpur, seven are from IIT Delhi, and one each from IIT Madras and IIT Bombay. Of the other engineer-secretaries, the institutional backgrounds of two — Ravi Mittal in the sports ministry and Tarun Kapoor in the Ministry of Petroleum and Natural Gas — were unavailable despite calls and emails to their offices.
---
Also read: Govt wants IAS, IPS officers to be nice to public, organises training to make them 'friendly'
---
The IIT cohort
The IIT Kanpur alumni at the top of the civil service include Defence Secretary Dr Ajay Kumar (a 1985 batch IAS officer of the Kerala cadre), Defence Production Secretary Raj Kumar (1987, Gujarat), Rural Development Secretary Nagendra Nath Sinha (1987, Jharkhand).
Ashutosh Sharma, a scientist who heads the Department of Science and Technology under the eponymous ministry as its secretary, has been associated with IIT Kanpur for about 30 years, serving as professor of nanotechnology.
Others with IIT Kanpur backgrounds include Dr A.B.P. Pandey (1984, Maharashtra), finance secretary in the Ministry of Finance, Skill Development and Entrepreneurship Secretary Praveen Kumar (1987, Tamil Nadu), and other secretaries of various departments — Dr Sanjeev Ranjan, Durga Shanker Mishra, Upendra Singh, Sanjay Agarwal, Rameshwar Prasad Gupta, Indu Shekhar Chaturvedi and Sanjeev Gupta.
The list of seven top IIT Delhi alumni in the bureaucracy starts with K. Shivaji (1986, Maharashtra), who currently holds several responsibilities. He leads the administrative reforms and pension & pensioners' welfare under the Ministry of Personnel, Public Grievances & Pensions. He is also the secretary with the Ministry of Statistics & Programme Implementation.
Other IIT Delhi alumni who are secretaries are Yogendra Tripathi, Deepak Khandekar, Pradeep Khajrola, Rajesh Verma, Ajay Sawney and Apurva Chandra.
The IIT Madras alumnus on the list is Girdhar Aramane (1988, Andhra Pradesh), who is secretary in the transport ministry.
K. Sivan, the secretary of the Department of Science and chairman of the Indian Space Research Organisation, is the IIT Bombay alumnus.
---
Also read: 50% IAS, IFS recruits are children of govt servants. But this is a story of their merit
---
Why this trend
According to a report published by ThePrint in October, data from the 2020 batch of civil servants showed that 60 per cent are engineers. Of the 428 civil servants of the 2020 batch who have gone to the Lal Bahadur Shastri National Academy of Administration (LBSNAA) in Mussoorie for training, 245, or 57.25 per cent, are engineers. Eight others have engineering-plus-management backgrounds. There are only 84 civil servants in the batch from an arts background, accounting for 19.6 per cent of the intake.
Several current and former civil servants say historically, students from a science background have been "relatively more competent" at clearing the UPSC examination, because they are better conditioned to give competitive exams.
A recently retired official who did not want to be identified said: "It has been a trend since the 1980s. A similar trend can be seen with the Staff Selection Commission Exams (SSC), Railways and other recruitment examinations — 70 per cent of those clearing SSC are engineers. Students from every discipline take part in the examinations, but it is important to note what optional subjects they are choosing. These subjects, in several instances, help them score better."
A.K. Singh, who runs the training institute Meridian Courses for UPSC aspirants, concurred. "Technology students have, in the last four decades, seen better success with UPSC exams simply because they have a prior experience of going through a tough selection process. Students from IITs are the brightest minds, so they do well in the civil service exams as well," Singh told ThePrint.
Singh, himself an IIT Kanpur alumnus who cleared the UPSC exam in 1983, also said the change in the examination pattern in 2013 has worked in favour of tech students further.
"The previous pattern of having to take two optional subjects was changed and reduced to one subject only. The optional subjects of general studies are largely based on current affairs, and technology students who are interested in joining the civil services find it easier to be keeping up-to-date because they are hard-working and tech-savvy," Singh continued.
"This trend had gone down in the 1990s simply because of the opening up of the economy and privatisation, which gave tech students a lot of career options. But by the 2000s, when the economy started slowing down, we saw an increased number of science students coming back to this field," he added.
IIT hard work, discipline helps in civil service
Another official, requesting anonymity, said that the discipline that comes with studying in the IITs is what helps engineering students clear the UPSC exam.
Anil Swarup, former secretary with the Ministry of Coal, said: "It is not so much about the qualification that comes with going to an IIT, but the discipline that accompanies the education. In order to clear the civil services examination, one needs to be disciplined, hard-working and logical."
Swarup pointed out: "If you look at the latest trends as well, you will see a lot of engineers clearing the civil service examinations. Generally speaking, humanities students do not have to toil as much as engineering students when they graduate. You might find exceptions now and then among the humanities students. But the curriculum at IITs forces you to be disciplined as the course requires hard labour."
He added: "Technical skills are often not what help officers, but leadership skills and ability to get things done is what matters. Technical knowledge acquired 30 years ago does not help an IAS officer a lot."
A serving secretary, who is also an IIT Kanpur alumnus, told ThePrint: "The 1980s were a time when many of us IIT students joined the civil services. That cohort has now come up to the secretary level. In UP, for example, the chief secretary and the additional chief secretaries in charge of the home, industries and personnel departments are all from IIT Kanpur."
This report has been updated to correct the profiles of some officers.
---
Also read: Language test for UPSC — less than 5% IAS, IFS officers take civil services exam in Hindi
---