New Delhi: With the penultimate month of the four-month Southwest Monsoon drawing to a close, rainfall across India this season has been marked by wide variations — reportedly the worst since 1901 — even though rainfall levels appear "normal" over the country as a whole.
Just last week, parts of Rajasthan, Kerala, Madhya Pradesh and Odisha were inundated with rain and reeling under floods. Meanwhile, Uttar Pradesh, Jharkhand, and Bihar have been rain-starved, witnessing drought-like conditions.
The current season's rainfall patterns have "created the worst geographical skew of monsoon between the Gangetic plains and the rest of India in recorded history", according to a report by Hindustan Times.
Data from the India Meteorological Department (IMD) shows that between 1 June and 10 August, east and northeast India experienced an 18 per cent deficit in rainfall, while the central and southern regions experienced an excess of 24 per cent and 28 per cent, respectively.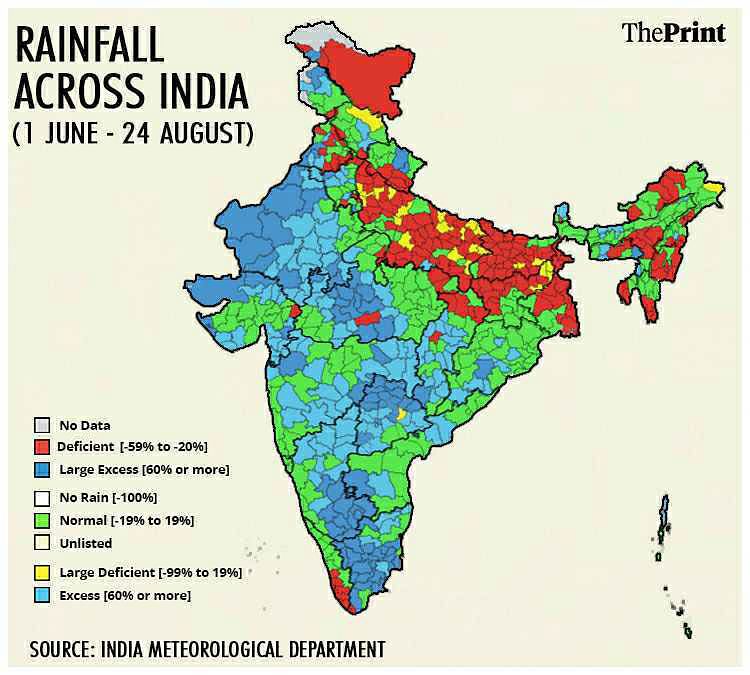 The agriculture ministry's data in July showed that erratic rains had resulted in a 13 per cent drop this year in paddy planting. In Uttar Pradesh, a ground report by ThePrint had found rain-fed paddy farms were overgrown with grass and weeds because of water scarcity.
In its forecast for the second half of the monsoon ending September, the IMD had predicted rainfall over the country would be normal to above normal, with precipitation between 94 and 106 per cent of the Long Period Average (LPA) of 422.8 mm.
LPA is the rainfall recorded over a particular region for a given interval average over a long period. It acts as a benchmark while forecasting the quantitative rainfall for that region for a specific month or season.
Prospects of rain in the Gangetic plains and northeast are likely to look up in the next few weeks, the IMD said, but not enough to make up for the deficit.
"Towards the end of the season, there is a possibility that states like UP and Bihar will receive normal rainfall. However, it won't make up for the deficit," said M. Mohapatra, Director General of Meteorology at the IMD.
---
Also Read: Monsoons have arrived in Delhi, says IMD, but here's why rains elude many parts of the capital
---
Wide variations not unusual
It's not unusual for the monsoon to experience wide spatio-temporal variations from year to year, or even within one season, meteorologists said.
"In recent years, we are seeing this trend where the overall monsoon appears 'normal' but the spatio-temporal difference or variability is quite drastic. Climate is one of the major factors, but the yearly variations are more to do with the changes in global wind and sea-surface temperature patterns," said Deekshith Nevil Pinto, deputy news editor at The Weather Channel India.
"The continued prevalence of La Niña base state over the Pacific is leading to wetter than normal rains this monsoon. The same factor may also lead to excess rains over Central, Eastern and Northeastern parts of India during September and October."
A global weather phenomenon that has occurred for two consecutive years, La Niña causes the surface ocean waters along the tropical west coast of South America to cool. This leads to lower air pressure over the Western Pacific, causing higher rainfall. La Niña is likely to continue into the third year, marking a rare meteorological event.
"In August, strong low pressure systems from the Bay of Bengal kept the monsoon trough south of its normal position. This is why the monsoon remained active and even vigorous in most parts. But this repeated southward movement of eastern side of the trough has deprived Uttar Pradesh of extended rain spells," said Pinto.
Mohapatra attributed these changes to internal variability, or the natural climatic changes that occur in weather systems, which includes the complex interaction of sea surface temperatures and winds.
"At a large scale, the monsoon is progressing normally and La Niña has given us good rain. This year, almost all the states are normal or in excess barring UP, Bihar, West Bengal and Jharkhand. This is mainly because of the low pressure systems over the Bay of Bengal," he said.
The withdrawal of the Southwest monsoon — which typically begins mid-September — is likely to be delayed, with rain predicted to continue well into October.
Rainfall predictions to become tougher
Prior to this year's skewed monsoon, India had reeled under a record-breaking heatwave. Scientists had predicted that such a heatwave was about 30 times more likely to happen due to human-caused climate change.
Discerning the effects of climate change from internal variability in the monsoon is a challenge that will become more pressing with time, said monsoon expert R. Krishnan of Indian Institute of Tropical Meteorology (IITM), an autonomous Institute of the Ministry of Earth Sciences.
It is harder to attribute certain monsoon events to climate change because of the complex atmospheric interactions involved, he explained.
"In the near term (10-25 years), rainfall projections will be challenging and dominated by internal variability. We will be able to see the effects of greenhouse gases on monsoon patterns in the years after the near term period," said Krishnan, who is also the executive director of the IITM's Centre for Climate Change Research.
(Edited by Tony Rai)
---
Also Read: Monsoon has turned normal, IMD says. But it really hasn't if you see regional variations
---