Budgam: In Budgam's Sheikhpora Pandit Colony, a 44-year-old pharmacist waits for a friend at the gate. He has some errands to run but is afraid of stepping outside for fear of becoming the next victim of targeted killings. 
The Sheikhpora Pandit Colony in central Kashmir's Budgam is home to 2,500 Kashmiri Pandits, the president of the colony told ThePrint.
It has been two days since another Kashmiri Pandit — 48-year-old Puran Krishan Bhat — was killed in the Shopian district, and, according to the pharmacist, a resident of the Sheikhpora colony, the "fear of the bullet" has gripped others living in Kashmir.
He is also upset with the central government. Earlier this month, Union Home Minister Amit Shah visited Baramulla for a rally but didn't mention Kashmiri Pandits' demand to be relocated from the Valley. Instead, Shah's speech focused on Paharis, Bakarwals, and Gujjars. 
"We are mere showpieces that this government wants to display to the world to show normalcy. Nothing else. [Otherwise] why would the home minister not even mention us?" asked the pharmacist who, like other people that ThePrint spoke to, didn't want to be identified for fear of reprisal.
For residents of the colony — as well as Kashmiri Pandits elsewhere in the Valley — the past few months have been ones of intense fear. And this feeling of insecurity was only reinforced after Puran Krishan Bhat's killing Saturday.
"Tomorrow, we, too, will die from a bullet and an unnamed gunman will be held accountable for it," the pharmacist said.
Bhat was shot on his way to his apple orchard — the sixth targeted killing of Kashmiri Pandits this year. Among those killed this year have been a school teacher and a government employee.
---
Also Read: 'Locked up like animals' – Pandits want to flee Kashmir, hope it's their last exodus
---
'Is locking us up in our homes a solution?'
With the Central Reserve Police Force, the local police, and a police control room van stationed right outside the complex, security is tight at the Sheikhpora Pandit Colony. 
But "locking [us] inside [our] homes is no solution," said the residents of the locality. 
"[As long as] we are sitting inside our homes, all is fine. The moment we step out, killings start, just like they happened in Shopian. Is locking us all up inside these secured complexes a solution?" an engineer The Print spoke to asked.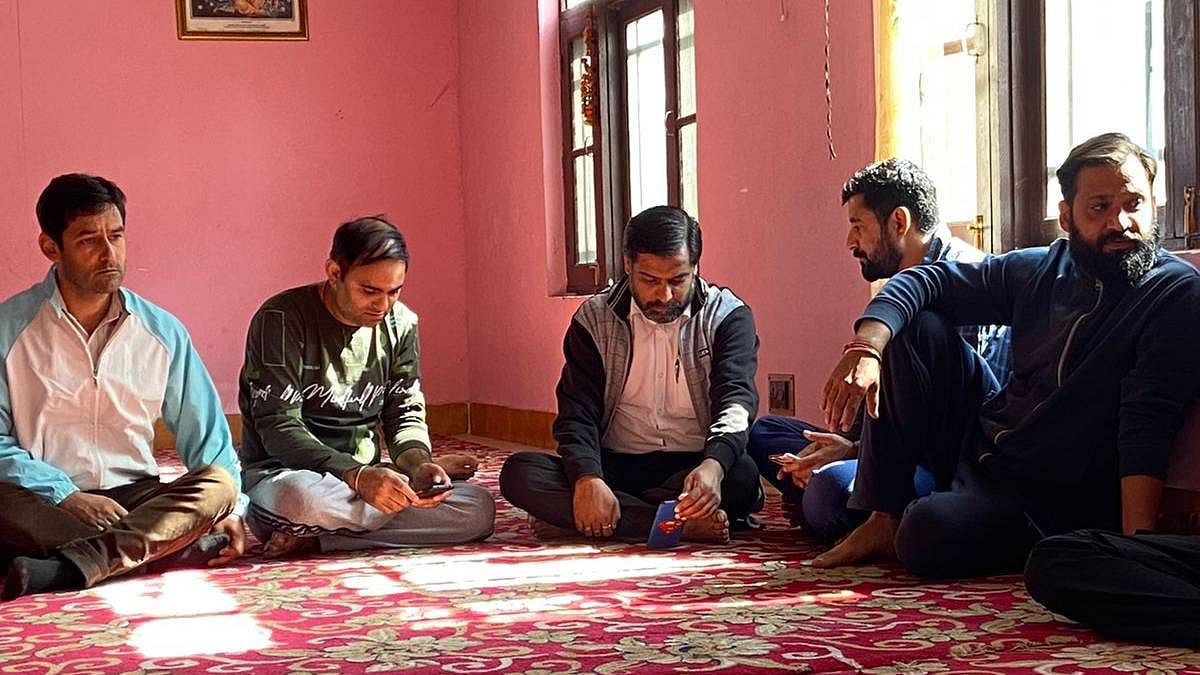 A 45-year-old teacher at a government higher secondary school said he has been so afraid of venturing out alone since the attacks began that he takes two people with him "even to the grocery store". 
"That is the kind of fear we are living in. We are easy targets since we take the same route to our workplace every day," he told ThePrint.
'We have been asked to join work without security'
For many, there is now another concern — pay cuts.
Since attacks began in May this year, several Kashmiri Pandits holding government jobs stayed back home, with the government allowing them to draw their full salaries.
However, now they have been asked to resume work or face salary cuts.
The ultimatum has them worried, especially since most attacks in the past happened to people on their way to work.
"In the past, we have seen that the terrorists have only attacked people at their workplaces. We saw how a teacher was shot dead inside the school, and a bank employee was attacked in his office. Rahul Bhat, a government employee working at the Tehsildar office in Budgam, was also attacked inside his office. How can we resume work?" the government school teacher asked.
The pharmacist quoted earlier agreed.  
"The government now asks us to join service, but what about our security? How can we step out knowing we may be the next target? When we asked the administration to provide us security at our workplace, they told us that they would think about it later, that first we should join [work]. What are they waiting for? They'll think about it after we die?" he asked. "It's like telling us, 'kutte ki maut maro, fir dekhenge security ka kya karna hai (die a dog's death, then we'll see about security)'," he said.
Residents said that Kashmiri Pandits have been asking to be relocated to Jammu until the situation gets better, but, so far, that demand has been stonewalled. 
"Do we like sitting inside our homes in fear? We have told them so many times to relocate us to Jammu. We can easily go there and resume work," the engineer said, adding: "Once the situation in Kashmir [returns to] normal and the terrorism is over, we will return."
But for several people, even leaving is no solution, especially for those with children studying in classes 10 and 12. To add to their problems, the central government-run Kendriya Vidyalaya is not allowing their children to transfer schools, he told ThePrint. 
"We sent our applications [for transfer] so many times but have been denied," the school teacher told ThePrint. "What would they get from keeping us here, in this secured housing complex? Why do they want us here? Just to show that everything in Kashmir is normal when it's not?"
(Edited by Uttara Ramaswamy)
---
Also Read: In Kashmir 3 years on, 3 positive changes, 3 things that should've happened & 3 that got worse
---