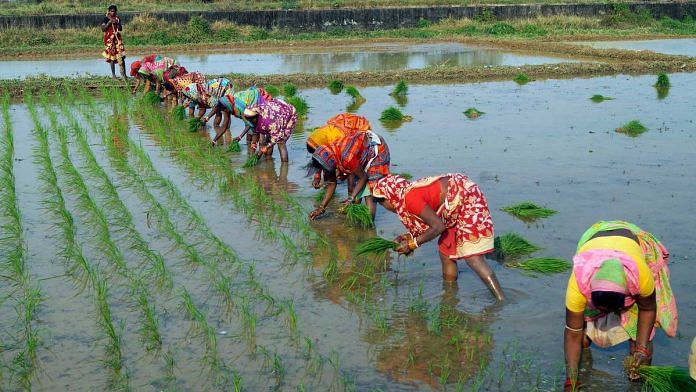 New Delhi: The planting of major kharif crops has been severely hit in major producing states as below-average monsoon rainfall continues in several parts of the country. The shortfall has been registered especially in pulses and oilseed, whose record high prices have pushed food inflation this year, as reported earlier.
According to the data from the agriculture ministry, as of 15 July the overall area under the kharif crop covered 611.89 lakh hectares (LHA) against 691.93 LHA in the year-ago period, a 11.5 per cent year-on-year fall.
The coverage of all kharif crops such as rice, pulses and coarse cereals is lower than last year, except for sugarcane and jute.
The drop in acreage is most severe in the case of coarse cereals, which has seen a 20.62 per cent fall (to 91.34 LHA from 115.07 LHA). Oilseed, cotton and pulses have seen drops of as much as 13.69 per cent, 12.94 per cent and 12.09 per cent, respectively. The area under rice crop is also lower by 7 per cent from 174.77 LHA in 2020-21 to 161.97 LHA in 2021-22.
In India, progress of monsoon during second and third week of July is critical for rainfed coarse grains, pulses, and oilseeds, which go largely unirrigated.
According to the ministry, rainfed agriculture occupies 51 per cent of the country's net sown area and accounts for nearly 40 per cent of the total food production.
The monsoon hit to farmers comes at a time when the FAO Food Price Index has recorded a sharp surge. In its May release, the index registered the biggest month-on-month gain since October 2010.
Government data released in June showed that retail inflation in India had crossed 6 per cent in May mainly due to a sharp increase in commodity prices like that of edible oils, meat, and fish, eggs, and pulses. Edible oil inflation rose to 30.8 per cent, the highest-ever recorded rise under this subgroup.
---
Also read: After second wave, patchy monsoon rains are raising growth and inflation worries for India
---
The monsoon factor
Most of the aforementioned crops are subject to a short sowing window — from June to the third week of July. Rice plantings, however, remain less affected by moderated monsoon, since a significant share of the crop is irrigated, and also benefits from a long window that extends into the second week of August.
The current acreage drop in crucial kharif crops, which is already pushing up inflation, is mainly due to the slowdown of monsoon during the second half of June and early this month.
According to the Indian Meteorological Department, the monsoon was 5 per cent lower this year than normal till 14 July. While a 5 per cent deficiency in rainfall is treated as normal, the catch is the geographic location of the deficit regions.
This year, some states have received normal or excess rainfall. But pivotal agricultural states such as Gujarat, Haryana, Rajasthan, Punjab, Madhya Pradesh and Uttar Pradesh have seen deficits of 34 per cent, 25 per cent, 24 per cent, 23 per cent, 17 per cent and 15 per cent, respectively.
There's lower water storage too in the major reservoirs of the country compared to last year. The current storage stands at 57.62 billion cubic metres (BCM) against 62.13 BCM from last year, data from Central Water Commission shows.
---
Also read: At 329.86 MT in 2020-21, India is set to witness highest ever horticulture crop production
---
Oilseeds
Gujarat, which is facing the worst impact of slow monsoon, has experienced a major slump in the acreage of groundnut crops, in which the state is the top producer in the country.
The groundnut acreage in Gujarat has dropped from 18.28 LHA in 2020-21 to 15.40 LHA in 2021-22.
As reported earlier, the acreage of soybean, one of the major oilseeds in India, has seen a fall in Madhya Pradesh, the top producer of the crop. In Rajasthan, another leading producer, the acreage has dropped from 9.23 LHA to 5.55 LHA.
Even in sesame, the oilseed that got the highest MSP jump among all kharif crops, there has been an acreage plunge in the crucial state of MP — from 1.19 LHA to 1.02 LHA.
Pulses
Madhya Pradesh and Rajasthan, major pulses producing states, have witnessed acreage fall in some key pulses owing to the shortage in rainfall. The high prices of pulses had forced the government to implement stock-limit and open free imports.
In Rajasthan, urad acreage has plunged from 2.3 LHA to 0.94 LHA. Similarly, moong acreage has dropped to 7.45 LHA from 11.17 LHA. The urad area has also dropped in MP from 11.42 LHA to 8.44 LHA. 
Cotton, one of the country's major cash crops, has also witnessed a double-digit drop in acreage — from 113.01 LHA to 98.38 LHA.
(Edited by Amit Upadhyaya)
---
Also read: Kabuli chana price set to rise, could cost Rs 130/kg ahead of festive season as states unlock
---