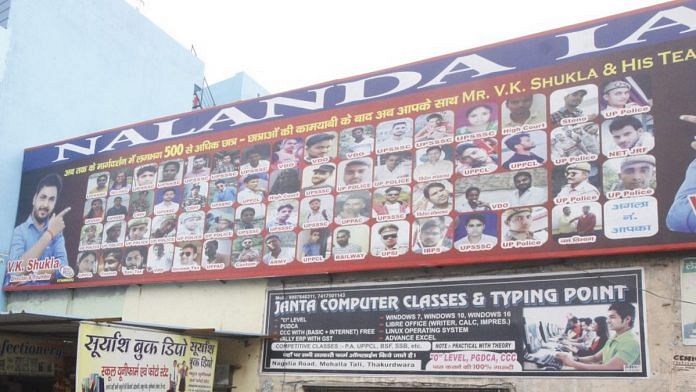 New Delhi: India's massive civil service coaching industry, worth an estimated Rs 3,000 crore, has taken to advertising itself by promoting some 'star' teachers, whose faces dot their billboards and newspaper advertisements across the country.
Colloquially known as 'IAS coaching', the industry is mostly staffed by three different categories of teachers — civil service aspirants who couldn't make it, college and university professors, as well as retired and even some serving bureaucrats.
A.K. Singh from the Meridian Courses coaching academy in Delhi, a former civil service aspirant who decided to shift to teaching, pointed out why the phenomenon of 'star' teachers is gaining ground.
"Coaching institutes cannot advertise the serving college and university professors and serving bureaucrats, so they heavily play upon advertising the former civil service aspirants as 'subject experts'. The fame of these teachers, however, is limited only to the civil services aspirants' circle. The public doesn't know them," Singh said.
ThePrint approached many such 'star' teachers to understand what makes them famous, albeit in the aspirants' community. But only a few agreed to speak, that too on the condition of anonymity and without identifying their institutes, as they are contractually bound not to speak without the organisation's permission, which wasn't forthcoming.
---
Also read: How to stay awake at IAS coaching—learn from these failed aspirants
---
Three-tier process
Selection to the civil services is a three-tier process: First is a preliminary examination consisting of two papers — general studies, and an aptitude test that examines a candidate's logical reasoning, decision-making ability and general mental ability.
Candidates who clear the prelims appear for the main examinations, which include four papers on general studies, two papers on the optional subject chosen by the candidate, and one essay.
The final step is an interview, where candidates are called on the basis of marks obtained in the main exam, and where tough 'logical questions' are supposedly asked.
Aspirants generally seek special coaching for optional subjects like history, geography and political science, thus making the 'subject expert' teachers the most sought-after.
"Most students prepare for general studies on their own by reading magazines and newspapers, but when it comes to optional subjects, people go to a teacher. One needs to have in-depth knowledge of a subject to appear for the civil services exam and this is what makes certain teachers celebrities in their own sphere," said Kushagra Jain, who prepared for civil services in 2010, but gave up after three failed attempts. Jain now works for a private firm in Bhopal.
How do teachers reach 'star' status? 
A Chennai-based teacher at a local institute explained how certain teachers become famous.
"There are two-three reasons behind their fame — the institute that they are associated with, their own talent, and the success that their students have achieved over the years. If a teacher is associated with an institute like Vajiram and Ravi, and he or she is good at their subject, they will be rewarded and be known by the name of Vajiram and Ravi wherever they go. It becomes a selling point for the teacher," said the teacher who did not want to be identified.
For example, Next IAS, a fairly new entrant in the UPSC coaching space, advertises its faculty on its website, saying: "Welcoming India's most renowned faculties of GS in Next IAS team." These new entrants are former Vajiram and Ravi faculty members who are known for their general studies expertise.
Next IAS did not respond to several calls and an email from ThePrint seeking a comment on their faculty members.
BYJU'S, a major online education platform, has also hired some distinguished faculty members, including defence expert Commodore Uday Bhaskar (retired).
"We feel proud to have some of the best academic experts and well-known teachers on board with us. In the recent past, BYJU'S has roped in top educators on its platform like G. Subba Rao for ethics (author of the most sought-after book on ethics for the civil service exam), Prof. Pushpesh Pant (former dean of JNU), and Uday Bhaskar (defence expert)," Sarmad Mehraj, AVP of product (UPSC) at BYJU'S told ThePrint over email.
However, a well-known teacher at a prominent coaching institute in Delhi, who did not wish to be identified, told ThePrint: "We are not celebrities and do not have any intentions of being treated like one. The name that we have earned over the years is because of our hard work and perseverance. Yes, the coaching centres do use us like marketing tools, but I wish the students would take a call wisely and decide what's best for them."
---
Also read: In this sleepy UP town, lakhs are sold an IAS-IPS dream but no one gets selected
---
Flip-side to fame
There is also a flip-side to being a big name in the industry, some teachers said. Rajesh Mishra, a well-known political science teacher in UPSC aspirant circles, who was once part of a big coaching institute, now runs his own academy at a smaller level, and said big institutes are run like "corporates" these days.
"When a teacher becomes popular, the organisation tries to exploit the teacher… They want more and more profit using the teacher's name. Also, one of the major problems that I feel with big institutes is that a subject expert is not limited to teaching just that subject. If someone teaches political science, they will teach economics, history and whatever else they can. Anyone is free to teach anything that they want…so the specialisation that they claim to be offering is not actually there," he claimed.
Mishra added this is why he himself wanted to teach at a smaller level, so that he can focus more on individual students.
Younger or lesser-known teachers in the institutes complain that they are made to do most of the work.
"It's the younger, lesser-known teachers who do the majority of the work like setting test papers for students, evaluating their answer sheets, etc. The big-name teachers only take a few classes and are also paid a lot more than the younger ones," said a 25-year-old teacher who joined the coaching industry after post-graduating in history.
High salary 
The salary of faculty members who teach at these coaching institutes ranges from Rs 800 per hour to Rs 12,000 per hour, depending upon their work experience, several people ThePrint spoke to said.
"Even a part-time faculty member, who teaches for 4-5 hours a day in a popular institute ends up earning more than Rs 1 lakh a month. The full-timers earn a lot more, especially the senior faculty members…the 'star' teachers earn around Rs 3-4 crore annually," said a teacher, who did not wish to be identified.
On being asked how this compares to the salary of a college or university teacher, he said, "It's not fair to compare the salaries of coaching institutes to that of regular college teachers. Those teaching in government college get somewhere between Rs 50,000 a month for assistant professor, which is the beginning level, and they reach over Rs 2 lakh only once they reach the level of a professor, which takes up to 10 years. The situation is worse in private colleges where teachers start at Rs 18,000-20,000 per month and then it increases gradually depending upon experience."
The teacher, however, agreed that some college teachers work at these coaching institutes to make extra money. "Of course they get twice the money if they would join a private coaching institute, but people prefer the security of a fixed teaching job, so they end up teaching part-time in these institutes to make more money."
Talking about poaching by popular institutes, a teacher associated with a coaching institute in Chandigarh said, "If a new coaching institute enters the market and wants to make a name for itself, they go for hiring popular faculty from other institutes. The pull for these faculties is money of course. Some big institutes even agree to double the current salaries of those they wish to poach. The other big factor why popular faculty members leave sometimes is the redundancy they feel."
Effect on students
How much do famous teachers influence students to join an institute? Aspirants and serving civil servants said it was a matter of individual choice.
"Famous teachers and big coaching institutions have an interdependent relationship. In some cases, students look for a big faculty name, and in some others, they simply go for a big coaching institute with the belief that all the faculty there must be good," said Karuna Suresh, a UPSC aspirant in Delhi's Mukherjee Nagar.
For her own preparation, Karuna has chosen a teacher over an institute.
"I wanted to focus on economics for my optional exam and I wanted a teacher who could focus on my preparation, rather than giving a lecture in an auditorium full of students," she said.
A serving Government of India official told ThePrint on the condition of anonymity that he too had chosen a teacher over a big-name institute. "When I was preparing for my exams, I wanted a teacher who could give me more attention. A celebrity teacher or a big institute would not have been able to do that. So, I chose a smaller coaching class where I trusted the teacher to work hard on grooming me," the official said.
However, he did add that big advertisements can be misleading for students who come from small towns or distant areas.
"When they (aspirants) come to coaching hubs like Delhi, they look for names that they have seen advertised in current affairs magazines and newspapers that they subscribe to. Many of them end up going for the popular names and sometimes get fooled as well," the official added.
---
Also read: Modi govt wants more Muslims in IAS & IPS, raises budget for free UPSC coaching
---