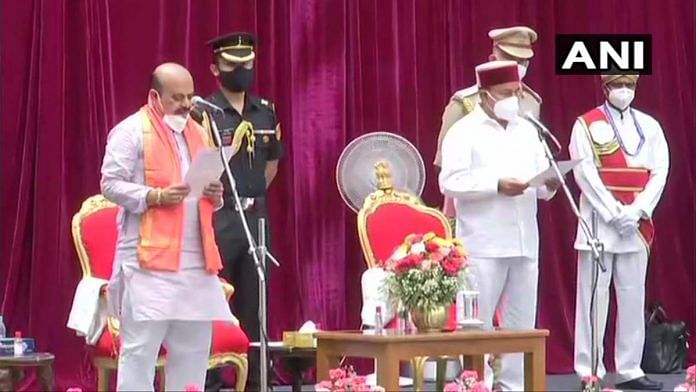 Bengaluru: A video of newly-appointed Karnataka Chief Minister Basavaraj Bommai bidding farewell to his dog 'Sunny', who passed away earlier this month, has gone viral since Bommai assumed office as CM on 28 July. The video is more than two weeks old.
In the video, a teary-eyed Bommai, flanked by his family, is seen reaching down to stroke and kiss Sunny, as the pet's last rites are being performed. He then goes on to wipe his eyes with a handkerchief.
On 12 July, Bommai had tweeted in Kannada, "Today our pet dog 'Sunny' has died. I'm in great pain. As I lost a family member. Sunny loved mingling with everyone who came home. Om Shantih."
ಇಂದು ನಮ್ಮ ಮನೆಯ ಮುದ್ದಿನ ನಾಯಿ "ಸನ್ನಿ" ವಯೋಸಹಜ ದಿಂದ ಸಾವನ್ನಪ್ಪಿದ್ದು ತೀವ್ರ ದುಃಖ ತಂದಿದ್ದು ಕುಟುಂಬದ ಓರ್ವ ಸದಸ್ಯನನ್ನು ಕಳೆದುಕೊಂಡಂತಾಗಿದೆ. ಮನೆಯ ಹಾಗೂ ಮನೆಗೆ ಬರುವ ಎಲ್ಲರೊಂದಿಗೆ ಅತ್ಯಂತ ಪ್ರೀತಿಯಿಂದ ಬೆರೆಯುತ್ತಿತ್ತು.

ಓಂ ಶಾಂತಿಃ… pic.twitter.com/PszIOoMsTO

— Basavaraj S Bommai (@BSBommai) July 12, 2021
---
Also read: Engineer to Karnataka CM — The rise of BSY loyalist & Lingayat leader Basavaraj Bommai
---
'Our CM who loves dogs'
The video has been widely shared in the past week with many lauding him for his "love for dogs". The emotional video has also made rival Congress leaders (Bommai is from the BJP) praise the CM.
Tabu Rao, wife of Karnataka Congress leader Dinesh Gundu Rao, in a post wrote, "Our CM who loves dogs . A heartwarming sight indeed."
Tamil Nadu Congress Committee spokesperson Americai V Narayanan also wrote that a man who loves his pet as much as Bommai does, should ensure that street dogs should find loving homes.
Pray a man who loves dogs makes sure the uncared dogs are not let out in streets; instead enforces NO DOGS are on the streets and cared well at homes as pets, like the way the he took care of his dog @CMofKarnataka – @BSBommai https://t.co/pW1yl8Al4e

— Americai V Narayanan 'அமெரிக்கை' வி நாராயணன் (@americai) July 30, 2021
Another Twitter user, Sangita Nambiar also tweeted, "I think I like our CM much more now."
(Edited by Poulomi Banerjee)
---
Also read: The Rs 9,000-cr Cauvery reservoir project Karnataka & TN have clashed over for decades 
---