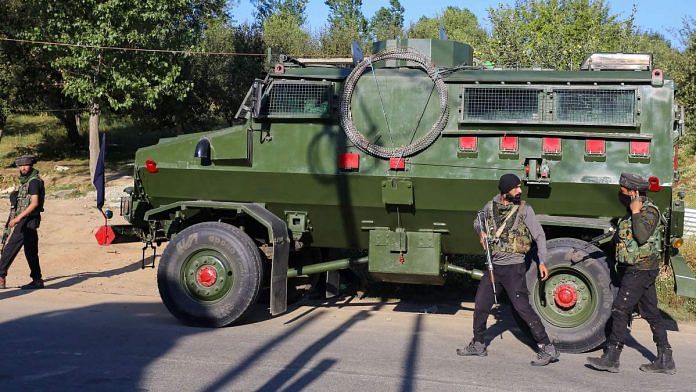 Silchar: The Saturday encounter that led to the deaths of two top Jaish-e-Mohammed (JeM) terrorists — Mohammad Ismail Alvi, also known as Lambu, and Sameer Ahmad Dar, closely associated with Jaish chief Masood Azhar — may be a huge setback to the terror outfit, but it still has a sizeable presence in Kashmir.
According to data accessed by ThePrint, there are 37 Jaish terrorists still present in Kashmir, of whom five are Kashmiris and 32 are foreigners, all of whom have infiltrated from across the border.
So far this year, security forces have killed seven Jaish terrorists, which includes two foreigners and five Kashmiris, the data shows.
In all, since January 2021, a total of 87 terrorists have been killed, according to the data, of whom seven were foreigners. 
"It remains to be a challenge. However, it is a big success that the two main leaders of the terror organisation have been eliminated. It is a big setback to them," a source in the security establishment said. "Recruitment too is a challenge. We have inputs of increased recruitment on the ground of Kashmiri youths." 
According to the source, 78 local Kashmiris have been recruited into terror outfits in the Valley since January this year. Last year, the number was 180.
Of the two killed Saturday, Alvi, a Pakistani national and an Afghan war veteran, is believed to have been the fabricator of the Improvised Explosive Device (IED) used in the 2019 Pulwama terror attack. 
According to police records, Alvi was "A++ categorised terrorist" and was an IED expert. He was allegedly involved in many terror attacks including the February 2019 Lethpora attack and killing of SPO Fayaz Ahmed, his wife and daughter in Tral.
Police said Alvi, who had infiltrated through the Shakargarh Sector in 2017 was also "instrumental in motivating and recruiting the youth to join Jaish". He had also visited several training camps of the JeM in Afghanistan and Pakistan.
Sameer Ahmad Dar, police said was "number 2 of Jaish". 
Maximum terrorists killed in July
According to the data with the security establishment, the maximum encounters took place in July.
While in January, three terrorists were killed, that number rose to seven in February and to 11 in March. In April, 17 terrorists were killed, while 11 were killed in May, with the number rising to 12 in June and 26 in July.
Of the 87 terrorists killed, 65 were encountered in South Kashmir. 
"Over 65 were killed in South Kashmir, 14 in North Kashmir and 8 in Central Kashmir," data shows.
"The presence of terrorists is heavy in South Kashmir. That is the area where maximum recruitment takes place too," the source quoted above said. "In South Kashmir, maximum terrorists were killed in Shopian, followed by Anantnag and then Pulwama." 
(Edited by Arun Prashanth)
---
Also read: 32 teams, crowdfunded T20 tournament 4 times a year — Kashmir's Kulgam is serious about cricket
---