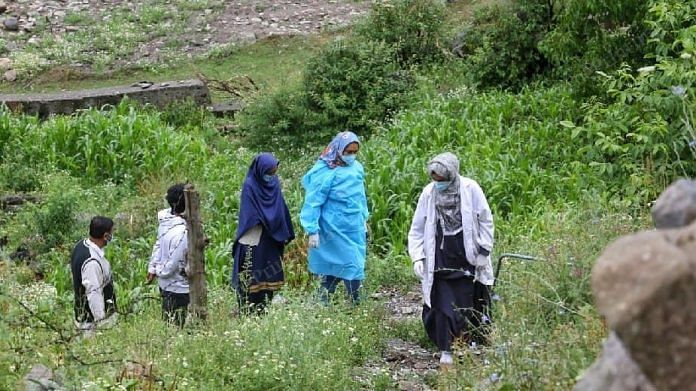 Kashmir: A team of health care workers at Mantrigam village in Kashmir's Bandipora district is gearing up for a long walk uphill, to carry out door-to-door vaccinations in the area. They don their PPE suits, put on their gloves, pick up the box with the vaccine doses and set out, on foot.
Vaccinating the hesitant residents in the state is a task that requires planning. The situation is much better now, however, owing to sustained efforts by healthcare workers, and people are more willing to be vaccinated.
ThePrint followed teams of healthcare workers in Kashmir's Bandipora and Ganderbal districts, as they trekked for kilometres to vaccinate people.
In Mantrigram, as the healthcare workers reached the first house in the village, the Accredited Social Health Activist (ASHA worker) in the team, a resident of the same village, knocks at a door and requests the people of the house to come out, while the rest of the team waits at a distance. This, because there have been instances where healthcare workers, who had been trying to convince people to get vaccinated, were attacked with stones. While some welcome the team and are willing to take the shots, others drive them away.
Medical teams working in Naranag village of hilly Ganderbal district too face similar challenges and often have to trek for kilometres to inoculate people.
In Matrigram, as a man in his 70s agrees to be vaccinated after much persuasion, the team is ecstatic. The vaccinator quickly pulls out the dose and a syringe and readies the shot, while another team member checks the man's vitals, including his blood pressure. After all of his health parameters are found to be okay, he is given the shot. After 10 minutes, his entire family comes out to be vaccinated.
An onlooker, standing 10 meters away, is also encouraged by the team to take a shot, but he immediately runs away. The team then wraps up and move towards the next house, a fresh challenge.