Vadodara: Sanjay Kumar Parekh and his 85-year-old mother Shardaben had been at the Gotri Medical Hospital — Vadodara's nodal facility for Covid-19 patients — for the past 13 days. The nearly fortnight-long stay was tumultuous and filled with fear.
No one, including the doctors, believed that Shardaben would survive the infection after she was diagnosed on 19 April.
"She grew so incredibly weak. The diarrhea was endless, and there wasn't enough staff at the hospital to keep changing her, so I would do it," 50-year-old Parekh told ThePrint, resting a hand on his mother's shoulder. She sat on a chair while he stood just behind her in the room they both share.
"I thought I would die," said Shardaben. "I was afraid of dying. It was the first time I really and truly felt like I could die," she added as she gazed at the courtyard of the High-Speed Rail Training Institute.
The mother and son were on 2 May shifted to the institute, where asymptomatic patients are being kept, after they tested negative following days of treatment. They will stay here for the interim period until a third test declares they are Covid-19 negative.
---
Also read: What words can't say — pregnant, and in quarantine, this nurse can only wait for now
---
Fever, near-death & then a miracle
The infection began with a fever that first struck Parekh, who was carted off to the hospital when his Covid-19 test result came positive. A few days later, his elder brother called saying Shardaben was running a high fever and had developed diarrhea.
"I knew immediately that she had been infected too. We rushed her to the hospital. She started talking about death, but I coaxed her out of it. I said her time had not come yet," said Sanjay. "It was the night of amavasya … the day to feed gods and family (according to) a Hindu Gujarati ritual we follow. I said she wouldn't leave us before she fed everyone."
Both mother and son live in Nagarwada, a hotspot in Vadodara.
Shardaben isn't a patient of diabetes or hypertension — the two co-morbid conditions that are said to accelerate the effects of the virus. But she falls within the age bracket that is considered to be most vulnerable to the disease.
She said the disease had left her completely powerless.
For Parekh, it was the first time he was looking after his mother the way she took care of him when he was a child. "I washed her, changed her, helped her go to the loo. It's not the fault of the doctors, their hands were tied and there were so many other patients who also needed to be cared for."
Sanjay was retested on 27 April and was found to be negative. The doctors gave him a choice.
"They told me I should leave the facility and not risk (a) reinfection. They said my mother was old, and that I should choose between saving myself and leaving, or staying with her and risking reinfection. They weren't optimistic about her chances."
He chose to stay, and saw, over the following days, her symptoms slowly subside. Shardaben was slowly able to get up, feed herself, and then use the bathroom on her own. Then on 2 May, she tested negative for Covid-19 too.
"It felt like a miracle," she said, smiling. Shardaben has been praying twice a day at a shrine they've made in their room with pictures of gods.
"We have one more test to pass. I don't doubt we'll pull through it," she added, as Sanjay nodded.
ThePrint's National Photo Editor Praveen Jain, who is also under quarantine at the same institute along with reporter Simrin Sirur, captured the mother-and son under happier circumstances.
Jain and Sirur have been at the facility since 29 April after they tested positive for coronavirus. They are asymptomatic.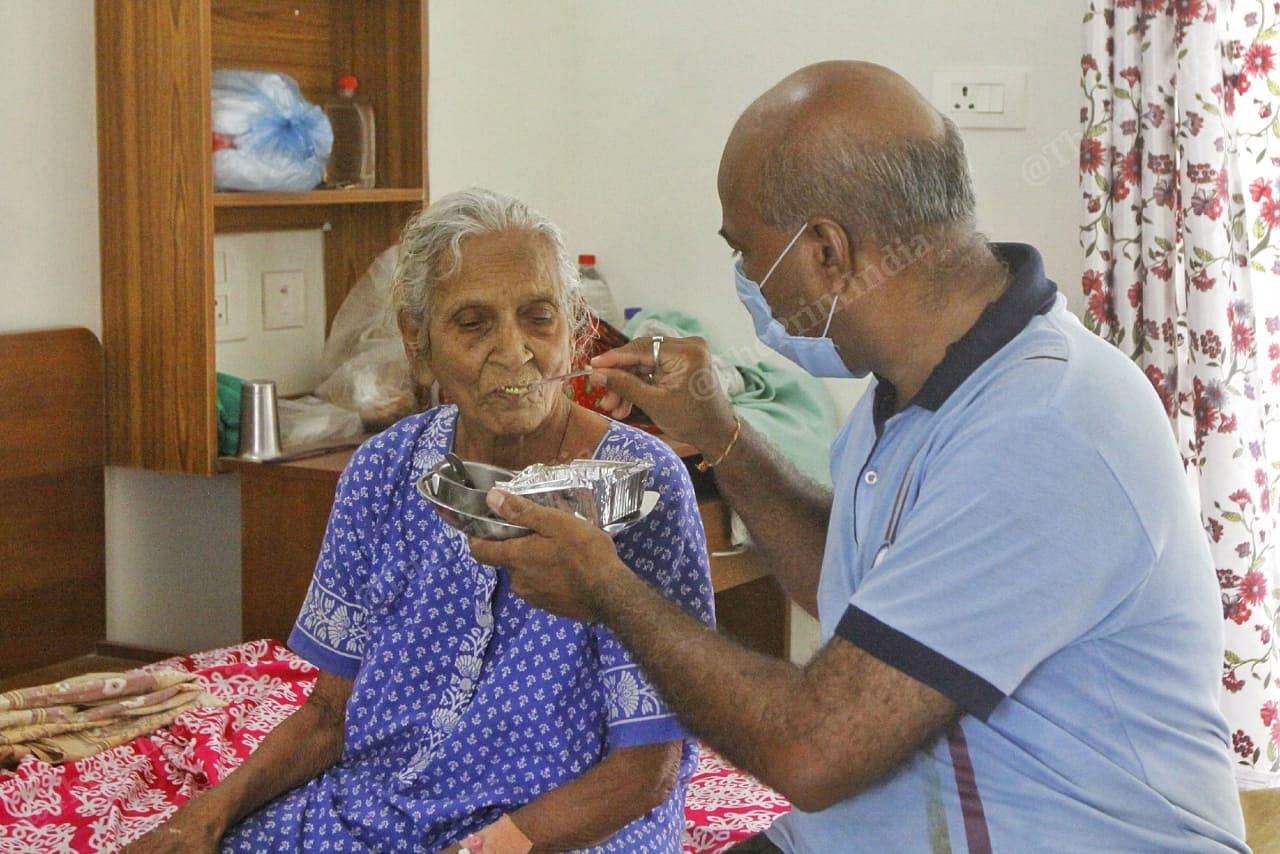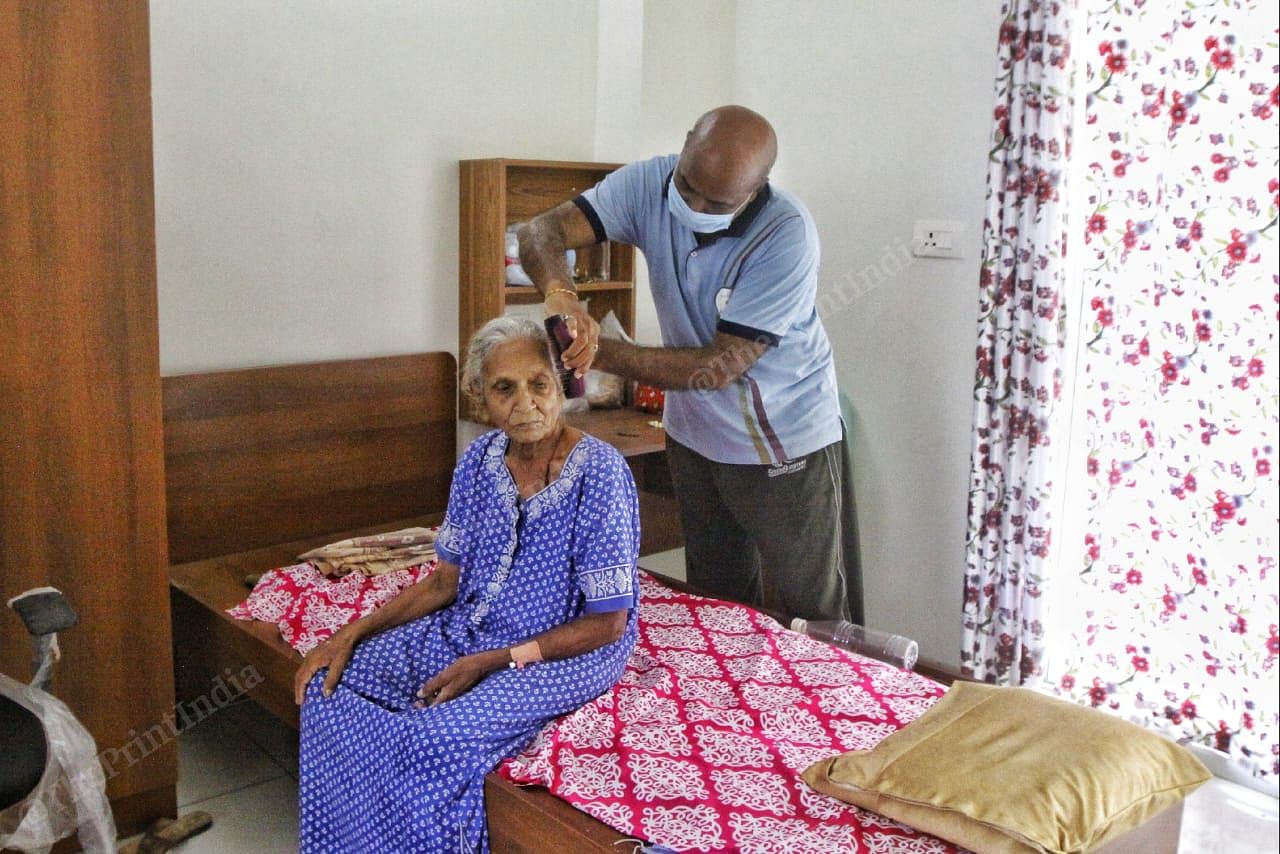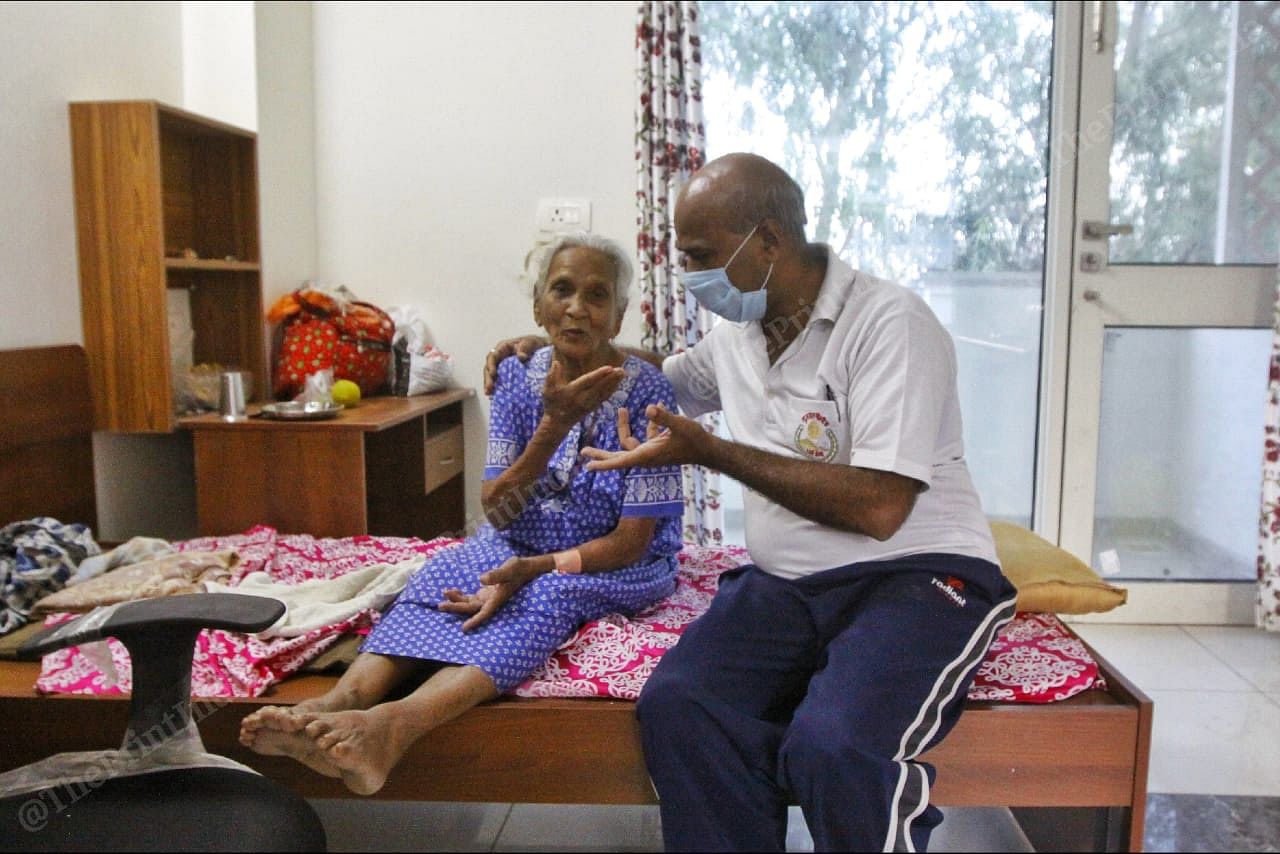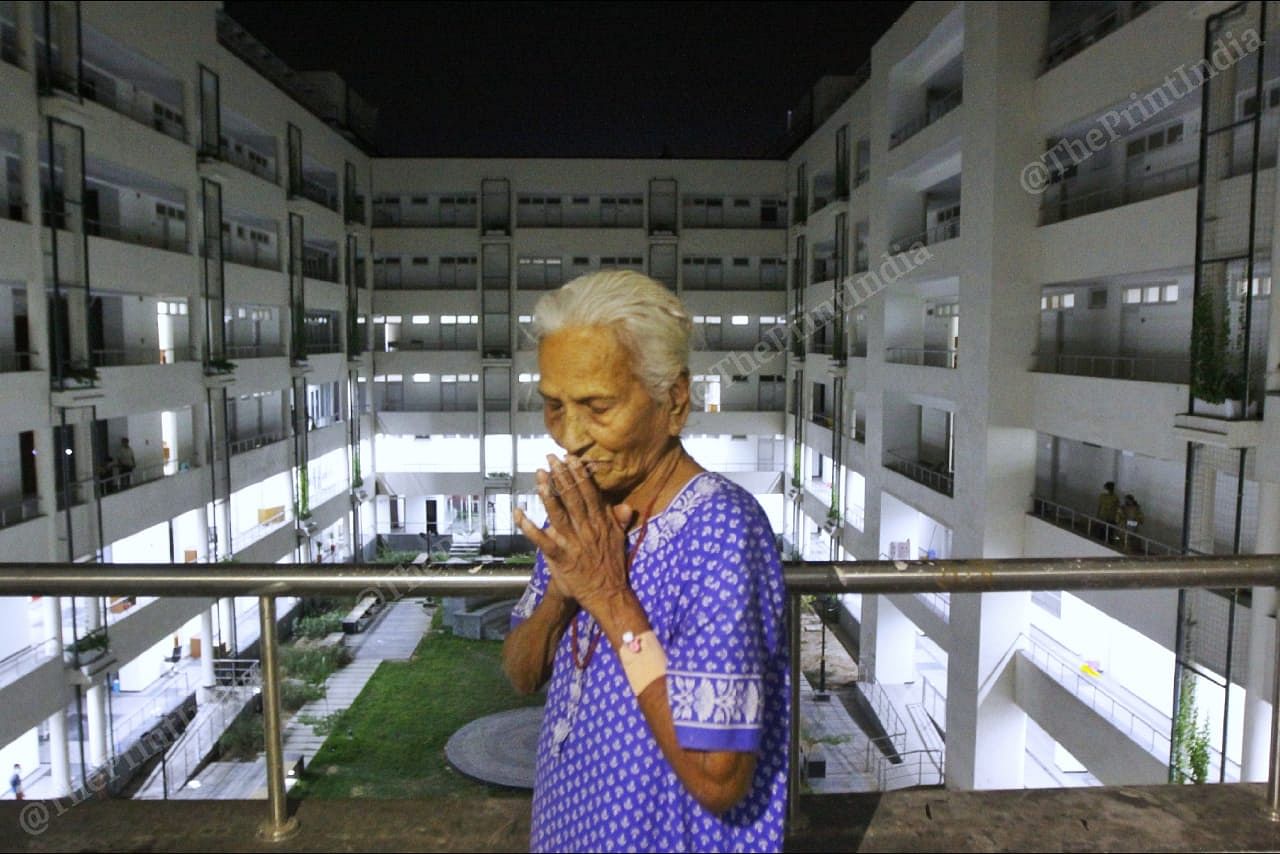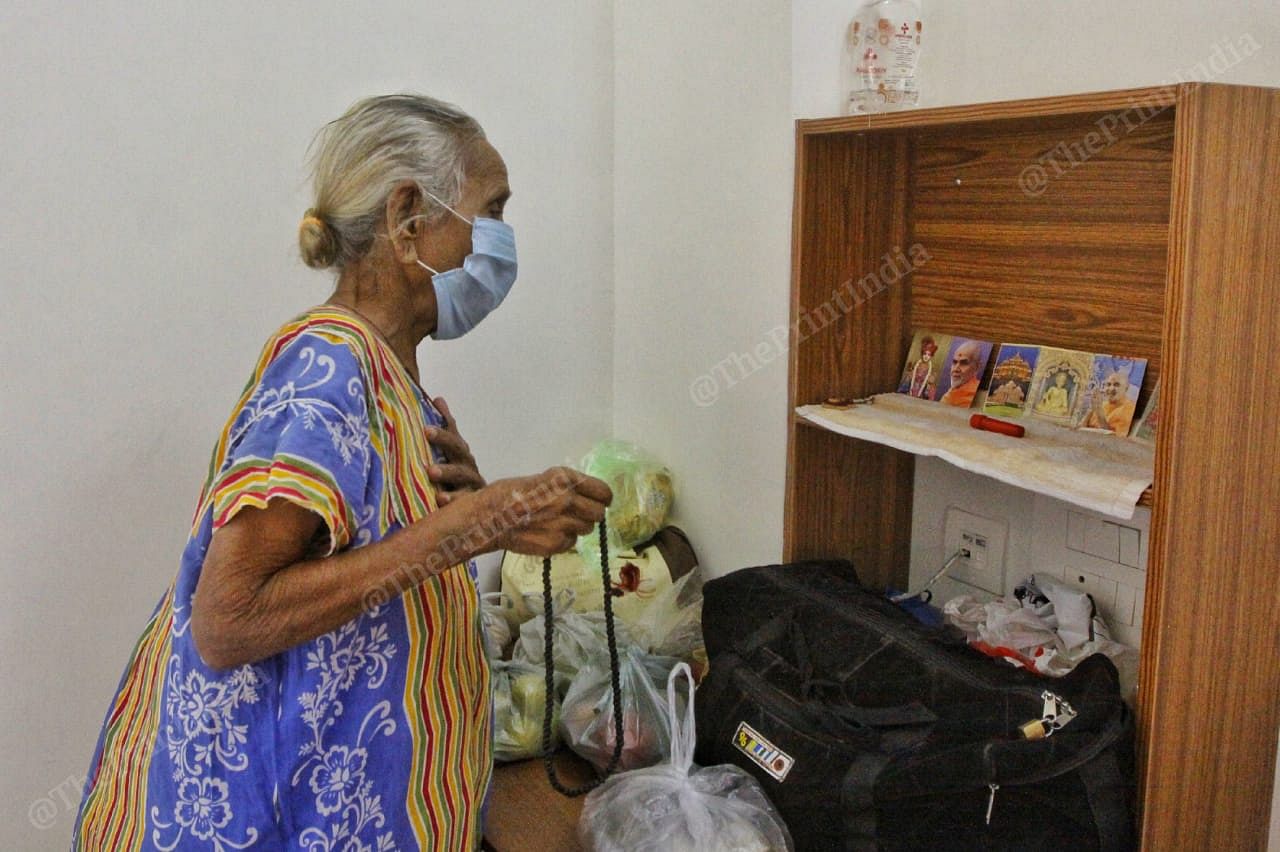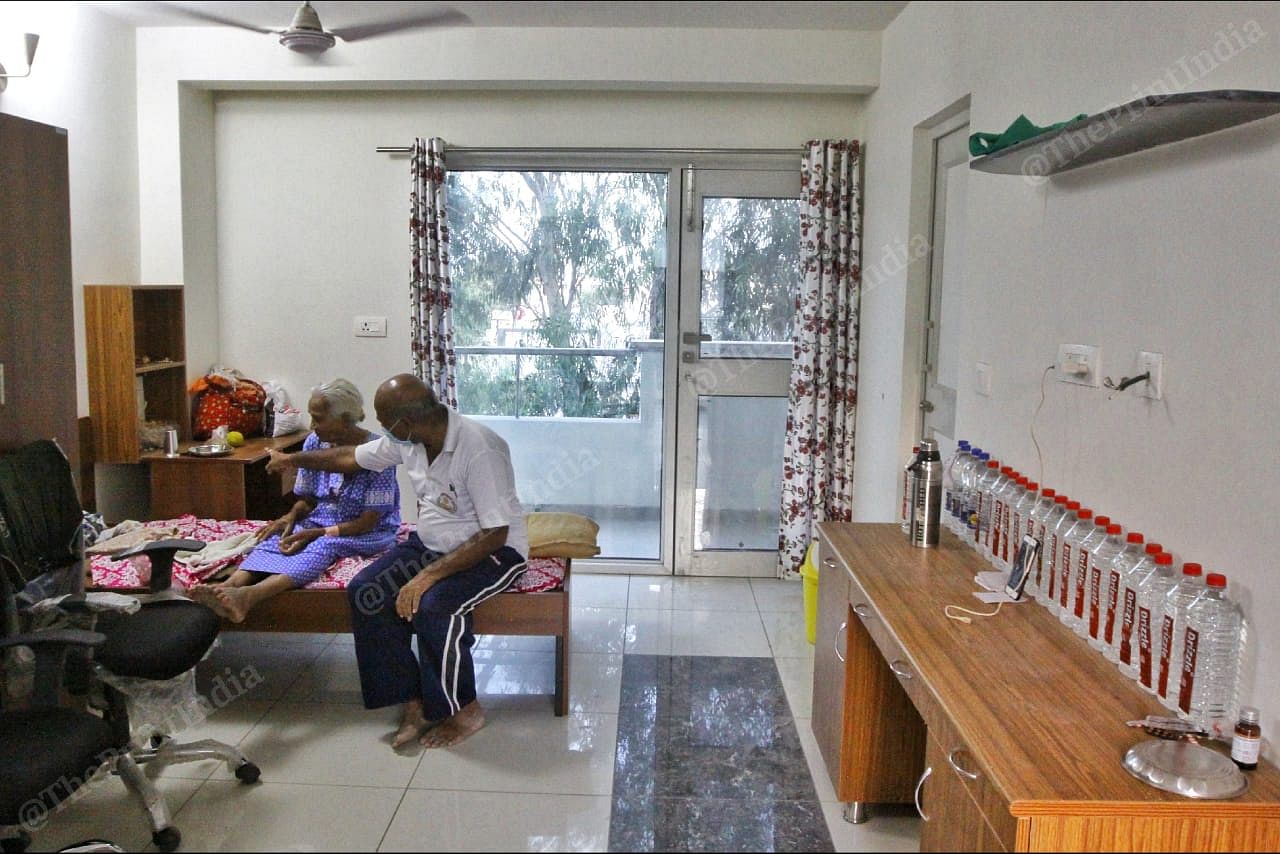 ---
Also read: What words can't say — pregnant, and in quarantine, this nurse can only wait for now
---