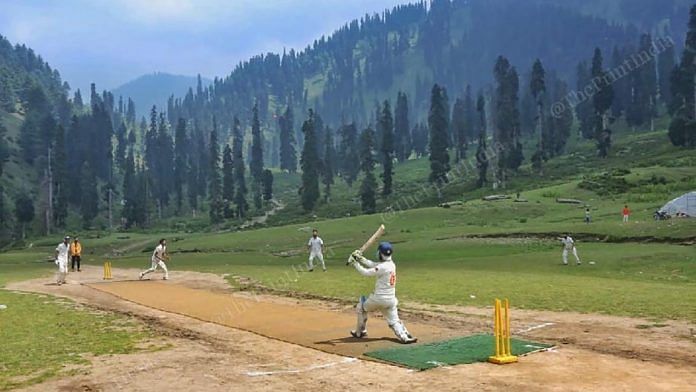 Kulgam: A 40-minute trek uphill leads to a lush green patch of land in south Kashmir's Kulgam district, which is surrounded by alpine trees, mountains and a small stream flows through it.
But this is no tourist spot. This patch of land is where the Home Pathri Premier League, a 20-over cricket tournament, is played among 32 villages from the district.
To arrange this tournament, youngsters from across the villages get together to raise funds that is used to buy cricket gear including bats, balls, shoes and uniforms with their names on it.
The players mostly include shopkeepers, labourers and students aged 18 to 28 years, and it is only through their efforts that the tournament is held every year.
Depending on the funds accumulated, it is held three or four times a year between May and August. Several villagers also hike to the ground to support their teams.
The players now aspire for some professional support including coaches, better infrastructure and greater opportunities by the government.
According to the youngsters, cricket is what gives them direction in a place marred with conflict. And they must be encouraged for this reason.
On 15 July, a match was played between the teams Super King Ahmedabad and Youngster XI Chimmar. ThePrint's National Photo Editor Praveen Jain brings you glimpses from the match.