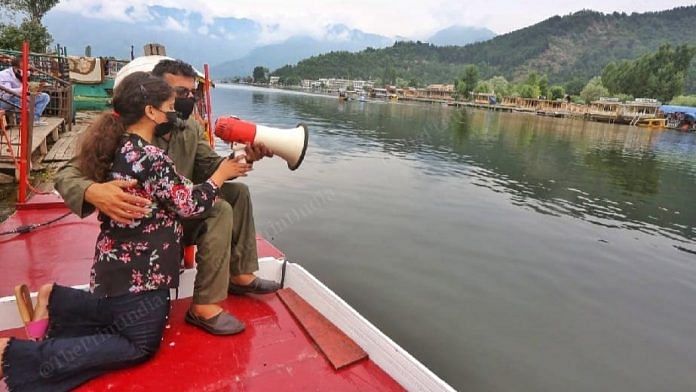 Srinagar, Kashmir: Eight-year-old Jannat is watching tourists take a ride in the shikara outside her home — a houseboat on the Dal lake. As one of the tourists drops an empty packet of chips in the water, she rushes to fetch her loudspeaker and says, "Do not throw plastic in the water." She repeats, "Please do not throw plastic bags, garbage in the Dal lake, it is our home."
After an hour, she hops into her shikara, and starts rowing it across, picking up bottles, plastic packets and papers from the water, and putting them all in a bag. As she rows around, she keeps requesting tourists to not throw trash in the lake. It takes her over an hour.
On the deck outside her houseboat is her father Tariq Ahmad Patloo, who is busy fixing his Ambulance Shikara, which he uses to ferry the patients living on the water, across the lake.
The ambulance was built by Patloo, with the help of a trust, after he contracted Covid-19 in August last year and no shikara was ready to ferry him across the lake due to virus fears. He faced a lot of difficulties to reach the hospital from Dal waters. That is when he decided to come up with an ambulance for people living on the waters.
The ambulance, which has a stretcher, oxygen concentrators, cylinders and medical box, has now been ferrying people in emergency situation across the lake.
Patloo was mentioned and appreciated by Prime Minister Narendra Modi, in his Mann Ki Baat episode last month, for taking the initiative.
However, now Patloo feels that while he got media coverage and attention, no one has come forward to provide any logistical assistance to keep it running.
For Patloo, who constantly strives to put forth the concerns of the boating community, representing them at various government forums, and his daughter, who does her bit by carrying out cleaning drives, being mentioned in Mann Ki Baat was encouraging, but not enough.