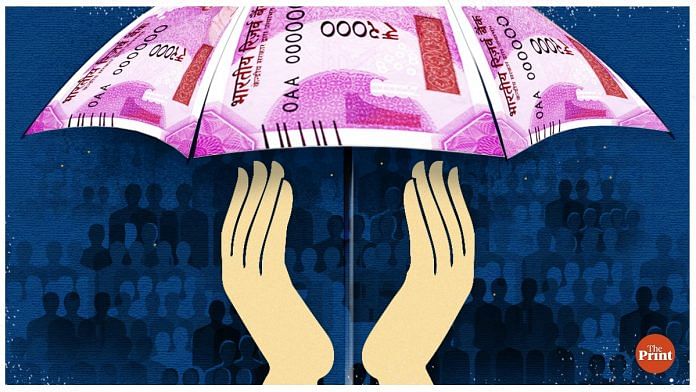 The Union Cabinet has cleared amendments paving the way for privatisation of one state-owned general insurance company.
In her budget speech, Finance Minister Nirmala Sitharaman had said that the government will take up two public sector banks and one general insurance company for privatisation in the current financial year.
Public sector insurance firms hold a greater share of the market even though they are fewer in number. Lesser competition, low levels of capital and weak financial health of public sector insurance firms make it difficult for them to offer low-cost affordable insurance products. They are unable to cater to the emerging risks — a fact that is truer in the aftermath of Covid-19.
Greater private sector participation in the insurance sector can potentially address some of these challenges.
The privatisation agenda is part of the government's strategic disinvestment policy. According to the policy, in strategic sectors such as banking, insurance and financial services, there will be a bare minimum presence of public sector enterprises. The remaining public enterprises in strategic sectors will be privatised, merged or closed.
---
Also read: Why Modi govt has walked a tightrope with new Covid relief package
---
India's insurance industry
The amendments approved in the General Insurance Business (Nationalisation) Act, 1972, seek to remove the 51 percent floor on government holdings.
India has 58 insurance companies — 24 life insurers and 34 non-life insurers. Life Insurance Corporation is the sole public sector firm among life insurers.
There are four public sector insurers in the general insurance segment. General insurance or non-life insurance offers protection of property against fire, theft, burglary etc. It also includes health insurance. The insurance policies offered by general insurance companies include motor insurance, health insurance, travel insurance and home insurance.
In 1956, 245 insurance firms were merged into a government owned entity, the Life Insurance Corporation of India. In 1972, the general insurance sector was also nationalised. 
A number of general insurance companies were merged into four insurance companies: National Insurance Co. Ltd, The New India Assurance Co. Ltd, The Oriental Insurance Co. Ltd and United India Insurance Co. Ltd. These were fully-owned subsidiaries of the General Insurance Corporation (GIC). In 2003, the ownership of these four companies was transferred to the Government of India.
In August 2000, the sector was opened to private and foreign players. Foreign direct investment (FDI) was also allowed in the sector. The FDI limit in the sector has been progressively raised from 26 per cent to 74 per cent.
The challenges
Despite a series of liberalisation measures, the Indian insurance sector faces a number of challenges. Insurance penetration and insurance density in India is low by international standards. 
Insurance penetration defined as the ratio of total premium to GDP stood at 3.76 per cent in 2019. This is low as compared to the US where the insurance penetration is 11.43 per cent. India's insurance penetration is lower compared to similarly placed economies such as Brazil (4.03 per cent) and South Africa (13.4 per cent). 
Insurance density measured as a ratio of total premium to population stood at $78 in 2019. Insurance density in the US is $4,362. Even emerging economies such as Brazil and South Africa have higher insurance density than India. These low penetration and density numbers indicate that a large section of the population in India is uninsured.
---
Also read: Why Covid crisis must push credit rating firms to overhaul their methods and address bias
---
What the sector needs
Growing insurance business requires a steady flow of capital. However, public sector general insurers lack sufficient capital. While the government has been repeatedly infusing capital in public sector general insurance companies, their financial position continues to remain weak.
For instance, United India Insurance reported a net loss of Rs 1,485 crore in 2019-20. The National Insurance Company reported a loss of Rs 4,100 crore in 2020.
In particular, there are concerns about the solvency ratio (size of an insurer's capital in relation to the risk) of public sector general insurance companies. The solvency ratio of the public sector general insurance companies is lower than the regulatory minimum of 1.5. Low solvency ratio affects the ability of insurance firms to settle claims.
Insufficient capital with insurers makes it difficult to expand their reach to unpenetrated areas while also affecting their financial position. Recent research found a positive relationship between insurance penetration and insurer's capital. The capital position of private sector general insurers is better than their public sector counterparts. Enabling private sector participation, in addition to the recent increase in FDI limits could help increase insurance penetration.
The Covid pandemic has made people realise the importance of having adequate health coverage. More number of players could make the insurance market more competitive as they would vie to offer accessible and low-cost insurance products.
This would improve access and coverage of insurance products. This could also give rise to new products catering to emerging risks like catastrophes and cyber security.
Ila Patnaik is an economist and a professor at National Institute of Public Finance and Policy.
Radhika Pandey is a consultant at NIPFP.
Views are personal.
---
Also read: India is walking on one leg because 1991 reforms missed banking & finance
---