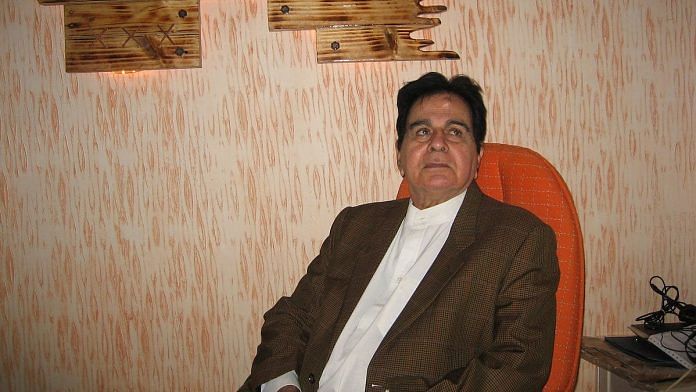 New Delhi: Hours after the death of legendary actor Dilip Kumar, claims that the late actor donated his wealth to the Waqf Board went viral on social media.
Gaurav Mahajan, former convenor, social media & IT, BJP Delhi, shared a tweet saying Dilip Kumar donated his wealth worth Rs 98 crore to the Waqf Board, instead of giving it to an NGO or old age home. Gaurav's tweet has been liked over 500 times.
मुतलिमों की क्रोनोलॉजी समझे:- दिलीप कुमार असल नाम यूसुफखान जीते जी हिंदू नाम रखकर बॉलीवुड मे खूब पैसा कमाया,

लेकिन मरते समय 98 करोड़ की अपनी प्रॉपर्टी किसी वृद्ध आश्रम या अनाथालय चलाने वाले किसी एनजीओ को नहीं अपने मजहबी मुतलिम वक्फ बोर्ड के नाम कर गए!

— गौरव महाजन (@GAURAVBJP4INDIA) July 7, 2021
Several other social media users shared similar posts.
मुहम्मद युसूफ उर्फ दिलीप कुमार के लिए आंसू बहाने वाले काफिर दोगलों, आंखे खोलो और देखो…

वो अपनी संपत्ति वक्फ-बोर्ड को देकर गया है
मंदिरों को फूटी कौड़ी भी नहीं दी..

— Janardan Mishra (@janardanmis) July 7, 2021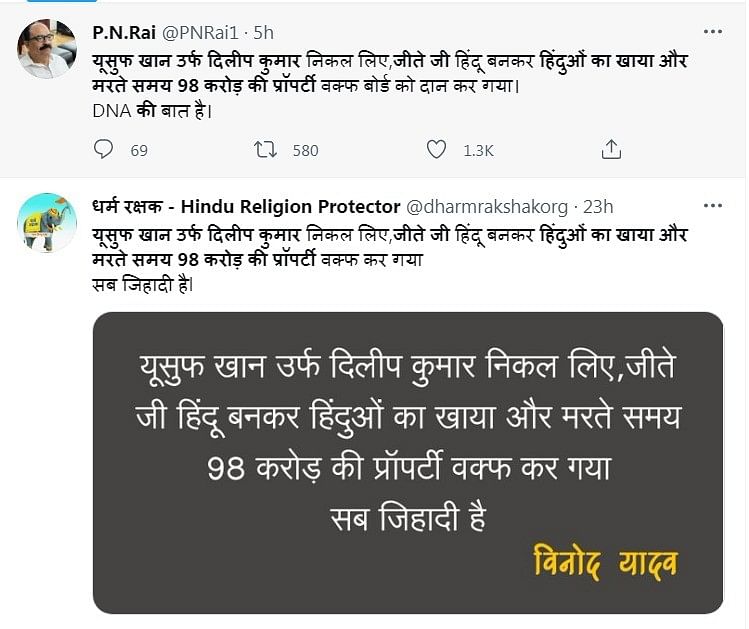 Fact check
There is no record of any association between Dilip Kumar and the Waqf Board.
The allegations were also denied by Faisal Farooqui, founder & CEO of MouthShut, who also runs the late actor's Twitter account.
"These are fake tweets created by fake IDs. Mischief makers and absolutely false. There's no truth in their content," Farooqui told ThePrint.
Born Mohammed Yusuf Khan in Peshawar, Dilip Kumar died Wednesday after a prolonged illness. He was 98.
His first film Jwar Bhata was released in 1944 and his last, Qila, in 1998, 54 years later. His five-decade career included Mughal-e-Azam, Devdas, Naya Daur, and Ram Aur Shyam, Shakti, and Karma.
---
Also read: WhatsApp, Facebook posts get it wrong. Man in this video not a Delhi riots accused
---