New Delhi: A Twitter post showing a crowded street during a Rath Yatra in Bangladesh has drawn a lot of flak with many dubbing the image a hoax. But it isn't.
In a tweet by Ashok Swain — a professor at Uppsala University in Sweden — several people can be seen thronging the street to participate in the annual celebration, during which chariots of Lord Jagannath and his siblings Goddess Subhadra and Lord Balabhadra are pulled by Hindu devotees.
"They say there are no Hindus in Bangladesh – then, who are celebrating Ratha Yatra?" Swain wrote in his post.
They say there are no Hindus in Bangladesh – then, who are celebrating Ratha Yatra? pic.twitter.com/nqaCgoQxmG

— Ashok Swain (@ashoswai) July 4, 2022
Reacting to his tweet, political observer Rishi Bagree said the image was from India and not Bangladesh.
"Someone please inform this Swain that this is Kolkata Rath Yatra and not Bangladesh," Bagree had replied to the post in a tweet, which has now been deleted.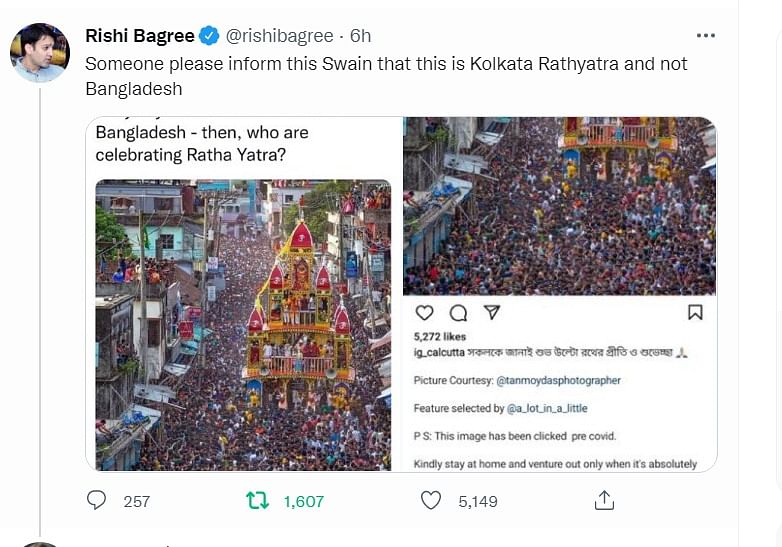 Another user believed that the picture was taken in a "mohalla in Jeddah, Saudi Arabia, not Bangladesh".
Sir – I got the info that this picture was actually taken in a mohalla in Jeddah, Saudi Arabia, not Bangladesh

— Krishna Mohan (@IndiaFirst007) July 5, 2022
Meanwhile, Twitter user @munadas52 asked Swain not to spread "wrong information".
Babu this Ratha Yatra at Kolkata,where i am staying . Dont spread wrong information about Prabhu Jaganath.

— Muna Das (@munadas52) July 5, 2022
However, many users from Bangladesh said there is a "strong communal harmony" and people of "all religions live peacefully" in their country.
In my home town Bogura (Northern City of BD) I saw thousands of hindu people participate in Ratha Yatra. Nobody disturb this rally. I think there is strong communal harmony in BD despite some undesired incidents.

— Ahsan Habib (@habibbogurabd) July 5, 2022
It doesn't even matter if the picture is from Bangladesh or not. People of all religions live peacefully here, and we try our best to coexist together. We have a hell lot of bigger issues to face the religious differences. pic.twitter.com/sp9l70umCr

— Kazuha (@AKased) July 5, 2022
However, one handle reasoned out why the "Hindu population in Bangladesh has declined.
This photo is from Bangladesh. Every year this happens near my hometown. It is true that Hindu Population has declined in Bangladesh as BJP claimed but the prime reason for that isn't communal violence, its their mindset for immigrating to nearby India for religious & family tie.

— Khandaker Noman, PhD (@noman_khandaker) July 5, 2022
Fact check
The image, which many claimed to be fake news, is an old picture taken by Bangladeshi photographer Tonmoy Das during the Rath Yatra celebrations in Dhaka's Dhamrai region.
It is not known when the picture was taken but Das first shared the image on his Facebook account in 2019. He also re-shared the same image on his Instagram page in 2020.
Das regularly posts pictures of Hindu devotees or from celebrations of Hindu festivals in Bangladesh.
The festival of Ashtami snan in the Brahmaputra River at Langalbandh in Narayanganj. pic.twitter.com/FQmu8erjrS

— Tanmoydas (@Tanmoyd94960947) April 10, 2022
Rath Yatra celebrations in Bangladesh
According to news agency Bangladesh Sangbad Sangtha's report, the country's largest Rath Yatra has historically been celebrated at Dhamrai and this year, the celebrations resumed after a two-year gap due to the pandemic. In Dhaka, celebrations were also held at Joikali Mandir Road and Tantibazar.
The chariot festival was also held at several other places across the nation. Local media The Daily Star reported that tens of thousands of Hindu devotees carried out a mammoth procession to mark the festival in the country's second largest city, Chattogram, on 1 July.
Celebrations also took place in Rajshahi, Rangpur cities.
---
Also read: Photo of Murmu & RSS chief Bhagwat tweeted by Prashant Bhushan is two images morphed into one
---