New Delhi: Indian filmmaker Ashoke Pandit on Thursday tweeted Aam Aadmi Party chief Arvind Kejriwal wearing a ridiculously ill-fitted kurta to Punjab Chief Minister Bhagwant Mann's wedding in Chandigarh.
"Looks like he has worn someone else's kurta," Pandit captioned the photo, which has gone viral since.
लगता है किसी और का पहन लिया है ! pic.twitter.com/8Mra2WFwvG

— Ashoke Pandit (@ashokepandit) July 7, 2022
Fact-check: Well, the joke's on these "believers" because it was a morphed photo – Kejriwal's shirt was digitally elongated to give it the appearance of a kurta. Hence, the weird shape.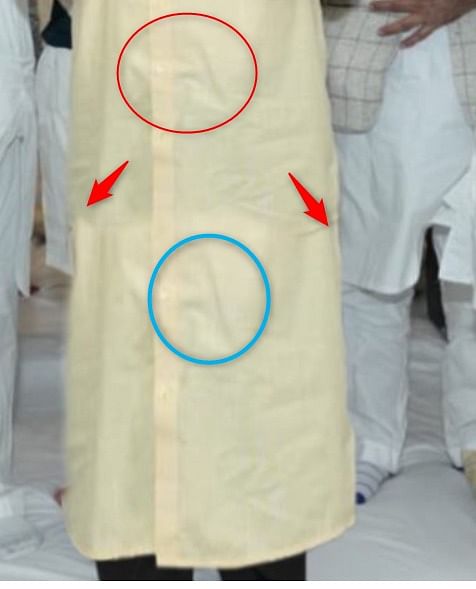 The Delhi Chief Minister and Mann's party boss Kejriwal was among the very few invited to attend Mann's no-frills wedding with Dr Gurpreet Kaur on Thursday. The 48-year-old chief minister is divorced from his first wife, but his two children were at the intimate ceremony.
Kejriwal kept it simple and wore a beige shirt and black trousers for the low-key festivities.
Below is the original image:
It is a celebration time for all of AAPians. Big day for our AAP family.
AAP, AP wishing our Bhagwant Mann ji and Dr Gurpreet Kaur, a very happy married life. @BhagwantMann pic.twitter.com/tsIkf8auV7

— Dr Sheetal Madan (@SheetalMadan2) July 7, 2022
Many social media users, however, believed the morphed photo to be authentic and widely shared it on their handles. Ashoke Pandit's post was retweeted almost 1,000 times and had over 7,000 likes.
The social media co-convenor of the Bharatiya Janata Yuva Morcha (BJYM) in Delhi, Akanksha, also shared the image with the caption: "Who could have designed Kejriwal's clothes."
There were several other attempts at ridiculing the Delhi Chief Minister. Have a look.
आम आदमी का नारा देते देते खुद पता नही क्या बनता जा रहा हैं ये आदमी। pic.twitter.com/pdZbm6ZWxD

— MODIfied MONJULIKA ? (@Jagat___Janani) July 7, 2022
केजरीवाल साहब का 'रेनी सीजन कॉस्ट्यूम'.. कमीज ही बरसाती है और मेंढक भी बरसाती?

खैर गर तस्वीर एडिटेड नहीं है, तब झगुली बढ़िया सिलवाई है सुनीता जी ने.. हैं जी! pic.twitter.com/Wpreo81ns2

— Lampata Basu | लंपटा बासू | ‏لمپٹا باسو (@SirLampataBasu) July 8, 2022
---
Also read: Viral photo of Rath Yatra celebrations in Bangladesh not fake, but it was clicked in 2019
---