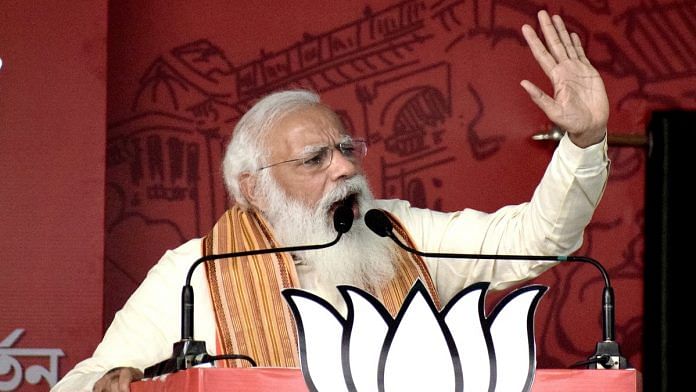 New Delhi: A viral video of Prime Minister Narendra Modi, in which he can be heard saying that he was once a small-time thief and is now a big-time robber, has re-surfaced on social media, particularly WhatsApp.
In the 10-second clip, PM Modi can be heard saying: "If my mother had stopped me when I was committing small robberies, I wouldn't have turned into the big-time robber I am today (jab mein choti chori kartha tha, uss samay maa ne roka hota toh mein aaj ithna bada lootera na bantha)".
The clip was also shared by a number of Twitter users last week, including user named Arjun Verma on 17 June. Verma's tweet has been viewed over 4,000 times.
वाह मोदी जी वाह ? pic.twitter.com/Zy5OAMMhK9

— ????? ????? (@ArjunVerma01) June 17, 2021
The video had originally gone viral on Facebook and Twitter earlier this month. It was also shared by Chhattisgarh Youth Congress and has been viewed over 22,000 times.
---
Also read: BJP leaders share 12-year-old photo and claim Delhi govt is ignoring 'water crisis'
---
Fact check
The clip, however, has been taken out of context. In the original video, the prime minister can be heard narrating a story about a robber who is about to be hanged for his crimes.
The original video, which is about one hour-long, was taken on 10 April this year, when PM Modi was addressing a political rally at Siliguri ahead of the West Bengal assembly elections. It was streamed live from the prime minister's official YouTube account.
While criticising the Mamata Banerjee-led TMC government for "tolabaji" (extortion), he began narrating a story he claimed he heard as a child.
Narrating the story, the prime minister said that once, a robber asked to see his mother as his last wish before being hanged. When allowed to meet his mother for the last time, the robber cut off her nose, said PM Modi.
When asked why he cut off the nose of his own mother, the robber replied, "If my mother had stopped me when I was a small-time thief, then I would never have become a big-time robber who is now about to be hanged," said Modi.
Modi has previously also hit out at Banerjee over imposing an "extortion" tax or "Trinamool Tolabaji Tax (TTT)" on the people of West Bengal.
---
Also read: No, Modi is not bowing to Nita Ambani, but fake photo goes viral on Twitter
---