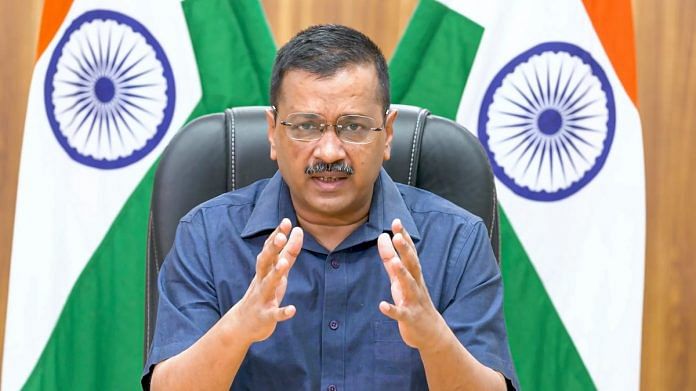 New Delhi: Social media is abuzz with a fake poster of Delhi Chief Minister Arvind Kejriwal congratulating the people of national capital for the installation of a speed bump.
The post was shared by many users on microblogging site Twitter, including some verified accounts, mocking the Aam Aadmi Party leader for promoting something as insignificant as installing a speed breaker.
The viral image has a Hindi quote with a photo of Arvind Kejriwal that reads, "Congratulations! A speed breaker has been made near Sagarpur sabji mandi".
Bharatiya Janata Party (BJP) national spokesperson Gaurav Bhatia shared the post, asking, "who is the speed breaker", in a dig at Kejriwal. The post was liked by over 2,000 people.
सबसे बड़ा स्पीड ब्रेकर कौन ? ☺️ pic.twitter.com/Vilu1kPlq6

— Gaurav Bhatia गौरव भाटिया ?? (@gauravbh) June 24, 2021
Bharatiya Janata Yuva Morcha in-charge Charu Pragya shared the photo with the caption, "advertisement expenditure of CM Sahab continues".
?
The advertisement expenditure of CM Sahab continues! https://t.co/aRkgTVmahG

— Charu Pragya?? (@CharuPragya) June 23, 2021
Another account, with username @MeghUpdates, also shared the photo, which was liked by over 8,300 people and retweeted by over 1,600. Another user, with over 59,000 followers, said Kerjiwal is the "speed breaker in the nation's development".
Congratulations Delhi pic.twitter.com/FzMIgMlMh8

— Megh Updates ? (@MeghUpdates) June 23, 2021
Absolutely @ArvindKejriwal is a speed breaker in nation development pic.twitter.com/dcTmWs8L55

— #RenukaJain (@RenukaJain6) June 22, 2021
---
Also read: BJP leaders share 12-year-old photo and claim Delhi govt is ignoring 'water crisis'
---
Fact check
The image with the post, however, has been digitally manipulated. It was original shared last year with a different text. It said: "Congratulations, the construction work from Jakheera Golchakkar to Mundaka has begun".
Banners of @ArvindKejriwal at every 15-20 meters.

Congratulations for what? For repair work of road.

Is he a CM or what?

Only advertisement no work pic.twitter.com/GcgkBKdGrL

— Prateek som (@Prateeksom2) November 8, 2020
Looking carefully at the two images, it can be seen that the text in the new image isn't aligned with the shape of the poster. The font is also not curved where the banner is, and the overall image is of a much lower resolution.
---
Also read: No, PM Modi did not call himself 'lootera', 'chor' in a speech. Viral clip is out of context
---