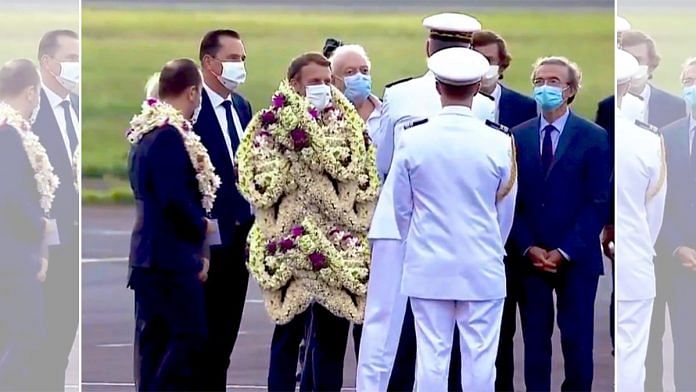 New Delhi: French President Emmanuel Macron was called "a walking flower" and a "human wreath" Tuesday after images of him buried deep under a bunch of garlands in French Polynesia went viral.
The images are from Macron's visit to French Polynesia, a former colony that is now an "overseas country" of France and comprises a group of 100 islands in the Pacific. It's his first official trip to the region.
When Macron arrived in French Polynesia's capital Papeetee on 24 July, he was greeted with half a dozen garlands by Tahitian dancers and an 'orero', symbolising a traditional greeting.
The many garlands put around Macron's neck covered him to his chest. However, images subsequently shared on social media showed the garlands covering his entire upper body, including his torso and arms, and reaching until his knees. The doctored images garnered thousands of retweets on Twitter.
Those who fell for the manipulated images included many journalists.
कौन कहता है कि सिर्फ़ भारत में ही नेता लोगों को फूल पसंद है । https://t.co/eGTwiWvqN9

— Naveen Kapoor (@IamNaveenKapoor) July 27, 2021
President Macron is turned into a human wreath during his official welcome to French Polynesia. pic.twitter.com/7q9fiULEUN

— Noga Tarnopolsky (@NTarnopolsky) July 26, 2021
Macron 'the walking flower' visiting French Polynesia. pic.twitter.com/sfvwASNFjb

— Amichai Stein (@AmichaiStein1) July 26, 2021
Not only images, the doctored shot was juxtaposed on videos as well.
Calmez vous sur les colliers de fleurs enfin ! ? pic.twitter.com/Y2mkmUWm8x

— Illuminati Reptilien (@IllumiReptilien) July 26, 2021
The original, uncut video can be seen on Euro News' YouTube channel here:
Macron is visiting French Polynesia to address France's problematic legacy of conducting hundreds of nuclear tests in the region, and to assert French presence in the Pacific where Chinese presence is growing.
(Edited by Paramita Ghosh)
In collaboration with SM Hoaxslayer
---
Also read: Video of traffic snarl caused by tourists isn't from landslide-hit Himachal, it's from Pakistan
---