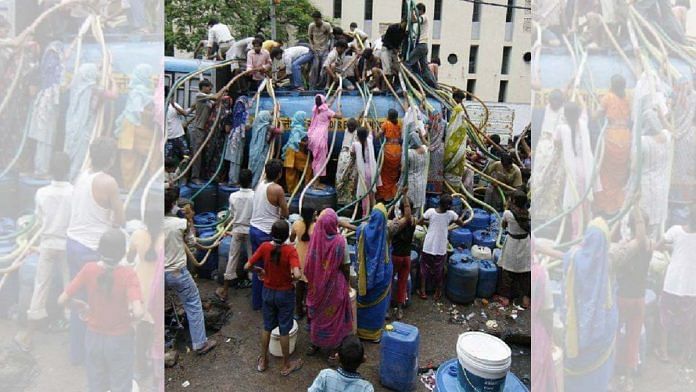 New Delhi: BJP leader Vijay Goel has shared an image of people surrounding a water tank in Delhi, and accused the ruling Aam Aadmi Party of ignoring a water crisis in the national capital.
The photo shows a massive group of people swarming around a water tanker in Delhi. On Saturday, Goel tweeted the image and asked Chief Minister Arvind Kejriwal to act on the water crisis in Delhi.
दिल्ली में पानी का हॉल

कुछ करो भैया केजरीवाल pic.twitter.com/wgXNpVyFeF

— Vijay Goel (@VijayGoelBJP) June 19, 2021
The tweet was retweeted over 800 times and was shared by Surat BJP MLA Harsh Sanghavi, BJP Gujarat IT cell members Nikhil Patel and Tarun J. Barot, and several other BJP leaders.
दिल्ली में पानी का हॉल

कुछ करो भैया केजरीवाल pic.twitter.com/iACJTjqivs

— NareshPawar ?? (@inareshpawar) June 19, 2021
दिल्ली में पानी का हॉल

कुछ करो केजरीवाल pic.twitter.com/0k9hbSoDu8

— Babita Khanna (@babitakhannabjp) June 20, 2021
Fact check
The photograph, however, is from 2009 when residents of Sanjay Colony crowded around a Delhi Jal Board water tanker during late CM Sheila Dikshit's tenure.
It was clicked by photographer Adnan Abidi, for international news agency Reuters.
The AAP also hit back at Goel and replied to his tweet by sharing a screenshot of the original 2009 article, which carried the photograph.
"Vijay Goel Ji, Are you nostalgic that you're sharing photos from 2009, or was it a deliberate attempt to defame Kejriwal Govt?" AAP's official account said.
Vijay Goel Ji,

Are you nostalgic that you're sharing photos from 2009, or was it a deliberate attempt to defame Kejriwal Govt? pic.twitter.com/KoOQASHQRp

— Aam Aadmi Party Delhi (@AAPDelhi) June 19, 2021
In collaboration with SM Hoaxslayer
---
Also read: No, Modi is not bowing to Nita Ambani, but fake photo goes viral on Twitter
---