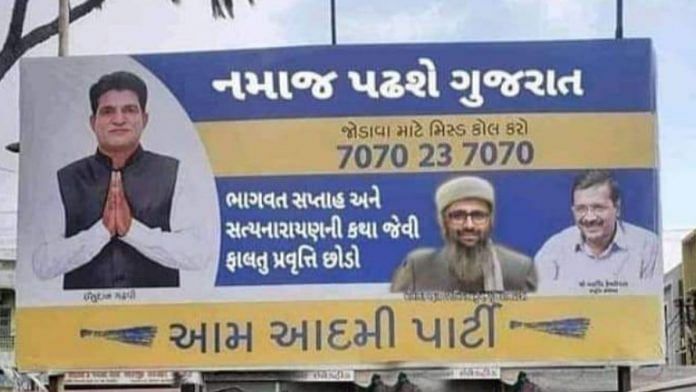 New Delhi: A billboard featuring Aam Aadmi Party chief Arvind Kejriwal allegedly calling for people in Gujarat to leave Hindu traditions has gone viral.
The poster, which is in Gujarati, reads: "Gujarat will read Namaz and people should leave the 'useless traditions' like Bhagwat Saptah and Satyanarayan Katha." Bhagwat Saptah and Satyanarayan Katha are both religious traditions of Hindus.
The billboard features a photograph of Kejriwal along with Isudan Gadhavi, an AAP leader from Gujarat and a noted journalist. A third unidentified individual with a beard and a skull cap is also part of the poster.
The image was shared by many verified social media users with claims that AAP was spreading communalism in Gujarat.
Surajit Dasgupta, an editor of an online news portal, had shared the photograph through his verified account and tweeted Sunday: "Did you clear the content of this billboard, @ArvindKejriwal?"
While the tweet has since been deleted, it was retweeted almost 100 times.
Another Twitter user, named Renuka Jain, had shared the image with the caption "An Aam Aadmi Party campaign in Gujarat". By the time the tweet was deleted, it had already received over 500 likes.
Political analyst Ramnik Singh Mann, with more than 30,000 followers on Twitter, also shared the same image asking for the translation of the text.
Can someone please translate what's written here on @AamAadmiParty @AAPGujarat Bill Board?? pic.twitter.com/21DBvoNffy

— Ramnik Singh Mann ??? (@ramnikmann) July 11, 2021
Fact check
The poster, however, has been morphed and the original poster did not feature any communal message.
Instead, the text on the original poster said "Now Gujarat will change". Furthermore, along with Kejriwal and Gadhavi, another AAP leader Gopal Italia was also part of the poster. It was also tweeted by the Mehsana wing of the party on 25 June.
The empty space on the poster has been used to write additional text ridiculing Hindu worship traditions.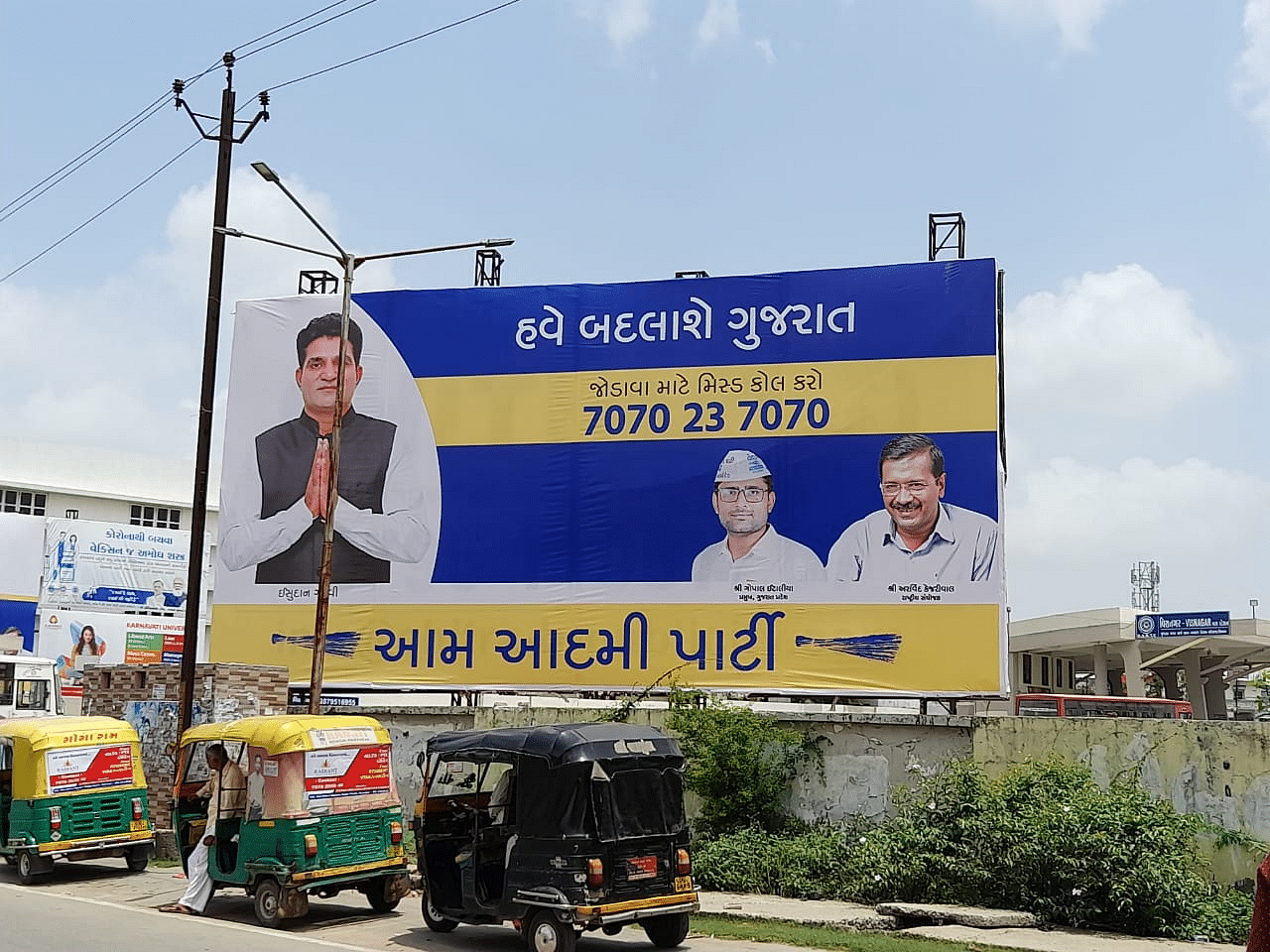 ---
Also read: Viral video of MiG aircraft landing on a dam is not real, is a simulation video game
---