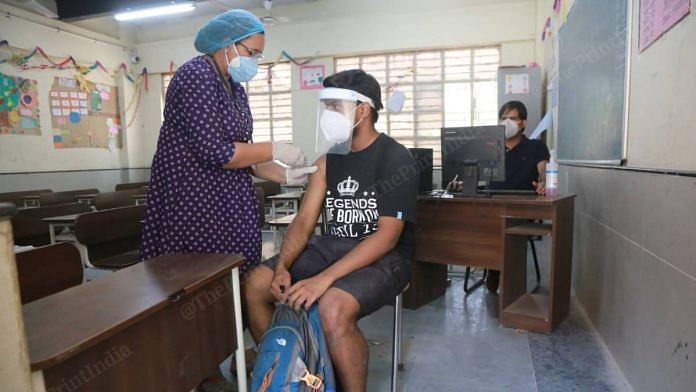 Bengaluru: Data released by the Union health ministry on the adverse effects suffered by Covid vaccine recipients in India shows that many suffered symptoms that could be attributed to anxiety. This means that the sickness these people felt after vaccination was reportedly not because of any factor related to the vaccine, like a defect or incorrect administration. 
According to a report prepared earlier this month by the government committee investigating Adverse Events Following Immunisation (AEFI), over 50 per cent of 60 cases — 37 — analysed for suspected vaccine side-effects had "anxiety-related reactions".
This report was submitted to the ministry on 8 July.
The number was 22 of 88 cases — or 25 per cent — in the next report, submitted to the government on 12 July, and 1 of 31 in the National AEFI Committee's 4 June report, the last released before 8 July.
The reports don't define what symptoms have been classified as anxiety-related reactions. However, Dr Rajib Dasgupta, a member of the committee, told ThePrint that the World Health Organization (WHO) documents this type of reaction as comprising an "array of symptoms", including acute stress response and vasovagal reaction, which is when a stressful trigger — the sight of blood or a syringe — causes someone to feel dizzy or faint.
"Anxiety-related disorders are more important and more relevant for high-pressure immunisation campaigns, and that is what we are witnessing in Covid, and more so among women," Dasgupta, who is also the chairperson of the Centre of Social Medicine and Community Health, Jawaharlal Nehru University, said. 
Speaking to ThePrint, Dr N.K. Arora, an advisor to the committee, said: "In time this will decrease, it will disappear…from the initial time of vaccination, there were a lot of doubts in people's minds, so that's why there was this anxiety, but in time people will gain more trust and the number of anxiety reactions will decrease."
Independent experts not associated with the committee attributed the anxiety-related reactions to what they describe as inadequate counselling of recipients with regard to the Covid vaccines. They also questioned classifying such reactions as AEFI.
---
Also Read: Death, job loss, anxiety: Pandemic pushes up sale of antidepressants by 23% in 1 year
---
Immunisation-related anxiety reactions
The WHO document that Dasgupta referred to defines immunisation-anxiety-related reaction as "a range of symptoms and signs that may arise around immunisation that are related to 'anxiety' and not to the vaccine product, a defect in the quality of the vaccine or an error of the immunisation programme". 
It classifies such reactions into three categories — acute stress response i.e. "an internal physiological response to a [perceived] threat" that manifests as increased heart rate and palpitations, a vasovagal reaction, which leads to mild dizziness or a brief loss of consciousness because a stress trigger causes a drop in blood pressure, which results in insufficient blood flow to the brain, or dissociative neurological symptoms reactions that manifest as weakness, paralysis, abnormal movements.
In the 8 July report, among the 36 cases of anxiety reaction, hospitalisation was required in 27. The figure was 18 out of 22 in the 12 July report, while the sole case in the 4 June report also recovered after hospitalisation. 
When asked why so many anxiety-related reactions were being spotted, Dasgupta said they had a higher propensity of getting reported. "Anxiety by its very nature comes into focus, whereas fevers might not… In the face of relatively low reporting, this is a bit of an artefact to that extent, if the reporting increases, this 50 per cent, will come down to 20-30 per cent wherever," he said.
Dasgupta added that the National AEFI Committee had "noted with concern low AEFI reporting across states". The committee is said to be discussing alternative channels of reporting, including modifying CoWin to allow recipients to self-report symptoms. Currently, only vaccinators are allowed to do so.
'Circumstantial'
Speaking to ThePrint, experts not associated with the AEFI panel said proper counselling about the vaccine could have helped prevent anxiety-related reactions. 
"No vaccine causes anxiety reactions if people are informed, counselled and prepared for vaccination… This is not a reaction to the vaccine product but is circumstantial or a man-made reaction due to poor communications and education," virologist T. Jacob John said. 
He added, "It is not a biological reaction, and non-hospitalised anxiety reaction, I believe, should not be classified as a severe adverse reaction."
While epidemiologist Jayaprakash Muliyil agreed that proper education would alleviate such reactions, he questioned the state of AEFI reporting in the country. 
"So far, if there's nothing that we've learned from this exercise after studying crores of people, no useful information has been generated by the reports, while other countries have come up with valid conclusions, then there is something very wrong in the way AEFIs are being reported," said Muliyil, who serves as chairperson of the scientific advisory committee of the National Institute of Epidemiology, under the Indian Council of Medical Research (ICMR).
(Edited by Sunanda Ranjan)
---
Also Read: An alien kind of grief — how surge of Covid deaths has changed the way we mourn 
---