Bhopal: Outside Bhopal's largest government-run healthcare institution, the Hamidia Hospital, a huge billboard with three BJP leaders looks down at Covid-19 patients waiting to get a bed and those looking to get tested. 
The three featured leaders are Prime Minister Narendra Modi, Madhya Pradesh Chief Minister Shivraj Singh Chouhan and the state's Medical Education Minister Vishwas Sarang. Conspicuous by his absence on the billboard was the state's Health Minister Prabhuram Choudhary.
And it isn't just on the poster. 
For a month, right up until the second week of April, Choudhary, a doctor by profession, was missing in action even as the state reeled under the second Covid-19 wave. 
Sources in the medical education minister's office told ThePrint that he skipped crucial Covid-related meetings over the past month, and was not part of a video conference that the chief minister chaired of the Covid-19 core taskforce in the state Wednesday.  
Such has been his absence, that the opposition Congress, a party Choudhary once belonged to, issued a poster saying Choudhary was missing and announced a Rs 5,100 reward for anyone who found him.
"Shivraj Chouhan has forgotten he has a health minister. He has sworn him in and forgotten about him," the Congress' K.K. Mishra told ThePrint. "He is not called for any meetings and nor is anyone picking up his calls."  
And when the health minister did return to Bhopal after a month-long absence, he faced a barrage of stinging questions from journalists at a press conference on 15 April. It became so heated that the state's National Health Mission Director, Chhavi Bharadwaj, had to intervene and help out Choudhary. 
He also faced flak because he offered floral tributes to Ambedkar's statue as a crowd of BJP workers gathered in Bhopal, despite the city being put under a curfew.  
The official reason for the health minister's month-long absence from Covid management was the Damoh bypolls in his home turf of Sanchi.  
But even his constituency of Sanchi was so severely hit by Covid-19 that health workers at the government hospital there were affected, leaving the institute so short staffed that a gardener was caught collecting samples for testing.
Sources and experts in the state also pointed to another reason for Choudhary's absence. The health minister is a former Congress leader who defected to the BJP along with Jyotiraditya Scindia. 
According to the sources and experts, there is a concerted effort in the Madhya Pradesh BJP to sideline members of the Scindia camp, and Choudhary is one of the casualties.   
ThePrint tried contacting Prabhuram Choudhary through phone calls and text message but did not receive a response till the time of publishing this report.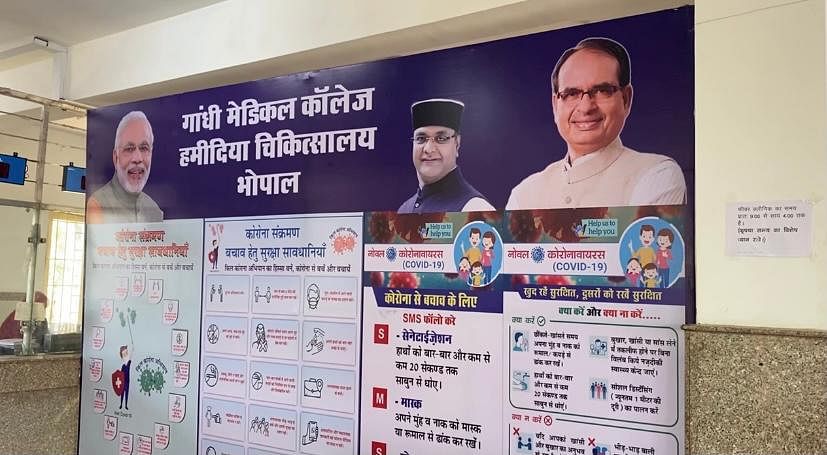 A missing minister
With a positivity rate of 24 per cent, Madhya Pradesh Wednesday reported over 13,000 new Covid cases, taking its total tally to 4.28 lakh. The state has over 82,000 active cases, and has reported 4,788 deaths (as of Wednesday). 
There have, however, been reports of gross mismatch in the official state numbers and bodies being cremated and buried, especially in capital Bhopal. 
The state's efforts to combat Covid-19 have been handled by CM Chouhan, additional chief commissioner (health) Muhammad Sulaiman and Medical Education Minister Sarang. 
The power has been centralised among these three, explained health experts and politicians in the state, while Choudhary is nowhere to be seen. 
"Only Prabhuram Choudhary would know where he is but he is not on the field. All the work, the CM and Vishwas Sarang are overseeing," said a journalist who did not wish to be named.  
Even at media briefings on Covid, it is Sarang who takes the lead. When asked if it was him who was at the forefront and not Choudhary, Sarang asserted, "There is nothing like that. There is no need for this question; we work like a team and everyone is going about their own responsibility."
Many, however, are not convinced. 
Bhopal-based health expert Sachin Jain explained that the current Covid crisis exposed fundamental drawbacks of the state's public health system.  
"This public health crisis has revealed how a particular coterie is functioning in the state that has a particular set of ministers, bureaucrats and health business people at the forefront," Jain said. "And they are not delivering.
"The present government is politicising the public health issue and this was highlighted when they celebrated oxygen cylinders," he added. "Political parties are only focussing on their own internal issues at this time."
Sidelining of the Scindia faction
Choudhary, a doctor himself, was in the Congress for three decades till he switched to the BJP along with Scindia in March 2020. 
A new entrant in the Madhya Pradesh cabinet, he was sworn in as health minister in July 2020, taking the reins from Home Minister Narottam Mishra.
Journalists, health experts and political analysts in the state told ThePrint that Choudhary was not at the forefront of the Covid crisis because he was a Scindia loyalist and the current government did not want anyone from the former Guna MP's camp to be in the limelight. 
Rasheed Kidwai, a Bhopal-based political analyst who has written the book titled House of Scindias, said an agreement between Home Minister Amit Shah and Jyotiraditya Scindia finalised in March last year has not trickled down to the state. 
"There has always been an unease about the Scindia camp, even in the Congress. They always stood out and now the same is taking place in the BJP," Kidwai said. 
The Congress' K.K. Mishra told ThePrint that Choudhary was being shunted out of meetings, and that he had complained to Scindia about it. 
Senior Congress leader Tarun Bhanot, former MP finance minister, however, told ThePrint that the government was incompetent to combat the crisis and is only interested in toppling other governments and campaigning for bypolls. 
"The health minister not being at the forefront shows his competence and also reflects on the CM that he cannot make his health minister work," Bhanot said. "This is not a good arrangement as the people of the state will suffer."
With many questioning whether an inactive health minister in MP would have an impact on the state's fight against Covid, Dr Ajay Goenka, the medical superintendent of Chirayu Hospital, where Chief Minister Shivraj Chouhan was treated for Covid, said nothing had to be done on the administration's end. He added that it was people who had to be more careful. 
When asked if the absence of the health minister had any bearing on the Covid response, Goenka said he was only concerned with Covid and did not know anything about politics or netas. 
"Covid is a friend here to stay, the sooner we understand that, the better," he said. "The government cannot constantly be putting curbs. Common individuals need to be more responsible."
(Edited by Arun Prashanth)
---
Also read: In UP, MP & Gujarat, BJP ministers & MLAs are blaming bureaucrats for Covid spike mess
---