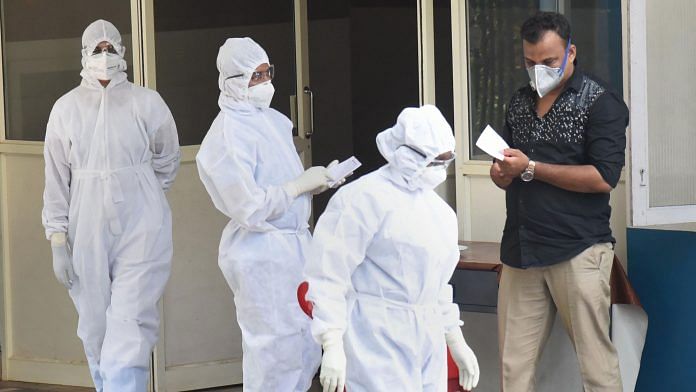 New Delhi: A central team has cited poor contact-tracing, lack of adequate containment measures and less than effective monitoring of home isolation patients as primary reasons behind the current surge of Covid-19 cases in Kerala.
In a report submitted to the health ministry Wednesday, the team led by Dr Sujit Singh, director of the National Centre for Disease Control (NCDC), noted that less than two contacts are being traced in the state as opposed to a recommended 20.
It further noted that while every death in the state is being audited, there is a lag in reporting as they are attributed to Covid-19 only after the audit exercise has been completed.
Health Minister Mansukh Mandaviya also wrote to Kerala Chief Minister Pinarayi Vijayan on the Covid situation in the state, after speaking to him over a call Wednesday. ThePrint has accessed the letter.
"Comprehensive contact tracing of all positive cases through active case search is very low presently (i.e. one is to 1.7 only), which is leading to spread of infection in the community. This needs to be addressed. The percentage of RT PCR testing may be increased keeping in view the high positivity and to aid early identification of positive cases and their isolation," wrote Mandaviya.
"The central team has highlighted lack of follow-up of home isolated cases where a large number of family members are getting affected (intra house transmission). Hence home isolation of cases maybe allowed only as per protocol and all such cases may be monitored daily," he added.
The health minister also emphasised that any restrictions, once imposed, should be for a period of "epidemiological significance" — that is at least 14 days — and should be "effectively monitored".
For the past few days, Kerala has been reporting over 20,000 cases a day. However, the central team has not made any inferences about whether festival-related relaxations caused the recent surge, as has been claimed.
---
Also read: Why it won't be easy for Tamil Nadu to tighten Covid curbs for travellers from Kerala
---
Central team visited several districts
The central team, which comprised several epidemiologists including current and former government functionaries, visited several districts of Kerala including Kollam, Pathanamthitta, Thiruvananthapuram, Malappuram, Kozhikode and Alappuzha earlier this week.
The team pointed out that contact tracing is low in almost all districts. In Kozhikode, for instance, it found that contact tracing is abysmally low, with a case contact ratio of 1:1.2.
"The lack of contact tracing results in an undetected pool of asymptomatic/mildly symptomatic individuals in the community. Among those tested positive, over 85% are in home isolation, it was informed that facility-based isolation has very low acceptance," the report noted.
The Government of India recommends that at least 20 contacts should be traced for every Covid-19 patient.
In Malappuram, the team flagged the low rate of RT-PCR tests, which are considered gold standard tests, with 80 per cent antigen tests being carried out in the region.
The report noted that there is 70 to 85 per cent occupancy of ICU and ventilator beds in northern districts, especially in Malappuram.
Therefore, it added, there is an urgent need to augment hospital infrastructure including ICU, ventilator and oxygen beds. The report also called for augmenting paediatric care facilities, especially paediatric ICU beds.
So far, Kerala has maintained that it has managed the Covid-19 pandemic fairly well, specifically citing its case fatality ratio of 0.5 per cent.
However, if hospital infrastructure begins getting stressed, the number could start to change. The team suggested that Kerala should aim to bring its effective reproduction number below 1 — 0.95 to be exact — to stem rising numbers. The effective reproduction number or R value refers to the rate at which an infection spreads within a population.
The central team also sounded a note of caution on the upcoming Onam festival. Kerala's surge started with Onam last year and the state's numbers have been relatively high almost ever since.
"In view of the Onam festival, state needs to take up specific measures for ensuring that super spreader events are prevented. Further to increase the awareness and compliance to Covid appropriate behaviour, IEC (information, education and communication) should be done in a campaign mode," the report said.
---
Also read: Why 'model state' Kerala is accounting for more than half of India's daily Covid cases
---