Ludhiana: One of Punjab's major industrial hubs, Ludhiana district has been hit hard by Covid-19. Not only does it have the most cases in the state, it has also recorded the most number of deaths.
As of 20 September, Ludhiana district reported 663 coronavirus deaths — or nearly a quarter of the 2,757 fatalities in the state. Its fatality rate stands at 4.1 per cent, above Punjab's 2.94 per cent and the national average of 1.62 per cent.
Much of Ludhiana's vulnerabilities with regard to Covid-19 find resonance across the state.
The rich Punjabi diet is seen as a major driver of comorbidities in the state's people, which is believed to have made them all the more vulnerable to Covid-19.
Adding to the state's worries is a deep proliferation of rumours in the heartland — associating Covid treatment with organ-harvesting rackets, and stoking widespread concerns about testing, according to officials.
In Ludhiana, however, the situation is made all the more precarious by what is being described as a deeply inadequate healthcare system.
The most populous of Punjab's 22 districts, with a population of 35 lakh, Ludhiana has just two government hospitals — the Ludhiana Civil Hospital and the Civil Hospital in Khanna, a town located in the periphery.
Neither, however, qualifies as an L2 or L3 facility — part of a three-point scale, beginning with L1 or Level 1 (for asymptomatic or mild Covid cases), L2 (management and treatment) and L3 (ventilator) facilities, earmarked for the more severe Covid patients. The remaining 33 hospitals in the district are all private.
This means critical patients often have to be taken to PGIMER in Chandigarh, 100 km away, or the government-run Rajindra Hospital in Patiala — an L3 facility approximately 94 km away — for a shot at survival, which robs them of crucial treatment time.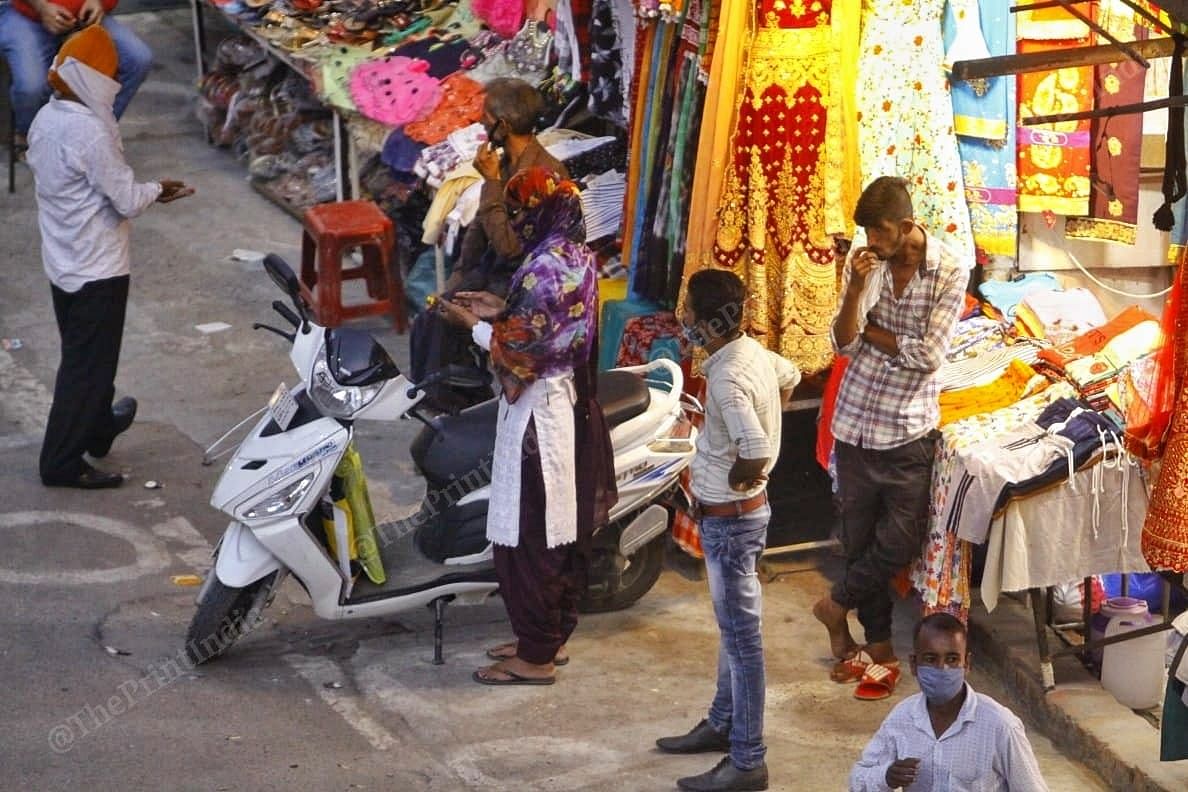 A grave crisis
While its death toll of 663 people makes it the worst in Punjab, Ludhiana has also recorded the most cases — 16,295 as of 20 September.
But it's the fatality rate that is the main cause for concern.
From one death in March, the number went up to 73 in July before skyrocketing to 321 in under a month by August. Another 246 deaths have already been reported in September (as of 20th).
Those in the government blame it on comorbidities such as diabetes, hypertension and heart problems within the population.
"Comorbidities are a common factor across the country but it's more severe here since people in Punjab are known for their eating habits, and diabetes is a common factor among people here," said Dr Rajesh Bhaskar, the state nodal officer.
The numbers do bear him out to an extent. According to the Ludhiana civil surgeon's office, 537 of the 663 deaths occurred in patients with comorbidities.
Of these 537 deaths, at least 390 Covid-19 patients had conditions such as hypertension, diabetes, kidney and artery diseases. At least 26 deaths occurred in patients suffering from cancer, while the remaining 95 were among patients with diseases of liver, lung, obesity and dengue among others.
According to the Punjab health department, 17.5 per cent of the 1,648 active cases in Ludhiana are of patients in a serious condition.
Dr S.P. Singh, the Ludhiana district family welfare officer, said many patients only get admitted when their condition starts to deteriorate. "If symptomatic patients would get admitted at an earlier stage instead of coming at a stage when they require oxygen support immediately, doctors can monitor their situation better," he said.
According to the Punjab health department, 17.5 per cent of the active cases in Ludhiana are of patients in a serious condition.
Dr Singh also flagged another concern — a misinformation campaign that demonises Covid-19 treatment and testing.
"The misinformation campaign like other districts of Punjab has impacted Ludhiana too," he said, adding that fake news circulates on social media that those being taken in for Covid treatment end up getting killed.
"We have launched awareness drives that take place in areas where sampling is to be done," Dr Singh said. "We send our teams before the van arrives so that people can be motivated to get tested."
---
Also read: 'God won't let anything happen to us' — No masks, social distancing at Golden Temple amid Covid
---
Poor healthcare
Ludhiana's problem is compounded by its extremely poor infrastructure. None of the two government hospitals in the district — the Ludhiana Civil Hospital and the Civil Hospital in Khanna — have L3 facilities, meant for severe Covid-19 patients who require ventilators.
There is another government healthcare facility, the Vardhman Community Health Centre, but it is considered a small hospital.
An official in the Ludhiana health department told ThePrint that despite being one of the most important cities of Punjab, it is absolutely devoid of decent government healthcare.
Critically ill patients are referred to PGIMER in Chandigarh and the Rajindra Hospital  in Patiala, which itself is facing a massive crisis. Those who can afford it go to private hospitals.
Authorities at the Patiala hospital blame Ludhiana for their high numbers. "A lot of the serious Level-3 patients are referred to us from Ludhiana and since they arrive in such critical condition, the deaths that occur are blamed on the hospital," said Surbhi Malik, IAS officer and in-charge of Covid-19 ward at the Rajindra Hospital.
Dr S.P. Singh, however, defended concerns about the Ludhiana Civil Hospital. "We have a new building now and things are not all that bad," he said.
Another senior Punjab health department official said the lack of health infrastructure is true of the state as a whole.
"What's the point of having a beautiful house if you have no kitchen or toilet? What will the dining room be then? The same way, Punjab can be known for multiple things but it has failed to focus on health and education and now corona has woken everyone up," he said.
Urban areas with industries worst hit
Most of the deaths have occurred in the district's urban areas. Of the 663 deaths, 525 have occurred among residents of the Ludhiana city, officials in the health department told ThePrint.
As many as 39 more deaths occurred in the surrounding urban blocks. "Only 99 deaths have occurred in rural areas here," said Singh.
The urban areas are home to most of Ludhiana's industries — factories of hosiery, cycle, tyre and auto parts.
They are also densely populated due to the presence of migrant workers.
"Most of the migrant workers returned to their native villages (during lockdown) thereby reducing the density of population here," Munish S.S., general manager, HR, Hindustan Tyre, told ThePrint.
Once industries reopened with the Unlock, industries say, they have been taking measures to protect migrant workers who have returned.
A visit to large industrial units such as Hindustan Tyres, Paudhar Tyres, Hero Cycles and Monte Carlo revealed precautionary measures such as checking of temperature and mandatory sanitisation at the entrance.
"Outside visitors have been barred from entering any of the factories for now," a deputy manager of Paudhar Tyres told ThePrint, requesting anonymity. In fact, he just replaced an official who succumbed to Covid-19 last month.
If a worker shows even some symptoms at the entrance, they are asked to return home for that day, said a senior manager at Hero Cycles.
"I've also had to keep the police informed in cases of workers not listening and leaving without informing us after their relatives test positive for Covid," added Munish S.S. of Hindustan Tyres.
At Monte Carlo, which has nearly 3,000 employees across five plants in Ludhiana, HR manager Kulwant Singh said, "Our workers have to mandatorily wear PPE kits while inside the factory."
Nearly 65 employees tested positive at a camp arranged for the factory workers in the first week of September, he said, adding that while most were recommended home quarantine, some were admitted to government hospitals.
---
Also read: Punjab's health workers go through fields & narrow lanes to screen villages for Covid
---