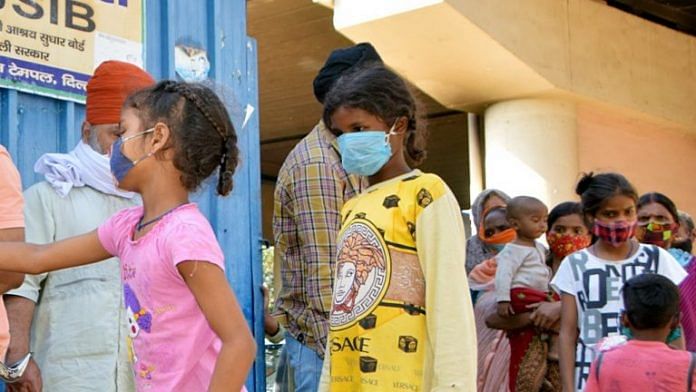 New Delhi: It usually takes children no longer than six days to recover from Covid-19, with less than five per cent experiencing symptoms beyond four weeks, according to a UK study published in The Lancet Child & Adolescent Health journal. 
Adults have reported experiencing prolonged illness after Covid-19 — termed as long Covid — where symptoms persist for four weeks or longer. 
Many children infected with the SARS-CoV-2 virus do not even develop symptoms. Among those who do, the illness tends to be mild.
"It is reassuring that the number of children experiencing long-lasting symptoms of Covid-19 is low. Nevertheless, a small number of children do experience long illness with Covid-19, and our study validates the experiences of these children and their families," Emma Duncan, lead and senior author of the study and a professor at King's College London, UK, said in a statement.
For the study, researchers from King's College London collected data through a smartphone app. This included data from more than 2,50,000 UK children aged five to 17 years reported by their parents or carers. 
The team focused on reports of 1,734 children collected between 1 September 2020 and 22 February 2021 who developed Covid-19 symptoms and received a positive RT-PCR test. The data on their symptoms were reported regularly on the app until they were healthy again. 
The researchers found that children were ill with Covid for an average of six days and experienced an average of three symptoms in the first week of illness. 
---
Also read: Covaxin effective against Delta, other variants despite reduced antibody activity: ICMR study
---
Only a few children with long Covid 
Most children recovered within four weeks, with just 77 — or 4.4 per cent — experiencing symptoms after a month. 
Usually, children have only two symptoms remaining after four weeks — the most common being fatigue. 
Of the 77, 64 reported suffering from fatigue at some point in their illness. Headache and loss of sense of smell were also common. However, the headache was more common early in illness whilst loss of sense of smell tended to occur later and persist longer.
Of the 1,379 children who developed symptoms at least two months before the end of the study period, fewer than two per cent experienced symptoms for longer than eight weeks.
Older children were typically ill for longer than primary school-aged children. 
"We found that nearly a quarter of symptomatic children testing positive for SARS-CoV-2 during the UK's second wave did not report core symptoms, suggesting the UK testing policy needs reconsideration," Erika Molteni, first author of the study from King's College London said in a statement. 
The team also assessed the children who tested negative for Covid-19 who may have had other illnesses, such as cold and flu. 
Children with Covid-19 were ill for longer compared to children with other illnesses who tested negative for the virus.
"Our data highlight that other illnesses, such as colds and flu, can also have prolonged symptoms in children and it is important to consider this when planning for pediatric health services during the pandemic and beyond," Michael Absoud, a senior author of the study, and consultant and senior lecturer at King's College London, said in a statement.
(Edited by Arun Prashanth)
---
Also read: Set up task force to plan for reopening of schools — Scientists, doctors write to CMs of 3 states
---