Amritsar: It's not uncommon to spot long queues at Sri Harmandir Sahib, or the Golden Temple, in Punjab's holy city Amritsar. The queues, albeit much shorter, did not go missing even during the nationwide lockdown announced in March to fight the Covid crisis, and came back strong immediately after the restrictions were lifted for places of worship on 8 June.
The Golden Temple, the most prominent place of worship for Sikhs, now looks just like it used to do before the pandemic struck — when people won't wear masks, there would be no social distancing, and no need for hand sanitisers.
When ThePrint visited the Golden Temple Saturday and Sunday, it appeared the temple and its devotees don't see much reason in precautions, or the rules set by the government. There was no social distancing, face masks, or screening, and no mandatory use of sanitisers.
While the sewadars (volunteers) at the main entrance said the temple isn't forcing anyone to sanitise hands or wear masks, devotees entered the temple in large numbers — in clear violation of the government's social distancing guidelines that permit only 20 people at a time.
There also seemed to be difference of opinion within the Shiromani Gurdwara Parbandhak Committee (SGPC), the statutory body running the temple, on the Covid guidelines to be followed. While a senior member of the panel complained that sewadars have been asking devotees to take off masks before entering the temple, other members said masks were not mandatory.
Meanwhile, Surinder Singh, honorary secretary of Sikh body Chief Khalsa Diwan, a central organisation of various Singh Sabhas spread across Punjab, died of Covid Saturday. The 66-year-old used to recite Gurbani at the Golden Temple. The public relations officer of Chief Khalsa Diwan, however, said Singh hadn't been coming to the temple since March due to his old age.
The Golden Temple had remained open even during the lockdown, but there was no distribution of prasad during that period, amid far fewer visitors.
Asked about the negligent approach in running the operations, the temple management said all guidelines were being followed. Health officials in Amritsar said while several meetings were held with SGPC officials regarding people not wearing masks, all they could do is "request them since it is a statutory body".
---
Also read: Punjab govt removes top administrators at Patiala hospital with worst Covid figures
---
'Baba di kher hai, kuch ni hona'
According to the management, the temple has been witnessing daily footfalls of around 25,000. This is one-fourth of the usual numbers, but still far from what the guidelines mandate — 20 people at a time, in staggered shifts.
On Friday, ThePrint found temple staff and devotees walking around the premises without masks.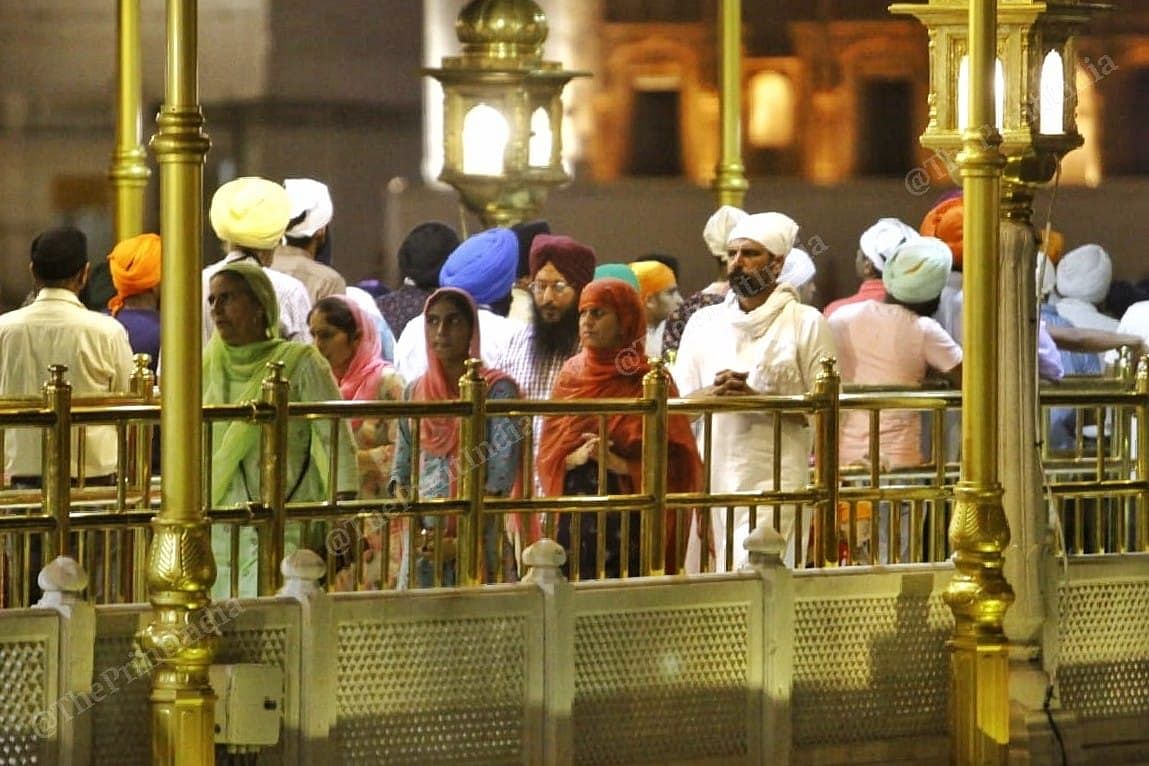 Asked about that, a sewadar at the main entrance said, "Whoever wants to wear, can wear one. We can't force anyone." A second sewadar said, "It is a place of faith. No one can be forced to do anything other than express their devotion here."
The temple wasn't screening anyone either. A defunct walk-in screening model lay idle at the main entrance.
On the use of sanitisers, the first sewadar showed a bottle kept next to him. "Whoever wants to use, can use. There's no paabandhi (prohibition)," he said.
One sewadar stood distributing prasad to devotees, without wearing a mask. Asked why, he said, "Baba di kher hai, kuch ni hona (We have our God's blessings, god won't let anything happen to us)."
None of the volunteers distributing prasad or Amrit (holy water) wore masks.
This is how the situation has been since the lockdown was lifted for places of worship on 8 June.
What the guidelines say
According to the Ministry of Health and Family Welfare's SOP on places of worship, issued in June, people need to maintain a minimum distance of 6 feet inside temple premises.
The rules also mandate wearing masks. Those who don't follow this mustn't be allowed to enter. It also calls for staggering of visitors in queues.
The Centre's guidelines also bar distribution of langar and prasad. However, the Punjab government allowed this in a separate order on 10 June, stating that the permission is "subject to physical distancing norms and all Covid-19 hygiene while preparing and distributing food".
Evidently, the Golden Temple doesn't seem to be following any of these rules.
---
Also read: This Delhi doctor doesn't wear full PPE when treating Covid-19 patients. Here's why
---
What the local authorities say
The local administration never asked the SGPC to halt religious activities at Golden Temple even when it remained open during the lockdown. The police stopped devotees from entering only on 6 June, the Operation Blue Star anniversary, a senior official of the Amritsar health department said on condition of anonymity.
Dr Rajesh Bhaskar, the Covid nodal officer in the Punjab government, however, said the advisory should be followed at all religious places.
Golden Temple is located at the centre of Amritsar, which is among the worst Covid-hit districts in Punjab with nearly 8,000 cases and 300 deaths.
"Initially, there were multiple containment zones there but now there aren't many, only few micro containment zones and one containment zone in the entire district," said Himashu Agarwal, nodal officer for Covid in Amritsar.
"We have had several meetings with SGPC regarding people not wearing masks but we can only request them since it is a statutory body," he said.
Difference of opinion in SGPC?
In a Facebook post on 27 July, SGPC secretary Kiranjot Kaur highlighted the lax attitude of the temple administration.
"I had gone for darshan with my husband and I wasn't stopped once but thrice and each time asked to remove my mask, but I didn't. I asked who had issued such an order," Kaur told ThePrint.
"God has given us brains and I even spoke to the president of SGPC saying that we can't be so rigid in this regard and health and safety comes first and that our religion doesn't believe in any rituals," she said.
"She said at best the ragis inside could be exempted when they are doing kirtan but how can the public coming from outside be asked to remove their masks, which is against any precautionary guideline during a pandemic?"
SGPC officials, however, maintained that proper hygiene was being maintained.
Kulwinder Singh, another SGPC secretary, said, "We are following all the rules and guidelines."
Asked about the concern over masks, he said, "There has been some disparity in opinion within SGPC on this issue so it depends on a particular day, those on duty are in which group… We encourage wearing masks but don't force anyone."
When told ThePrint team was asked to remove their masks, Golden Temple manager Mukhtiar Singh said, "This shouldn't have happened. No one should ask anyone to remove a mask."
---
Also read: Covid may put people at high risk of opioid overdose or even relapse, US study says
---