New Delhi: In the last four days, Delhi has recorded more number of Covid deaths than Mumbai has since the beginning of March.
Since 1 March, Mumbai has reported a total of 1,445 Covid deaths. Meanwhile, in Delhi, 1,468 people have died since Sunday.
The death toll, along with other Covid-19 related metrics, shows that Delhi has fared far worse during the pandemic than Mumbai despite the fact that the latter is much more densely populated.
The population density of Mumbai is 20,000 people per square kilometre, making it the world's second-most densely populated city after Dhaka. In comparison, Delhi's population density is 11,312.
For this reason, several experts at the beginning of the pandemic had expressed fears that infection spread in the city of Mumbai would spell a disaster. Dharavi, Asia's largest slum, was thought to be a 'sitting time bomb'.
Since the beginning of the pandemic, Mumbai saw 6,35,541 people getting infected with Covid, and a total of 12,912 people have died.
However, the national capital seems to be ahead of Mumbai on the wrong parameters. To begin with, the cumulative count of Covid positive people in Delhi is 10,72,065. A total of 15,009 people are reported to have died due to Covid in Delhi, but data collected from the municipal corporations suggests that more than 2,500 Covid deaths may be missing from the official count.
Daily Covid cases
Even at the peak of the second wave, Mumbai reported a maximum of 9,931 cases in a single day (on 14 April). Delhi's highest single-day spike this year was 28,395 cases (on 20 April) — nearly three times Mumbai's peak.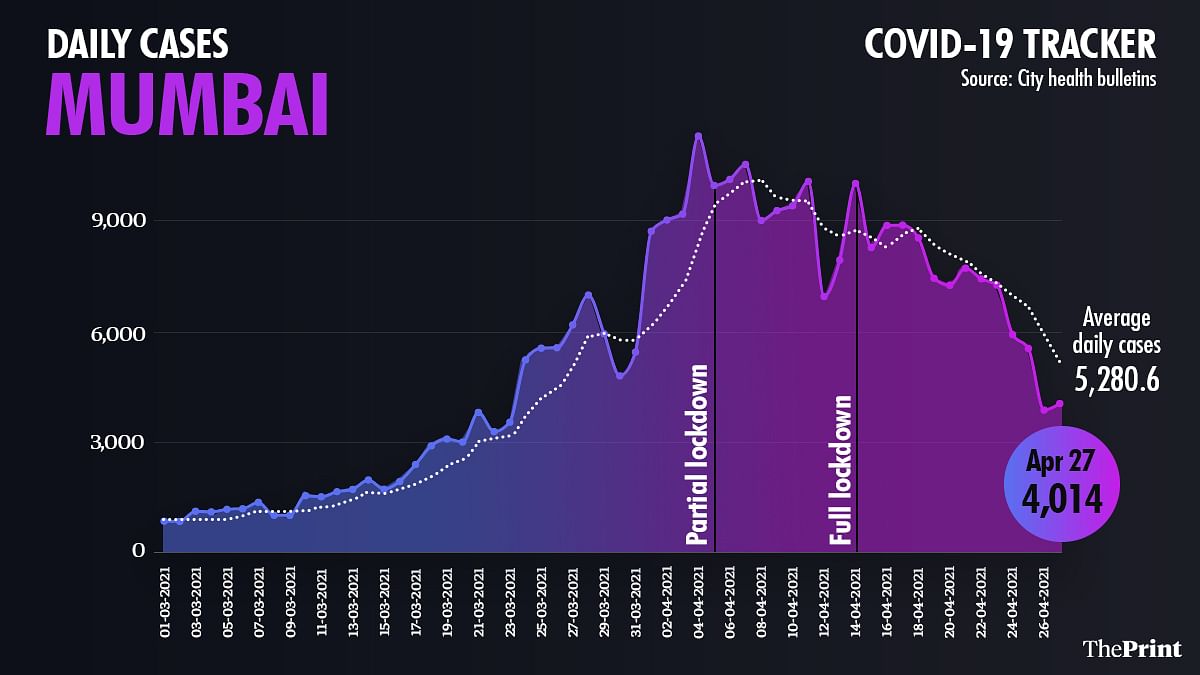 Fatality rate
Delhi's only silver lining is a lower case fatality rate (CFR). ThePrint calculated the daily CFR over closed cases, i.e., patients who have either died or recovered. The data shows that the fatality rate in Mumbai is higher.
Although Mumbai saw a drop in its CFR, its current CFR is 2.28, which means that for every 10,000 patients, 228 are likely to die. Meanwhile, Delhi's CFR is 1.54 — nearly half.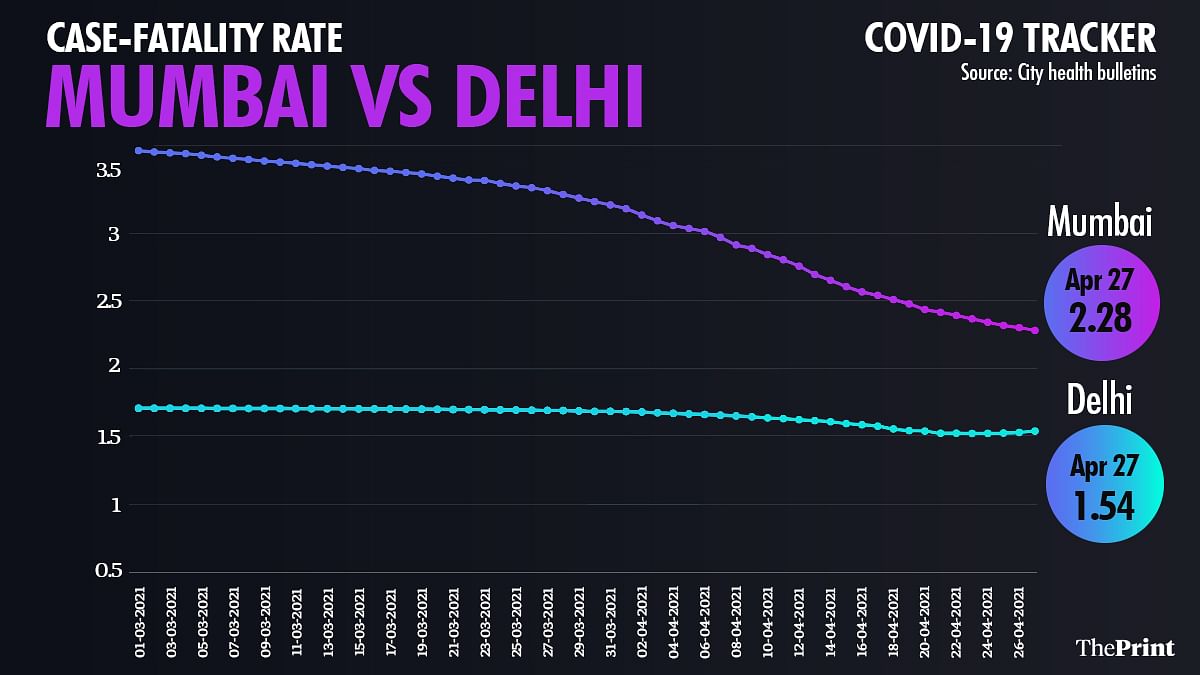 However, since Delhi failed to contain the spread of infection, even a lower fatality rate is translating into a high death toll. Since the CFR is calculated based on officially reported deaths, the true CFR may be higher.
In the last few days, Delhi's CFR has also started rising — possibly because the overwhelmed healthcare system is unable to treat patients on time.
Test Positivity
Not just deaths, Delhi may also be behind in counting infections. Comparing data from just the last 24 hours shows that nearly one in every 3 people tested positive for Covid in the national capital.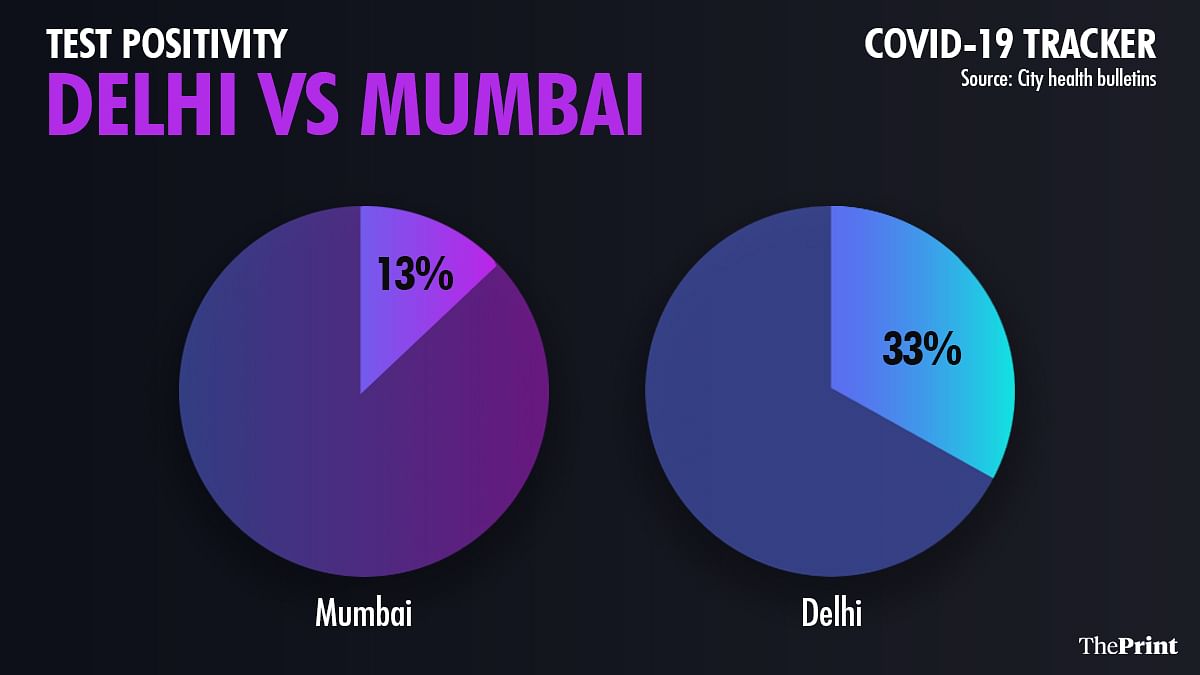 Delhi's test positivity is nearly 33 per cent, compared to Mumbai's 13 per cent. A TPR higher than 10 per cent means that testing is not enough — a large percentage of the population is being missed out.
Impact of lockdown
The phased lockdowns imposed in Mumbai since 5 April have helped the city reduce its active as well as daily case count. Five-day average of daily cases is down to 5,280 for Mumbai, from over 10,000 earlier this month.
Compare it with Delhi, where the AAP government imposed a lockdown from 19 April, when the city was reporting an average of over 21,900 daily cases — over two times of what Mumbai was reporting when the Uddhav Thakeray government announced curbs.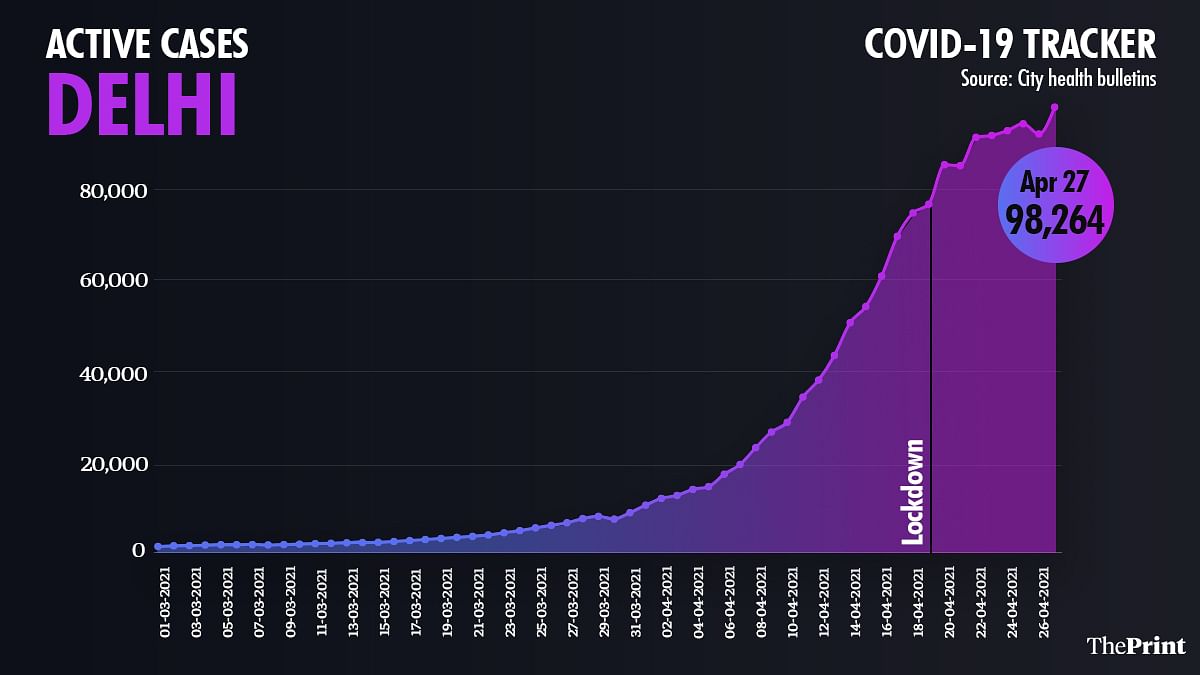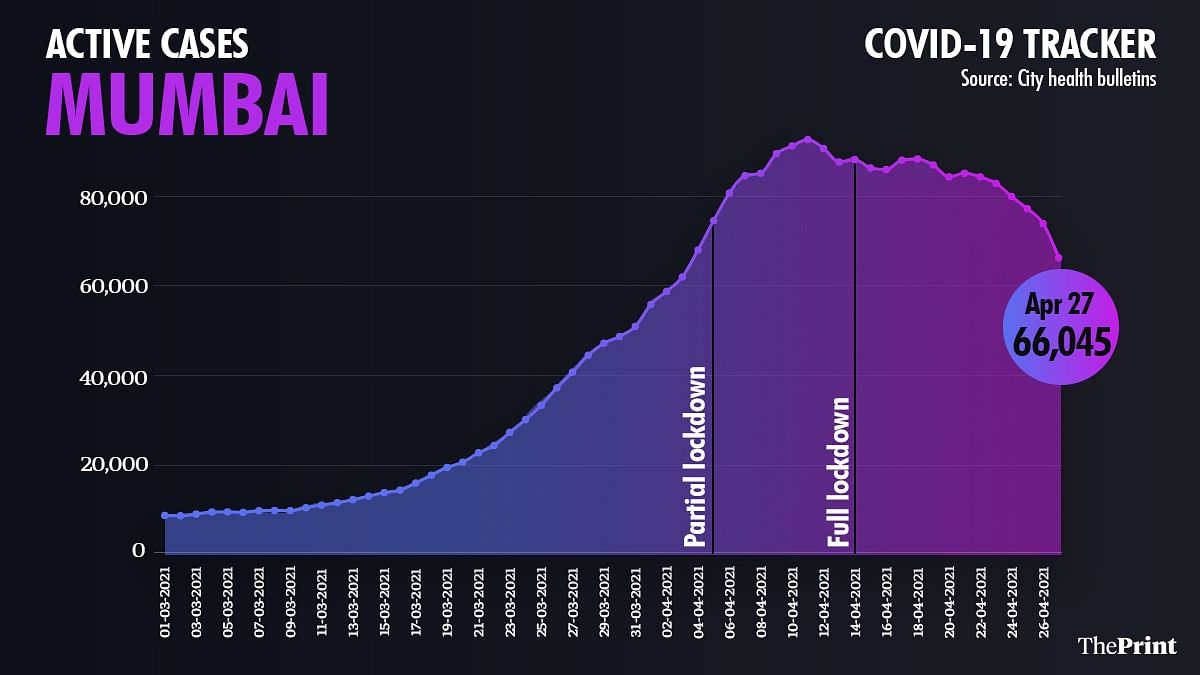 However, 10 days since the lockdown, Delhi is just beginning to show some signs of a slowdown in new infections. Average cases have reduced in the last three days, but it may be still too early to say if this is a sustained trend.
Delhi witnessed more 'Covid waves'
Delhi has previously seen three Covid waves, with each peak larger than the last. Also, each of the peaks are larger than anything Mumbai has experienced.
During the first wave, Delhi recorded a maximum of around 3,600 cases at the end of June. The second wave saw cases rise to upto 4,400 mid-September. During the third wave, Delhi reported more than 8,500 cases mid-November.
Mumbai, meanwhile, saw a maximum of 1,725 daily cases on 22 May 2020 (during the first wave). The second wave saw cases rise to 2,823 on 8 October. The city is now witnessing the third wave.
---
Also read: PSA oxygen plants — the cleaner, cheaper tech that could help ease India's current crisis
---