New Delhi: After India opened up its vaccination drive to those over 45 years of age on 1 April, the daily count of doses administered has been inconsistent to poor, and even the four-day 'Tika Utsav' announced by Prime Minister Narendra Modi hasn't been able to boost the numbers.
A comparison of the daily average vaccination during the 'Tika Utsav' period and the rest of the month so far shows that there isn't a stark difference in the numbers. While 33.47 lakh vaccinations were recorded on an average during the 'Tika Utsav' days across India, 11 to 14 April, the average daily vaccination during the rest of the month, till 17 April, stood at 31.38 lakh.
India recorded more than 2.6 lakh new cases in a single day, according to data released by the Ministry of Health and Family Welfare Sunday morning. And official vaccination data till 17 April showed that 12.26 crore doses have been registered so far, which is less than 9 per cent of the country's population.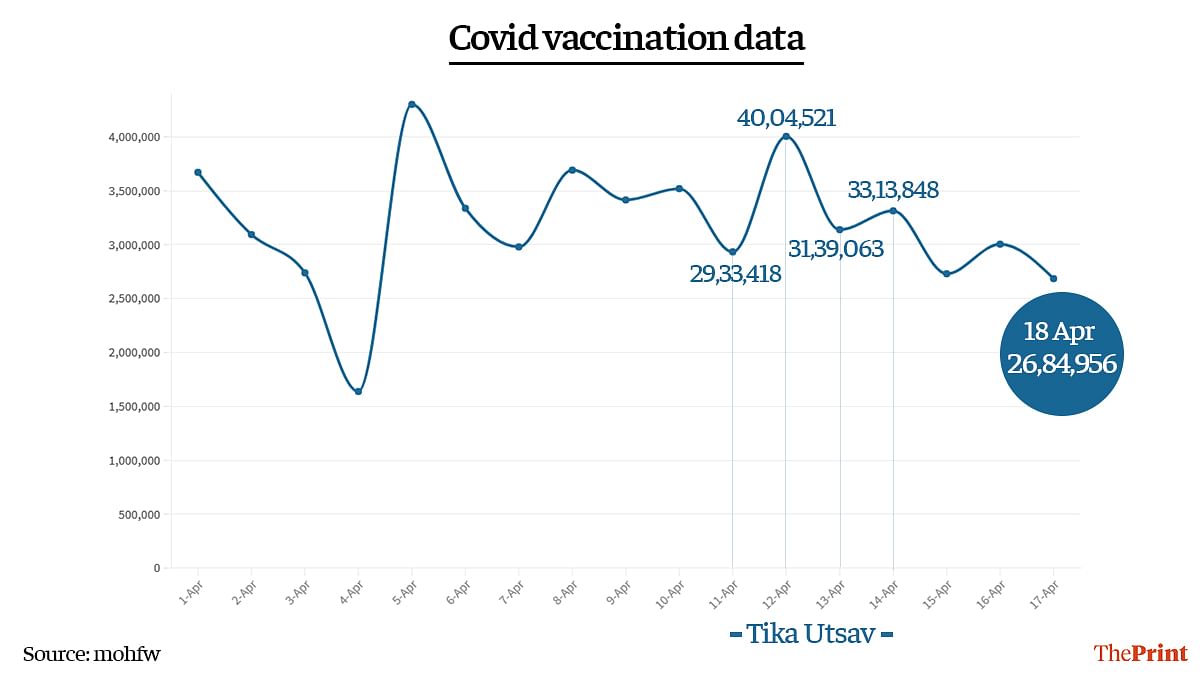 While on some days, India administered over 43 lakh doses in a day, on other days, the figure stood at just 16 lakh.
On 11 April, 29.33 lakh doses were administered. The number was 40.04 lakh on 12 April, 31.39 lakh on 13 April and 33.13 lakh on 14 April. It went down again on 15 April, only to go up the next day when the country administered more than 30 lakh vaccination doses.
---
Also read: As Modi's 'Tika Utsav' ends, many states & pvt hospitals wait for Centre to fill vaccine gap
---
Bottom honours
India's slow vaccination rate — among the worst in the world — has experts worried, with some saying it will be years before the country manages to administer both doses of the vaccine to the entire population.
According to the vaccination data till 17 April, India is at the bottom of the list in comparison to other countries that have administered at least one dose of the vaccine to their populations.
At the top are Israel, the US and Bahrain where 61.73, 38.72 and 34.78 per cent of the population respectively have been administered at least one dose. India and Russia are at the bottom, with 7.71 per cent and 6.80 per cent of the population respectively having received at least one dose of the shot.
Rijo M. John, a health economist based in Kerala, had, in January, estimated that at the rate at which people in India are being vaccinated, it would take at least eight years to vaccinate 20 per cent of Indians with two doses.
He tweeted on 17 January that "1.91 lakh people were given a single dose of Covid-19 vaccine yesterday (16 January). At that rate, we're looking at 8 years to vaccinate even 20 per cent of Indians with two doses. It'd take two million doses per day to vaccinate only 60 per cent of the population in 27 months!"
According to the latest data shared by John, as of 17 April, only 7.72 per cent Indians are vaccinated with at least one dose.
Meanwhile, epidemiologist Giridhar R. Babu, who is associated with the Public Health Foundation of India, has estimated that the country will have to administer 10 million (or one crore) doses per day to cover the 300 million (or 30 crore) people classified by the government as vulnerable to Covid, within a two-to-three month period.
"By doing that, we will be able to reduce their risk of death in the subsequent days. Currently, it will not have a direct impact on reducing the second wave as such, mainly because the cases are surging and we need strong containment measures to reduce that. But in the days to come, covering the vulnerable population will be of greater advantage, because the mortality won't increase even if there is a third wave," said Babu.
Babu added that once India has enough stock of vaccines, the drive should be opened to everyone, including those below 45 years of age. "We do not even have enough vaccines for people coming to the vaccination centers as of now. Once we have sorted the demand and supply issue, vaccination should be opened to everyone," he said.
That's a tall order to achieve for a country, where according to data compiled by Our World in Data, the percentage of people who were fully vaccinated (those who have received both doses) as of 17 April was just 1.2 per cent.
(Edited by Poulomi Banerjee)
---
Also read: Average vaccinations declined during 'Tika Utsav', India records over 2,00,000 new Covid cases
---