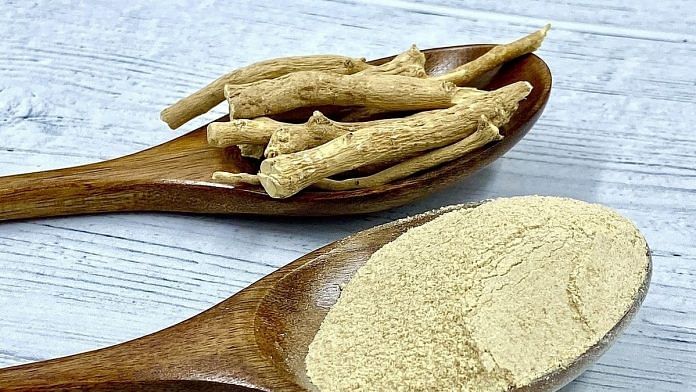 New Delhi: In a first, the Narendra Modi government is promoting Ayurveda for Covid-19 recovery abroad, seeking to boost the Indian traditional medicine system.
The government has selected the UK to conduct a study on anti-oxidant and anti-inflammatory herb 'Ashwagandha', or Indian winter cherry, and assess its effects on candidates suffering from Long Covid symptoms like chronic fatigue, stress and sleeplessness. 
The study will be a collaborative effort between the All India Institute of Ayurveda (AIIA), an autonomous body under Ministry of Ayush, and London School of Hygiene and Tropical Medicine (LSHTM), according to a government statement.
It will be conducted on 2,000 people in three cities — Leicester, Birmingham and London (Southall and Wembley).
The principal investigators of the study are AIIA director Dr Tanuja Nesari and Dr Sanjay Kinra, professor of clinical epidemiology at LSHTM.
The World Health Organisation is also a knowledge partner to the study, an AYUSH ministry official told ThePrint on condition of anonymity.
The study will be a year-long as the participants will have to take Ashwagandha for three months after which the research team will assess its effects, LSHTM Research Fellow Dr Poppy Mallinson who is assisting Kinra with the study, told ThePrint in an email.
The London institute confirmed that the trial will start in autumn (late September).
If successful, the study could be a major breakthrough for India's traditional medicinal system.
---
Also read: DNA markers linked to menopause identified, could help women conceive later in life
---
UK's first placebo-controlled trial
The study will examine whether the overall quality of life of the participants has improved after three months of taking Ashwagandha tablets, compared with three months of taking a placebo pill. 
The participants will have to take 500mg tablets twice a day. They will also self-report their experience on whether the herb has helped alleviate common symptoms of Long Covid like fatigue, breathlessness, muscle aches or pains, brain fog, anxiety and sleep problems.
This will be the UK's first double-blind placebo-controlled trial of an ayurvedic herb as a medicinal product, Dr Mallinson told ThePrint. 
'Ashwagandha' tablets to be shipped to UK in 1-2 months
Speaking to ThePrint, AIIA director Dr Tanuja Nesari said: "It will take another one or two months for the drug to be shipped to the UK, once packaging, labelling and all necessary regulatory approvals are complete". 
The Ashwagandha tablets are currently being manufactured at two WHO-GMP-certified pharma companies in Bengaluru and Chennai, said Nesari.
The study has been certified by WHO Good Manufacturing Practices (WHO-GMP) and has got approval from the UK's Medicines and Healthcare Products Regulatory Agency.
Ashwagandha works as 'immuno-modulator'
According to a scientific paper titled An Overview on Ashwagandha: A Rasayana (Rejuvenator) of Ayurveda, published in the US National Center for Biotechnology Information, Ashwagandha has a wide range of health benefits. It has anti-oxidant and anti-inflammatory properties, enhances brain function, and increases the body's resilience to stress among other aspects.
According to Nesari, the most important benefit of the herb, in terms of Covid, is that it works as an immunomodulator — a substance that can modify the body's immune system response to a threat.
"When there's a virus like Covid-19, our body goes through a cytokine storm. It basically means our immune response is hyper-stimulated and this can lead to inflammation and can hurt our organs. Ashwagandha regulates this, that's why it's called an immuno-modulator," explained Nesari.
"Sometimes our immune response releases free radicals (atoms that have one or more unpaired electrons) which induce oxidative stress on our cells. Ashwagandha reduces these free radicals," she added.
Last year, it was found that India undertook more than 100 clinical trials in the first four months of the Covid pandemic and more than half were to test the benefits of traditional medicine systems, such as Ayurveda and homoeopathy.
---
Also read: India unlikely to give indemnity to foreign vaccines, may consider only if shortage persists
---